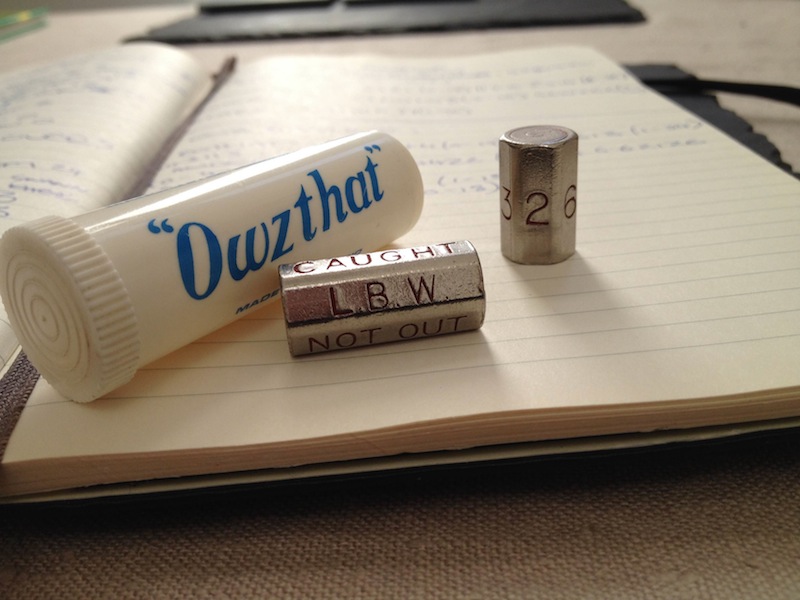 During long summer school holidays that stretched out as endlessly as a Boycott innings, there was one, indomitable saving grace when it rained.
Two words. Owzthat cricket.
How do you play cricket with dice?
To play cricket with dice, it requires the bare minimum of materials: two dice, a pencil, paper (or computer) and roll the dice to determine runs scored. It it lands on OUT, you roll the second dice to determine mode of dismissal or NOT OUT.
Whole weeks can happily slip by.
Agonising over the composition of a fictional Yorkshire or England eleven takes time you know.
First you need the stats at your fingertips. Nowadays that involves scooting round Cricketarchive or Cricinfo for a numerical overview of form and fettle but in decades past, it usually involved checking the county averages in the papers.
Picking the batting order; choosing which cricketer gets the supreme honour of captaining your world-class superstars; who's getting the new cherry to tear into the oppo…the permutations are joyfully endless.
This early form of fantasy cricket will have differed for every person who played it; each with their own quirks, rules and ways of scoring.
In essence though, it involved rolling a pencil to decide if the batsmen scored 1,2,3,4, 6 or was out. If out, the same pencil (or another if you were particularly flash) equated to either not out, caught, LBW, etc.
To some, this might sound like the very definition of tedium. To them I say pah! Well, you might have a point but it was a harmless pastime that brought unquestionable joy and a basic grasp of cricket scoring.
Officially, it's the Owzthat rather than the Owzat cricket game – if anyone has any info on why that is, I'd like to know. Speaks to another time where 'Owzthat!' was the appeal for a wicket (a bit more formal English) than Owzat – but they're one and the same.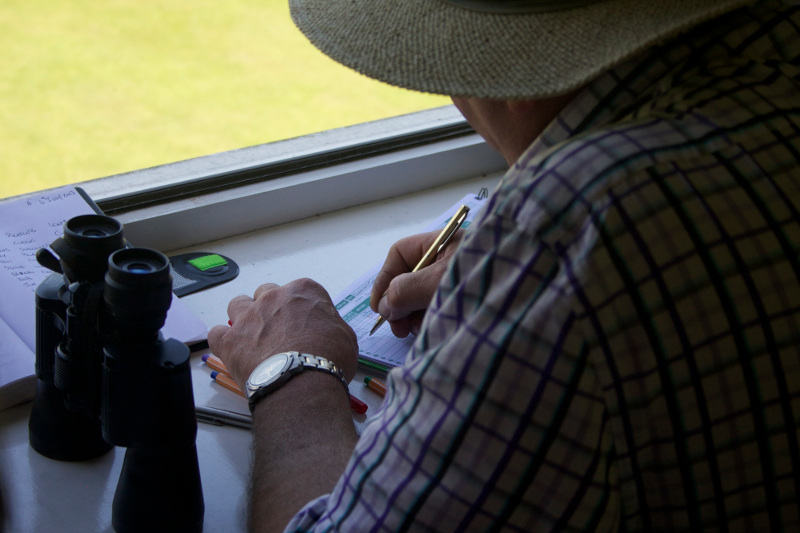 Owzthat Cricket Game: Dice in a Digital World
As a coincidental by-product, it may have helped squeaking through GCSE maths. Calculating strike rates, batting and bowling averages in the deciding Ashes Test proved infinitely more meaningful than fumbling around trigonometry.
A number of years back, I discovered the Owzthat Cricket Game; a set of cricket dice with rules. They came in a white plastic tube the size of a lip balm, made by William Lindop of Manchester.
Wrapped tightly in a set of paper instructions for the game are two metal dice; a mode of dismissals one with NOT OUT, STUMPED etc in red lettering on each side while its stubbier cousin has 1,2,3,4, OWZTHAT and 6.
They have pride of place in the Cricket Yorkshire office under the iMac (by dint of their power to encourage fond reminiscing allied with the fact that they're well-made, reassuringly crafted with a satisfying weight to them).
With a cricket website business, so much is digital that to have something to hand that is tangible and a nod to the past is no bad thing.
It remains my most popular game of all time and by all accounts, the nostalgia felt by many who either have the Owzthat cricket game tucked away or perhaps went for the low-tech pencil cricket version once upon a time is never far from the surface.
When I posted a picture of the dice on Facebook and Twitter, you all erupted with barely disguised glee, throwing yourselves forward to admit that yes, between 1965 and 2019, many of you spent ill-gotten months rolling dice and smiling at the fickle nature of the cricketing gods.
All of which prompted a decision to crank open the Owzthat dice for another game; the first for donkey's years; to see how an England XI would fare against a Yorkshire XI from down the years.
Now in truth, the game was in no way shape or form the meticulous scoring opus of my former teen years. Involving the dice, a diary to scribble the scores and away we went, it was definitely more T20 than Test match in its formulation.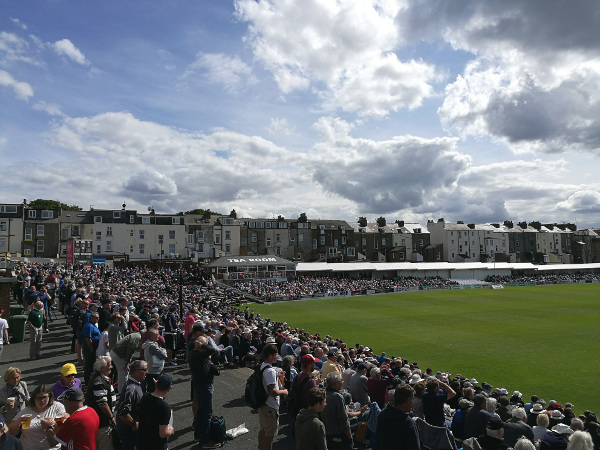 Held at Scarborough's North Marine Road, England's team was a blend of experience, caps, runs, wickets and included both Joffa Archer and Graham Gooch.
Fred Trueman and Darren Gough opened for Yorkshire and would have been appalled at their economy rate as sixes and fours were biffed with alarming regularity.
Whether this was due to poor bowling or the fact that these particular dice seemed to have worn certain grooves that meant the chances of them landing on four or six were greatly increased, who's to say.
But fiery Fred winkled out Cook and Gooch early doors while Ryan Sidebottom plucked a drilled drive off Graham Thorpe from his bootlaces to see England three down in the blink of an eye.
This is the unquestionable power of Owzthat; namely it provides a framework upon which you can layer your own context and storylines. All hail the power of cricket daydreams.
That Jimmy Anderson top-scored with 22 as England slid to 110 all out from 7.4 overs tells you all you need to know about both the run rate and balsa wood fragility of England's batting.
On another day, the moustachioed Essex opener with the three-pound SS tree trunk and England's leading run-scorer in Tests would have scored 5,908-0 but therein lies the power and mystic of this dice game.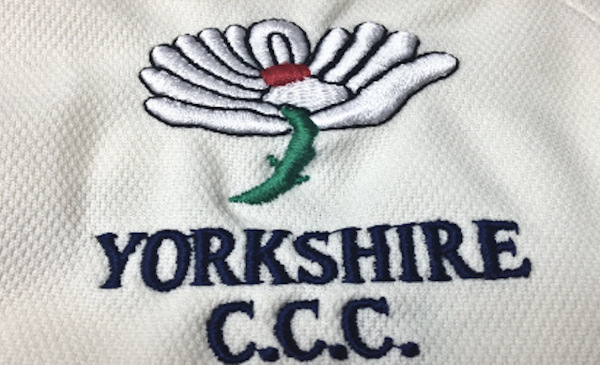 Owzat cricket fans! Botham vs Boycott
Yorkshire's bowling attack included Mitchell Starc, back in White Rose colours and this time complete with visa and more air miles than he knows what to do with.
Indian spinner Ravi Ashwin made his debut for the White Rose, snapped up a wicket third ball but was also biffed into Trafalgar Square with some ease.
In reply, Sutcliffe (24) and Hutton (43) began smacking boundaries like they knew a rainstorm was due to blow in from the North Sea and truncate the day's play.
Ian Botham and James Anderson might be lauding it in the list of England's leading wicket-takers but this dice game cares nothing for form or reputation and they were put through the grinder on the North Yorkshire coastline.
Scarborough's beleaguered tea hut was getting some serious attention from the batsmen but wickets fell with Boycott's 16 coming at a sprightly run-a-ball and Moxon and Lehmann combining to take Yorkshire into the lead with six wickets in hand.
It could have gone on all day. In the past, it would have done but these articles don't write themselves and so we leave the action with Yorkshire well placed to hammer home their advantage against spin twins, Hick and Swann.
A number of minor practicalities came to light during this truncated ODI. I'm fairly sure I used a proper scorecard in the past or at least scored with a deliberate, ponderous nature that aided accuracy.
In my excitement this time, which batsmen were meant to be on strike and whether the batting stats and bowling analysis bore any relation to one another is something of a guilty admission.
But that's kind of the point. This is a game that has its rules but they're governed by your own imagination and however you adapt it, it's a wonderfully made, packaged and mobile cricket game for any age.
We are surrounded by moving images, pixels and technology; as a digital journalism website, you'd think there's a whiff of hypocrisy at bemoaning such but there's room for both.
Does this compact, nugget, no-frills companion still have any relevance in today's world of apps, notifications, ultra-high-def landscape? Sure it does.
Owzthat? The king of cricket, no question.
Cricket Yorkshire is supported by its audience. When you purchase through links on our site, we may earn an affiliate commission.

Do you / your cricket club want to find sponsors, fundraise successfully and grow your membership?
Learn simple, step-by-step methods to create incredible value for members, sponsors and funders.
Our Make Money For Your Cricket Club e-course is an enjoyable way to learn at your own pace.
It covers 4 modules with short video lessons:
Membership
Events & Fundraising
Sponsorship
Grants & Funding
Latest posts by John Fuller
(see all)