Waverley Cricket Club are celebrating after winning the Yorkshire & Derbyshire League Division 1 title for the first time.
The title was confirmed after their game against De La Salle 1st XI was abandoned at Beauchief Hall due to the weather. Sheffield Transport were their nearest rivals but lost by eight wickets to Ridgeway at the War Memorial Grounds at the weekend.
2023 is the 55th season of the Yorkshire & Derbyshire League with 3 divisions and 30 teams from across Sheffield, North East Derbyshire and the Peak District.
Waverley claimed the Norman Moody Cup from 2022 champions De La Salle as Reon Jerome (419 runs) and Arun Kumar Vattamannil HariKumar (411 runs) excelled with the bat. Meanwhile, Joe Karedan (19 wkts), Pratheesh Purushothaman (18 wkts) and Anu Krishnan (18 wkts) topped the club's bowling charts.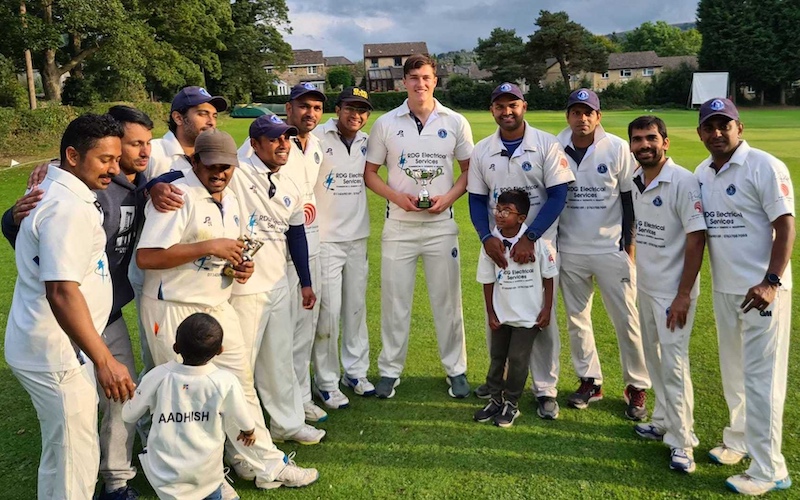 NETS TO FORMING A CLUB
Waverley CC are a relatively new club, having only started in 2017 when a group of friends began nets for a bit of fun. Only a couple had played with a cricket ball before, everyone else was more used to a hard tennis ball that's popular in India.
As they can, things got a bit more organised and a team formed with friendly fixtures for a few seasons before joining the Yorkshire & Derbyshire Cricket League in 2020.

It took a couple of years as they were without a ground and struggled to find one to hire, let alone use permanently.
Nidheesh Alukkal, Waverley's Secretary, picks up the story: "Our main struggle to join the league was having no ground and Gareth Davis, The YCB's Head of Region for South Yorkshire helped us to get a council ground. Around that time, most of our teammates had moved to a new residential estate called Waverley and we had given our community name to our club."
The first season went incredibly well, finishing top of Division 4 with a cup win for good measure. If anything it went too well with more players than they could possibly pick.
TIME FOR A SECOND TEAM
The solution? Start a second team.
Nidheesh told me that it was that tricky balancing act many clubs will relate to where you want to give opportunities for all – but then you're worried about getting a team out. To their credit, they managed it.
"A few of our players are quite popular in the South Indian British community…that's where we get most of our players. We always have a club kit for newcomers and we only tell them to buy their own gear if they decide to play regularly for us."
Waverley's impressive ascendancy up the divisions continued as the first team won promotion to Division 1 by finishing second and won the cup. Their new second team claimed the Division 4 title and also lifted the cup!
If we fast-forward to now, Waverley's firsts have now won the Division 1 title while the second team play at Totley Bent's ground and are captained by Hijas Veerasan.
The seconds are currently in the top 3 of Division 2 and in the final of the Percy Crookes Senior Cup after defeating Hallam 5th XI. The cup showdown is against Sheffield Super Kings 2nd XI at Ridgeway CC on Saturday 9 September.
It's an extraordinary rise that has seen Waverley Cricket Club do so well in a short period of time. The secret?
Nidheesh reckons continuity and supporting each other have been at its heart: "90% of our teammates have played together for the last five years, we won together and lost together. Everyone knows each other, backs each other, helps each other to improve and more importantly, everyone is so passionate about cricket."
Latest posts by John Fuller
(see all)