Indoor cricket nets in England is a weird and wonderful time of year. Typically between January and March, depending on how keen your cricket club are, it is a ritual you may know well.

Before Christmas, here in Yorkshire, there will have been a smattering of indoor cricket leagues but now February has arrived, cricket clubs tend to return in earnest.
An opportunity to knock your body and technique into shape, it's a curious routine; an antidote of sorts after far too long without.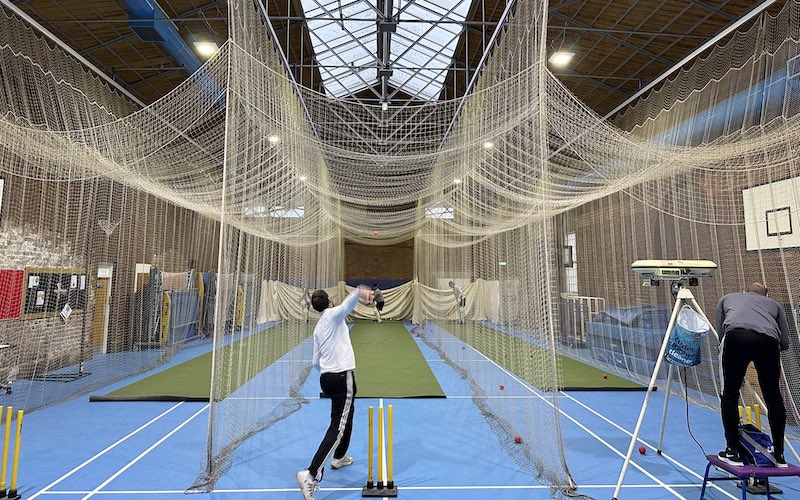 Thanks to Pocklington CC for this pic of their first net session of 2023.
Indoor cricket nets are a compromise; a chance to get the countdown to the new season started – but in conditions that are completely alien to any you'll face outdoors.
---

Typically in a sports hall, perhaps with flickering lights and a cricket mat that delivers more bounce for your part-time legspinner than Mark Wood, it's just good to be back, isn't it?

---
Except that first cricket net back is usually brutal.
Don't do as I almost always would and rock up after no exercise whatsoever and tear in for six asthmatic overs of half-trackers before rigor mortis sets in.

The smart approach is to warm up (see this guide to training smart for indoor cricket nets).

If you come out of the blocks like an over-excited whippet, don't be surprised at a bad case of the DOMS.
You know, that pain you get after your first bowl or bat indoors which feels like you've fallen down a flight of stairs.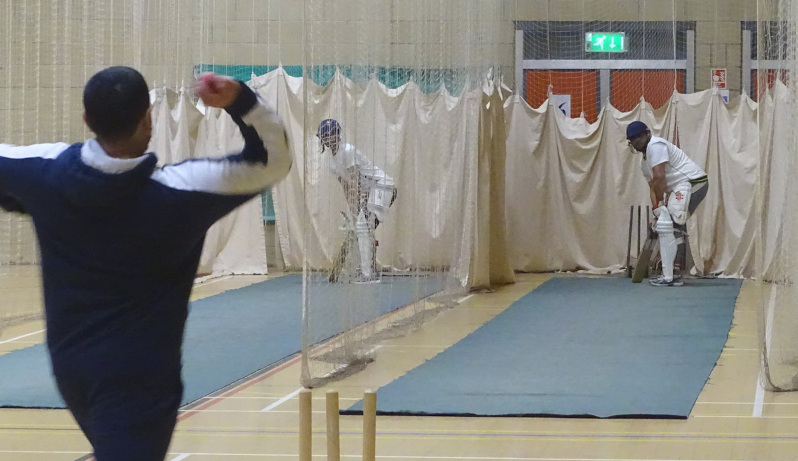 Delayed onset muscle soreness (DOMS) is a thing. It's the definition of pain and stiffness in your muscles after new and often too strenuous exercise.
The best indoor cricket nets are those that are well organised, with enough bowlers and matched quality of players throughout.

If you're short of players, set up a bowling machine in a lane and have short stints to help batters practice a particular shot or scenario.
As a fearful number eleven, I never understood the habit of facing bowlers from the second team then ducking under the netting to be peppered by first-teamers. It might be time-efficient but it was anything but productive.
Seniors could learn a lot from junior cricket practice too. Kids are sometimes taught to bat in pairs and run between the wickets as they would do in a match.
That's more realistic but also there are always two batters ready to face – rather than waiting for someone to pad up.
If you have a FrogBox, a DSLR or a smartphone with an app like Ludimos, record the sessions to review. Sure, you want to have a laugh – but why not use tech to get better too?

I used to really like indoor nets and not just because the surface made me seem like Mitchell Johnson in that scintillating 2013-14 Ashes series.

But it's full of delicious behaviour too.
---

You might spend five minutes trying to poke the roof of the net with your bat (if you can reach) to dislodge a cricket ball.

---


As you walk back to bowl, the net next to you might explode after a fierce pull shot threatens to burst through.

No-balls are rife. Bowlers don't behave the same indoors as outside. A lifetime of marking out your run disappears.

As a batter facing, you can face a rapid bouncer, an offie and some military medium over just 6 balls. Depending on who's made it out to training that night.

Anyone willing to admit to sending their demon in-swinging yorker into the side netting? Been there, done that, got the t-shirt.

Just as importantly though, it's about getting your friends and team-mates back together again. Clubs trying to drum everyone to pay their membership and captains sussing out availability for the season.

Have fun when they swing back around for your club!
What sums up indoor cricket nets for you?
Leave a comment below or tweet us @cricketyorks or on the Cricket Yorkshire Facebook page.

Latest posts by John Fuller
(see all)