I heard it long before the first white dots moving around Harden Cricket Club's outfield came into view.
An LBW appeal echoed through the trees of St Ives Estate in this leafy quadrant of BD16. Half a minute later, a 'tock' of a cricket bat striking leather reached my ears, somewhere off to the left.

For those of us who pine for club cricket as soon as it concludes in September, its return is a moment to cherish.

The 2022 season really is a landmark after two unprecedented years for recreational cricket, in light of the Coronavirus pandemic.
No more restrictions or cleaning your vector of disease with an anti-bacterial wipe.
Club cricket has returned to whatever counts for 'normality' these days.

The two-mile journey from Three Rise Locks in Bingley reminded me of my allergy to hills. A walk I've done many times, I perspired my way up to the top plateau that offers breathtaking views over Bingley.
The black Damart chimney and mill building is a reference point, as the Leeds-Liverpool Canal snakes past Five Rise Locks. Up here, there are signs of growth after thousands of trees were felled to prevent further disease in Betty's Woods.

In time, oak, hazel, hawthorn, birch and dog rose will tower around me but today, on a sunny afternoon with the mercury nudging into the late teens, the view is one to savour.

Half an hour later, I wind my way down to Harden Cricket Club where their seconds are at home to Colton Institute in Division Six of the Aire-Wharfe Cricket League.

Despite the steady drone of Bank Holiday traffic on Harden Road that flanks the cricket club on one side, it is a very pleasant place to watch my first game of the season.
Wooden benches run along the length of the wall that acts as a barrier, with the B6429 on the other side. 
Here, the cricket is framed by fields and trees leading up to St Ives Estate. On the far side, you can squeeze through and walk up the hill to a bench – which I do of course.
What happens between overs? Here's a quiet minute of a captain setting his field as white dots manoeuvre around this green slab of BD16. Strangely calming. Look out for the captain's throw back to the bowler. We've all done that… 😁 #clubcricket pic.twitter.com/r2LJurLqpY

— Cricket Yorkshire (@cricketyorks) April 18, 2022


You get the full splendour up here. The noise from the road is drowned out by the fielders encouraging each other, a batsman calling for a run and the cacophony of birdsong around me.

Harden are in the final act of racking up 246-7 in their 45 overs.
If I might be so bold, the opposition looks a little knackered; the first game is always a shock to the system. I generally took a month to reacquaint my body with the particular strains of bowling a cork-encased orb at another human being.
But, Colton Institute plug away, despite the indignity of an all-run four as errant throws fizz past a despairing wicketkeeper.
A tumble of batsmen departures is a fitting conclusion for the fielding side. The innings break arrives and the wicket gets swept, rolled and the lines repainted.
Watching club cricket again in the sunshine knowing that a cricket tea was coming made me immeasurably happy.
I had checked in advance, via Harden's Facebook page, because I'm a professional and take such things seriously.
My feelings on cricket teas are well documented on this website for those who read it regularly. Their absence due to Covid has been keenly felt.
Yes, I can eat cake like a Giant Redwood going through a sawmill. But it's more the symbolism of what cricket teas represent; that the Covid nightmare of the last two years is behind us, if not entirely.
Then I saw the strawberry cheesecake…
I wouldn't say it was love at first sight…Mrs Cricket Yorkshire might have something to say about that – but it was a thing of beauty.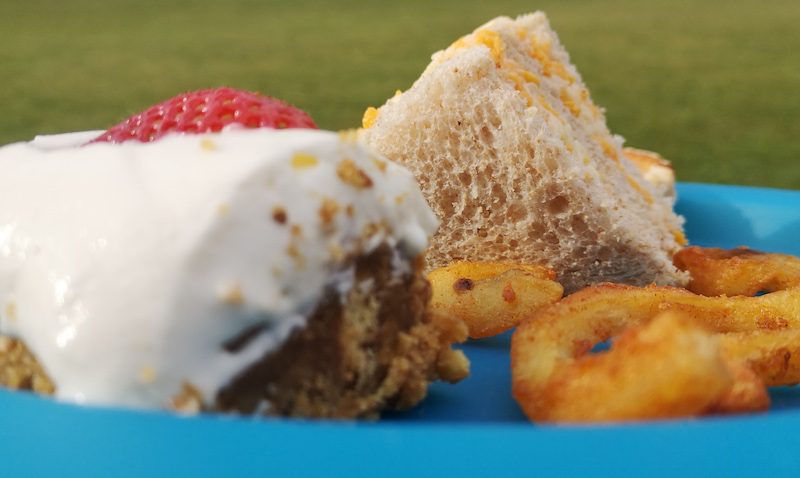 For £3.50, I was able to take a blue plastic plate and shovel a piece alongside some curly fries, cheese and onion sandwiches and a Bakewell tart for good measure.
High in carbs and gratification, a mite low on vitamins – although I definitely inhaled a strawberry.
Where else can you combine an array of food that wouldn't ever meet on a plate together?
Talking to the ladies serving, they have been doing cricket teas at Harden for 42 years. They missed doing them during Covid but normal service has thankfully been resumed.
It was a treat to begin the season at Harden, a friendly club who ply their trade in the Aire-Wharfe Cricket League. I am fortunate that I can walk to 10 cricket clubs locally.
I found myself looking at the cricket match almost as if for the first time. Noticing – and relishing – the mannerisms, field settings, the ball being shined, a long barrier on creaky knees, the umpire holding up play to allow for the sightscreen to be moved.
There are endless quirks that only happen in cricket and it was satisfying to readjust the senses and tune back in.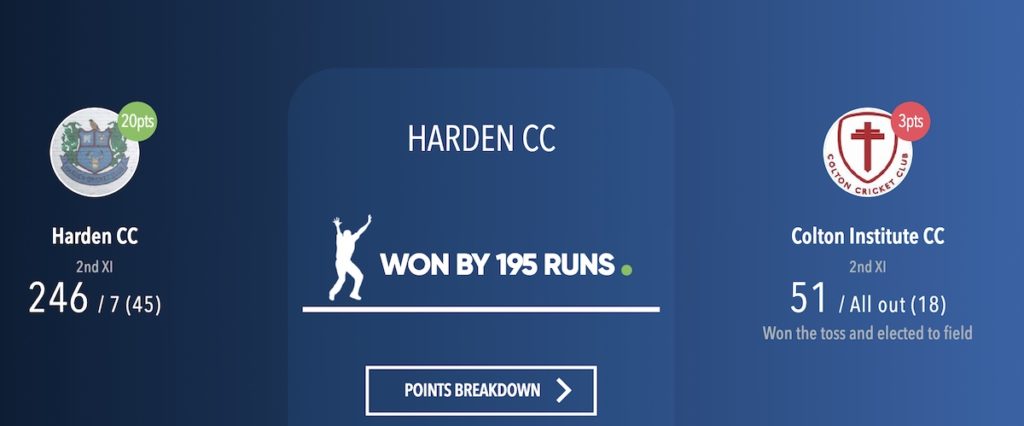 Scorecard: https://harden.play-cricket.com/website/results/5006462
Cricket Yorkshire Match Photos
Just click on an image and use your arrow keys to scroll through the slideshow. If you enjoyed the article, please share it using the Facebook and Twitter buttons below. Thanks!
Latest posts by John Fuller
(see all)