David Barnes will be known to many in league cricket across West Yorkshire, and his story, told to me when we met at a cup final last month, is a cautionary tale worth heeding.
After retiring from Southport Trinity Cricket Club in the South West Lancashire League, he began a distinguished career as an umpire first in the Dales Council back in 1985 before serving 24 years in the Bradford League.
His subsequent CV includes twelve years as a nominated umpire in the County Second Eleven Championship before stints in the old Yorkshire County Premier League.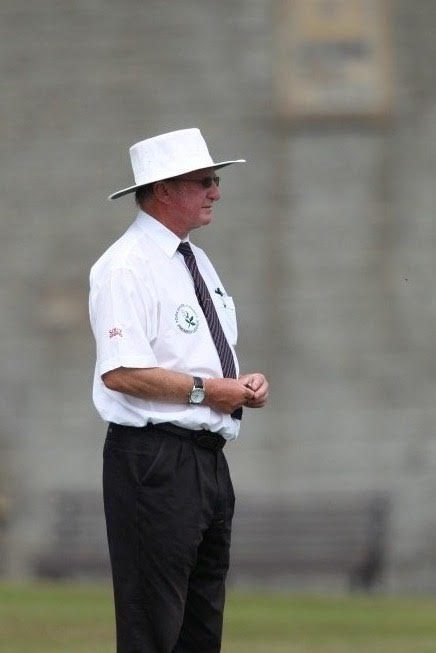 On the August bank holiday weekend, I met David at a T20 finals day at Scotton in the Nidderdale League where he has been officiating this season.
We've tried a phone interview but the iffy signal, where he has his static caravan near Ripon, means we resorted to swapping texts instead and I'm glad we got the chance to meet instead.
David has been ever present across the summer in his umpire's coat clocking up 67 games this season, after 80 games in 2015 and 78 games the year before.
This was his 32nd consecutive year and though he reckons he'll start slowing down, I'm not sure I believe him.
Yet, this obvious love of cricket and umpiring has come at a dear cost.
He began at the age of 34 and over three decades has been out in the sun all the time and has been battling skin cancer since it was diagnosed in 2012.
At one point, David casually lifts off his navy blue wide brimmed hat, sensibly kept on even on this overcast day with spots of rain, to show me his scarred head where a tumour was removed.
Education around the power of the sun and potentially serious health risks is much more prevalent now but in years gone by, David admits that he didn't wear a hat or apply suncream because he didn't think he needed to:
"I didn't know anything whatsoever about it. I vaguely recall seeing something in the papers about Australians and you'd see TV and films of them with lots of suncream on their faces.

It (cancer) was something that happened to someone else across the other side of the world."
Therein lies the challenge to charities like Yorkshire Cancer Research, with whom I've been working over the past two years to help raise awareness to those connected with cricket.
The Australian approach to sun protection is engrained but while progress has been made here in the UK, there is still an under-estimation of what the ultra-violet (UV) radiation from the sun, often perceived as under-strength, can be capable of doing to our skin.
Understandably, not everyone wishes to speak publicly about their experiences but David is open to talking about his skin cancer in the hope that it stops others taking unnecessary risks and regretting it in years to come.
His ordeal began six years ago when he had a small spot on his forehead and it continued to grow and grow until a biopsy at St Luke's Hospital in Bradford confirmed it was cancer.
Because of its size, David needed a skin graft off his leg to replace the tumour that was removed and this caused terrible pain once the anaesthetic wore off. Then, infection in both sites required daily trips to hospital to have dressings changed.
Ok, so this is not the cheeriest article you'll ever read but it is the sobering reality and if it changes the mindset of one person towards wearing a hat, putting on sunscreen or avoiding the sun at its strongest then it will certainly be worth it.
We did this poignant interview during a walk around the boundary while Beckwithshaw thirds whooped and cheered in the field during their Peter Bentley cup final against Studley Royal fourths.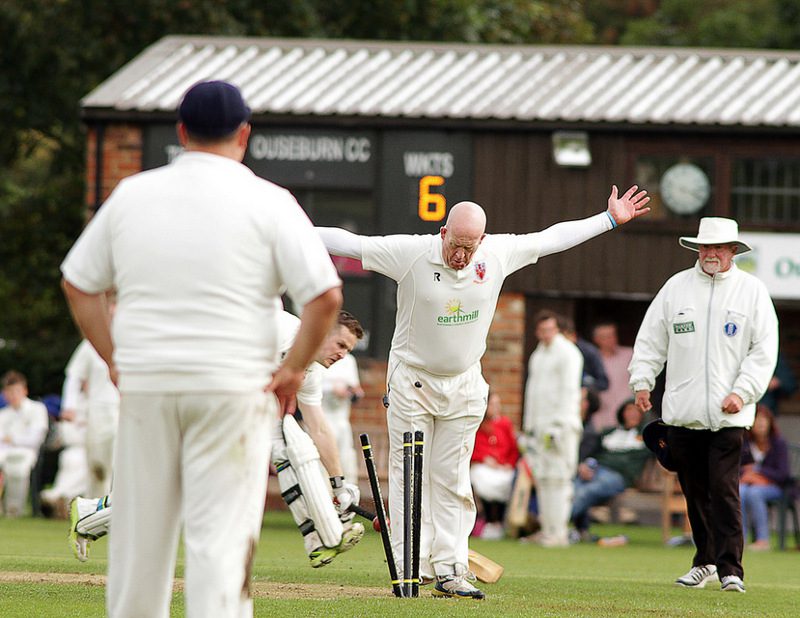 When not discussing his health, we chatted about the joy of umpiring and he was already looking forward to officiating in the Atkinson Swires Cup final at Ouseburn (above) between Spofforth and Darley.
As for the match we were attending, I could see what the occasion meant to a predominantly young Beckwithshaw team in their teens but all I could think of was 'are they all wearing caps?' as David's recollections rang in my ears:
"If people experienced the pain I had, they would all put hats on, they would all put suncream on, they wouldn't want to suffer that at all. The cancer will never go away. I have to live with it."
David was told the DNA in his skin was damaged so much that that would be it for life and it all would happen again.
To date, he has now had tumours appear four times relating to his skin cancer that needed removing and goes to Harrogate Hospital, of whom he can't speak highly enough, at least every three months.
Skin cancer incidence rates are rocketing in Yorkshire – up 170% in the last 25 years according to stats from Public Health England.
As you might expect, cricketers, officials and supporters are at particular risk given they're out in the sun all day.
I ought to stress there's no judgement in this article's headline; I was just astonished you can actually seriously damage your DNA.
The good news is that David's health is ok at the minute and listening to the interview back, I was struck by how candid he'd been.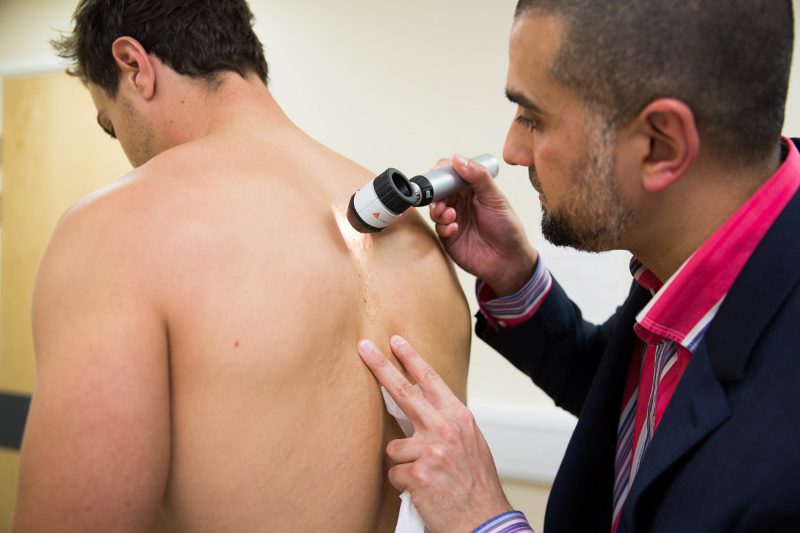 Last April, Yorkshire Cancer Research, the official charity partner of Yorkshire County Cricket Club, held a skin cancer screening at Chapel Allerton Hospital.
First team players including Andrew Gale, Jack Brooks and Tim Bresnan all attended appointments at the hospital's Dermatology clinic as part of the charity's Sun Awareness campaign.
Since then, the charity has been busy raising awareness of skin cancer around the county and emphasising the importance of wearing the right headgear, clothes and sunscreen while watching cricket and playing the game.
We're at #Headingley for the @InvestecCricket #ENGvPAK ODI. Check out our sunglasses & free sunscreen #SunSafety pic.twitter.com/PZoq5TB7Wk

— Yorkshire Cancer (@yorkshirecancer) September 1, 2016
David's own tale is more common than you'd think and the notion that someone's actual genetic material can be damaged is also far from being rare.
Sunburn is a sign that the DNA in our skin cells has been harmed by the sun and when we peel, it's our body's way of shedding what could lead to skin cancer.
It's important to stress that sunburn doesn't equate to skin cancer but you're definitely at higher risk and what constitutes sunburn includes pink skin as well as the more extreme versions.
I chose to publish this important article, today of all days, as it's set to reach 27°C at Headingley for the second day of the Specsavers County Championship game with Somerset.
Well, if you can get sunburn on a cold and cloudy day in May then you can definitely get sunburn in mid September.
So if what David's been through, and thousands of others like him, resonates then I hope you'll stay safe in the sun, wherever you are, and share this article far and wide to let others know too.
*This is an article as part of the partnership with Yorkshire Cancer Research – if the mood takes you, click to read Cricket Yorkshire's policy on sponsored content.**

**Thanks to Barry Gill for providing the action photo of a runout with David Barnes umpiring. Check out Barry's photos on Flickr.

Latest posts by John Fuller
(see all)