Our drive to York to watch Premier League cricket and learn about hybrid pitches was satisfyingly swift for the Saturday of a Bank Holiday.

Scoot round Otley, purr up the A658 to Knaresborough and join the steady flow of traffic on the A59 that joins the Western ring road of the city of the Vikings.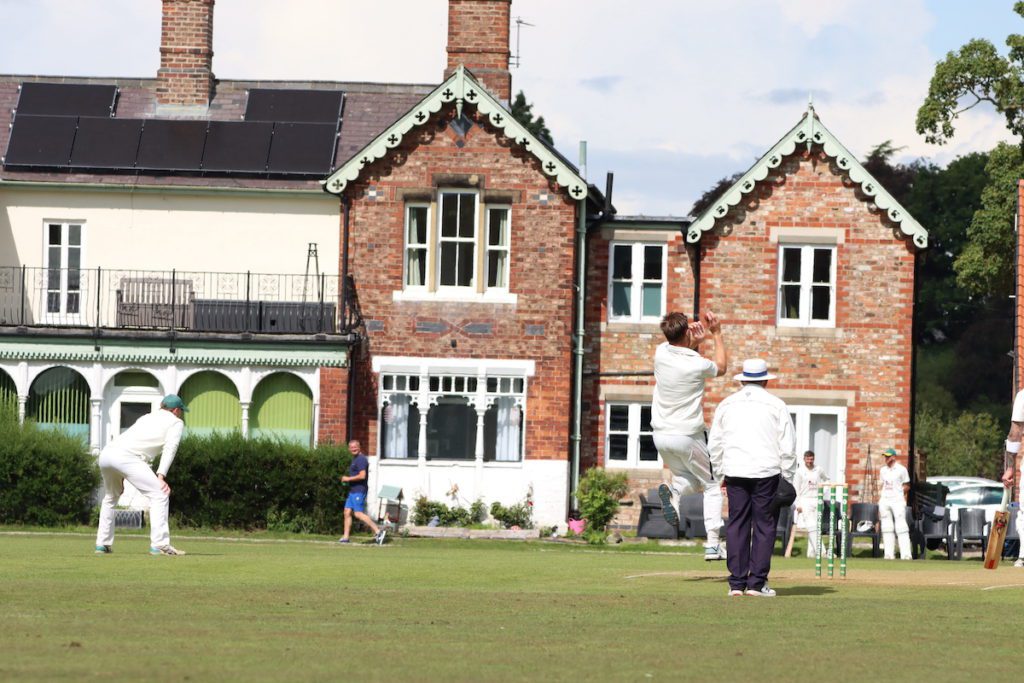 I hadn't been to Clifton Alliance Cricket Club for years and we now drive so could enjoy the luxurious space of their generous car park rather than lugging camera equipment on foot and swapping trains.

Getting to a game at 11.30am felt a little premature but then this 50-overs Yorkshire Premier League North fixture was inked in for a noon start.

There was the possibility of showers later – that thankfully didn't materialise – but for the most part, we were blessed with the sun on our faces.

I'd forgotten how peaceful Clifton Alliance is in this leafy stretch that hugs the River Ouse down towards York Minster.

Crunching across gravel, I walked out to check out the pitch first as Harrogate's player/coach Mat Pillans marked out his run-up with a measuring tape.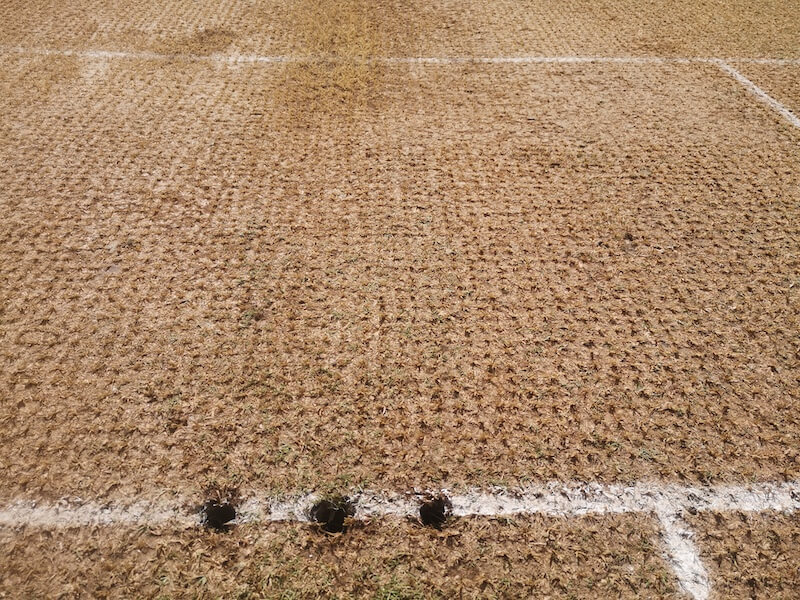 It is a hybrid cricket pitch, one of two installed by our website partner SIS Pitches, that the club decided would help them manage a huge amount of cricket.
There's everything from first-team games to juniors and representative fixtures to requests from local schools.

The hybrid is 95% grass with the rest made up of a synthetic fibre that has been punched into the ground in rows by a laser-guided machine that looks like a bright green roller, loaded up with giant sewing spools.

---

A chief advantage is that you can facilitate more games on the same strip consecutively as it doesn't tear up as an all-grass surface would.

---

In fact, a hybrid is robust enough to hold a lot more games but can also stand up better in wetter conditions, compared to grass, and offers a reliable bounce. There's not the damage to repair from footmarks and spikes carving it up.

They are common at professional cricket venues and are gradually becoming more popular with cricket clubs who host an enormous volume of games too.

Juggling spaces on a cricket square – especially as Clifton Alliance only have one site – puts pressure on the ground and those who maintain it, which is where the hybrid comes in. It would be interesting to see how it played.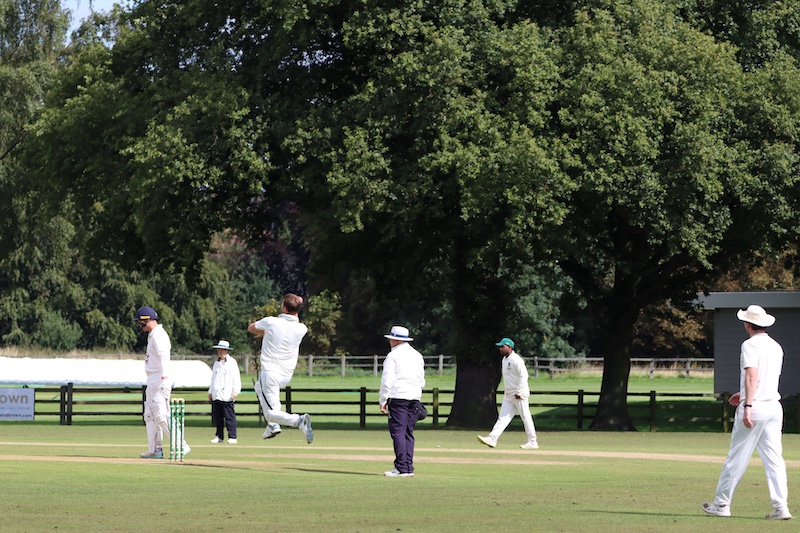 Clifton Alliance won the toss and elected to bat first with their opening pair of Edward Wade and Scott Hopkinson striding out to face Mathew Pillans, the South African fast bowler who used to play for Yorkshire.

I take a lap to remind myself of the geography, features and changes since I was last here. The Vincent & Brown Alliance Cricket Ground sits well in its surroundings.

On my anti-clockwise loop, the raised bank on the right is part of a walk that links up Rawcliffe Park further North with Homestead Park in the other direction.

Just before it is a red brick annex, opened in 2022, that houses a women's changing room, shower and toilet, along with facilities for the umpires and is where the scorers now reside in an elevated position square of the wicket. They used to score in the clubhouse, looking out over the sightscreens, behind the bowler's arm.

Permanent outdoor nets are housed at the top end of the ground and as you walk round, the boundary is flanked by mature trees. It is a little haven and noticeably quiet.

I am thankful for the lack of gusty winds that seem to have chased me on weekend visits across Yorkshire this summer. There is a stillness, only broken by encouragement from the Harrogate fielders and the occasional puttering engine of a biplane.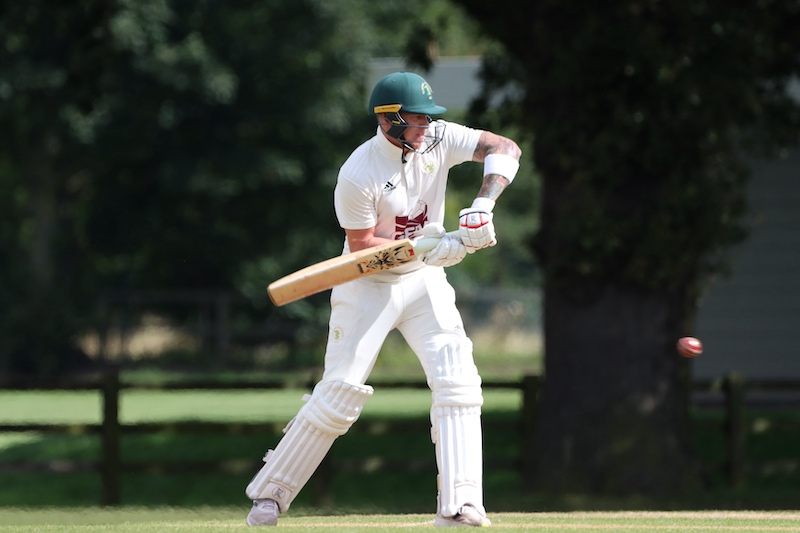 Clifton Alliance negotiate the opening overs; keen for quick singles and perhaps fortunate on one or two occasions where a sharper throw might have had a different result.

Speaking of the fielding, this is the highest standard of cricket I've seen this year and Harrogate are impressive in how they cut off boundaries and put pressure on the batters.

---

The introduction of Sri Lankan all-rounder Ishan Abeysekara (below) seems to trigger two things.
His wily legbreaks yield the wickets of both openers and at 96-2, it's honours even over the first hour or so.

---

But then there is a madcap ten minutes where Clifton Alliance seem hellbent on running themselves out.
Restricted by penetrative bowling, the hosts wobble to 134-5. Andrew Simpson (41) had batted with assurance but his departure signals a shift in momentum.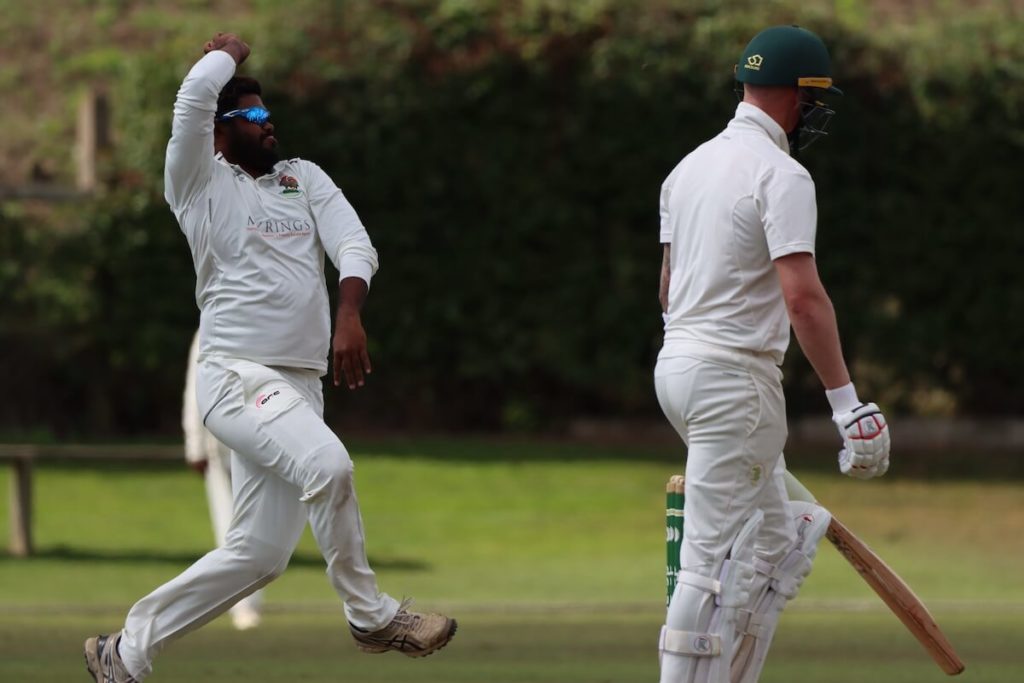 It certainly doesn't look the kind of wicket where you should get shot out for 175 but this can go one of two ways.
Happily for the York club, they rebuild through Samuel Grant (36) and captain Liam Green (25) but the skipper's dismissal led to the loss of three wickets for 2 runs.

Ishan Abeysekara (5-64) is a pleasure to watch as he twirls and baffles the Clifton Alliance batting. It is his third five-wicket haul of the season after rumbling Sessay in April and York in May.
---

One dismissal sticks in the mind with a successful LBW shout trapping the batter who had shaped to cut and found himself bamboozled and pinned on the crease.

---


Sanjay Mani is less economical but a useful spin partner as Harrogate apply the pressure. But again, Clifton Alliance kick on to the dizzy heights of 235-9 off 50 overs, courtesy of a 33-run last-wicket partnership.

As this last act of defiance plays out, I am inside the clubhouse to chat to Karen and Peter Hodge who've done the impressive teas here for years.
A giant double-handled metal teapot sits on the countertop next to a host of neatly arranged white mugs, each with the Clifton Alliance logo of a snake wrapped around stumps.

It is a nod to the serpent coiled around the Staff of Aesculapius who is the Greek God of medicine and healing. That ties in with the club's history, as there's been cricket played here since 1867 on what was once North Riding Mental Asylum.
Top effort with the teas at Clifton Alliance, where the home side have 235-9 off 50 overs. Some quality spin bowling from Harrogate to admire too. pic.twitter.com/6HXyt3sWwZ

— Cricket Yorkshire (@cricketyorks) August 26, 2023
The current club was formed from a merger between Alliance CC, founded by Baptists in the city and the club based at Clifton Hospital.

Well, the cricket teas certainly looked in rude health, if I can put it that way. After the players piled in, I appreciated the range of cakes and the fact the sausage rolls had been warmed (it's the little details), along with the Chicago Town stuffed crust pizza.

I should mention the mug of tea was the best I've had all season. Can you really tell the difference when it's the same Yorkshire Tea bags, water and a sploosh of milk? Absolutely.

It must be the quality of York's hard water, allied with that teapot which had the tannin-stained interior of thousands of brews.

Harrogate's reply began inauspiciously and at 16-2, they needed someone to step up. Enter Arjun Ramkumar (106 off 113 balls, below) to shepherd a nervy two-wicket win.
At 33-2,Harrogate need to rebuild. Idyllic here, very quiet bar the fielders urging on the bowler and the occasional puttering of a biplane overhead. pic.twitter.com/HnZmnTQ5MO

— Cricket Yorkshire (@cricketyorks) August 26, 2023
As we headed back to West Yorkshire, Clifton Alliance were fighting all the way with Thomas Brown's 6-39 ensuring that spin dominated the match and it went to the wire.

The ten-point victory for the visitors consolidated a likely mid-table finish with a dent in Clifton Alliance's aspirations to finish in the top three.

The final round of fixtures on Saturday 2 September promises much scrolling through Play-Cricket scores and refreshing scorecards. The ECB's IT has been flaky this season and will take some hammer as clubs, players and fans track the evolution of vital fixtures.

Castleford are top and just need victory at Sheriff Hutton Bridge to be crowned Champions.
To win the league, York have to defeat Beverley & hope Castleford trip up. In third, Driffield have a mathematical, if very unlikely chance; relying on Castleford & York to both lose without any bonus points.

You can check out the other situation across other Premier Leagues on our Cricket Yorkshire Facebook page for a quick summary.

Thanks to Clifton Alliance for their time and hospitality and look out for my article on hybrid cricket pitches.

Match Photos
Click around and enjoy the photos below – if you want to donate a cuppa for my next club visit, there's the option to do that here too via my Ko-fi page.
[
Latest posts by John Fuller
(see all)