This is about my watery eyes, faltering IT systems and the frustrations of grassroots volunteers – with a new solution.
So, I walked to the pharmacy recently to collect some eyedrops. It was the third time of trying to pick up a prescription. Good exercise. Down a steep hill that gets the lungs burning on the way back up.
It wasn't there, apparently, and the GP hadn't emailed them the script request. I walked across the road to the doctor's surgery and enquired; cue some head scratching and puffing out of cheeks while looking at a computer screen.
It was a bit of a mystery, apparently, according to both pharmacy and GP but the gist was that the IT was "playing up".
I guess we'll have another go and if that fails, I'll just buy some online and avoid that wheezing ascent.
I've come to the conclusion, reached ages ago but reinforced by many, that one of the most impactful things the ECB could do right now for grassroots cricket is make its IT systems fit for purpose. Deep frustration & consequences when stuff just doesn't work as it should. 🤖

— Cricket Yorkshire (@cricketyorks) July 17, 2023

Play-Cricket

The reason for this interlude into my streaming eyes is that it links with the challenges of IT that the England & Wales Cricket Board (ECB) have faced.

By Information technology (IT), I guess I mean computer systems, software, hardware, programmes and processes that theoretically help us all – but can frequently drive us around the bend.
Don't get me started on social media companies, that's for another time and probably a very long rant.
Grumbling about IT and stuff not working as it should is nothing new but it's incredible how often this season I've talked to those involved in the recreational game and difficulties with ECB systems have cropped up, without prompting.
I've reported on Cricket Yorkshire before about how Play-Cricket and clubs' discontent with live scores rumbles on – and that still seems relevant.
---

The problem, when any governing body forces a person to register their details for a variety of roles and tasks in grassroots cricket, is that in order to do anything, it all relies on IT.

---
That might be clubs logging results on Play-Cricket or trying to live-score. Or, clubs using the Safe Hands portal for safeguarding or coaches learning online.
When it doesn't work, and this year it definitely hasn't, there's understandable frustration on all sides.

Play-Cricket definitely went through a portion of the season where all club website 'About Us' pages didn't load which was strange.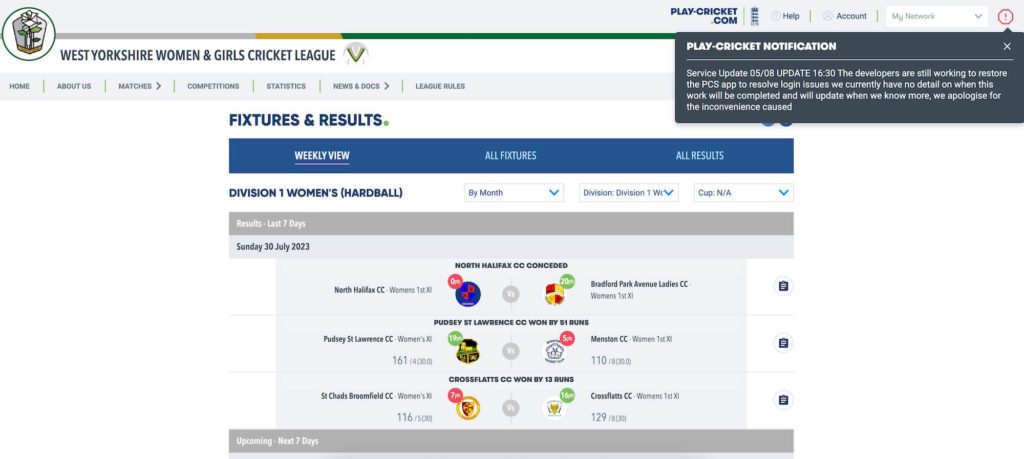 There are still errors and glitches, as you will get, but it is having the opposite effect to the one intended.
Examples I've had include filling out an online form that doesn't allow you to see the other questions before you've filled in the current one.

Why is this problematic? Because so much of cricket administration requires paperwork and proof that takes time to collate from other parties.

Better to know all that's required of you rather than piecemeal.

Links or codes just not working or processes that aren't intuitive enough and take into account the busy lives that volunteers have also feature highly.
I might have another go at the ECB's 2023 Survey but to start with all the demographic stuff, questions about my secondary school and health felt like the wrong way around and I gave up pretty quickly. (There are sound reasons for asking this stuff).
I know the ECB routinely gets lambasted for all kinds of reasons and you might take the view that their IT muscle is down the pecking order when factoring in the maelstrom of The Hundred or the ramifications of the ICEC report.

And yet, this is the here and now. It is having a negative effect right now.
Of course, it's a balancing act here with something so important to get right as, to take an example, safeguarding.

There needs to absolutely be the right checks and balances and everything logged in terms of registering details and ensuring peace of mind.
There will also be the need for IT to comply with all kinds of legislation and best practices that I know nothing about.
And yet, when stuff doesn't work, people get mad.
I've had my own dealings with the Play-Cricket team and they were helpful and supportive, despite no doubt having 482 million emails to get through.
It takes the hide of a rhino to work in any public-facing IT support role I imagine, even when things are going swimmingly.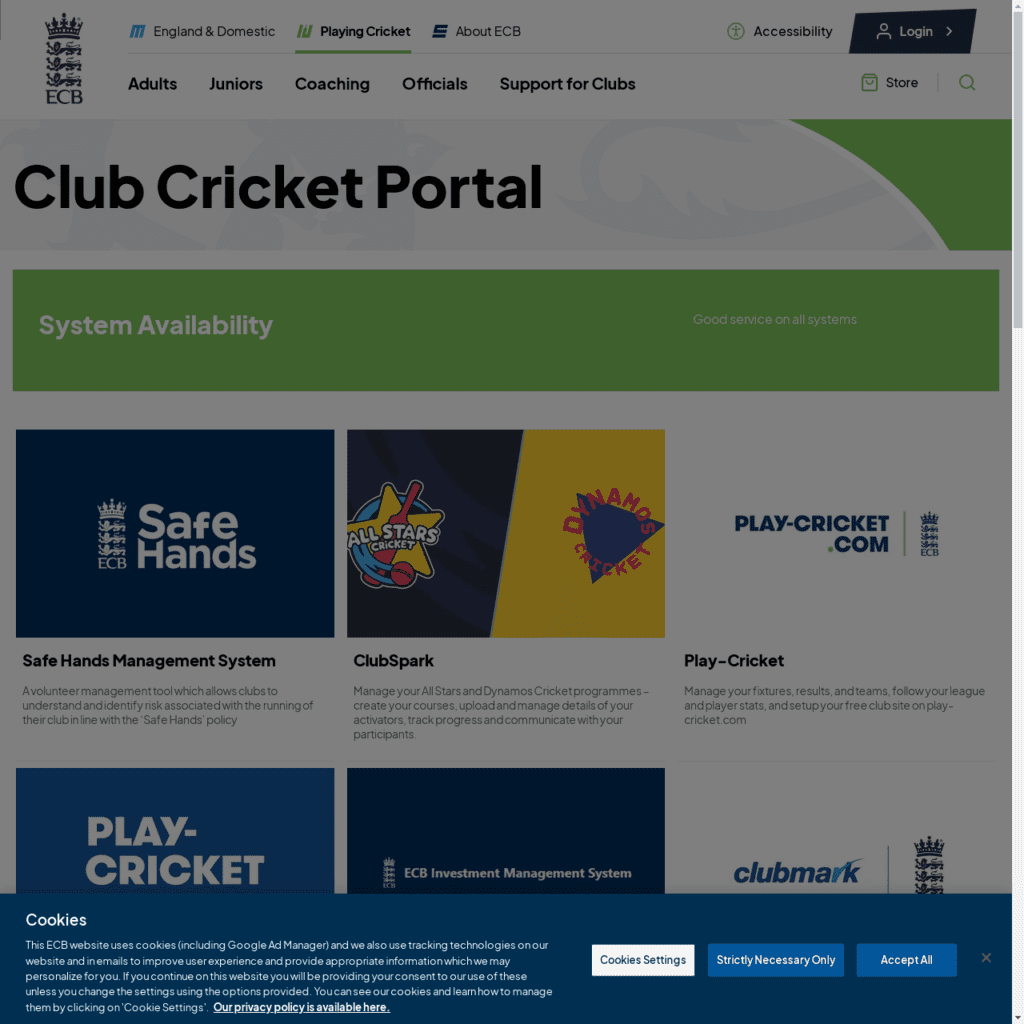 New Club Cricket Portal

Where I thought the ECB was missing a trick came by forcing a variety of participants and helpers across grassroots cricket to log in with different passwords and user details, when often those people do a multitude of different things.

One person may have had to recall half a dozen accounts for the ECB that's both confusing and there was no functionality to remember your password.
---

Hey presto (and I can't claim credit …) but the ECB has now launched the Club Cricket Portal, a single interface with all of the different elements under one roof – and one login I believe.

---

So you can access Safe Hands, Clubmark, PC Scorer, Play-Cricket, icoachcricket and more in one place.

This will take time to bed in and for everyone to get the lie of the land but if it works, it should be much more convenient in future.
It ought to be noted too, that bashing the ECB is a favourite pastime of many, and that can influence how we think about them in every context.

But to return to my leaky eyes, systems that speak to each other should be relatively simple to achieve, if the investment is there.
After all, I could have walked my prescription across the road from the GP to the pharmacy and saved literally months, as it turned out, of calls, emails and mental bandwidth.
Could the Club Cricket Portal be the boost the ECB (and club volunteers) need towards the end of a challenging season of IT headaches?

Want to share your thoughts? Leave a comment below, tweet @cricketyorks or comment on our Cricket Yorkshire Facebook page.
Latest posts by John Fuller
(see all)