After weeks of wet weather and uncertainty, there was more than a bit of relief about the prospect of play at Ripley Cricket Club.
I had seen their pavilion in some images by Mark from Caught Light Photography and the prospect of ice cream, village cricket and views of the castle appealed.
From Cricket Yorkshire HQ, It's about an hour's drive to Ripley; a village a few miles North of Harrogate on the road to Ripon. If you Google Ripley then you get the Derbyshire or the Surrey version first.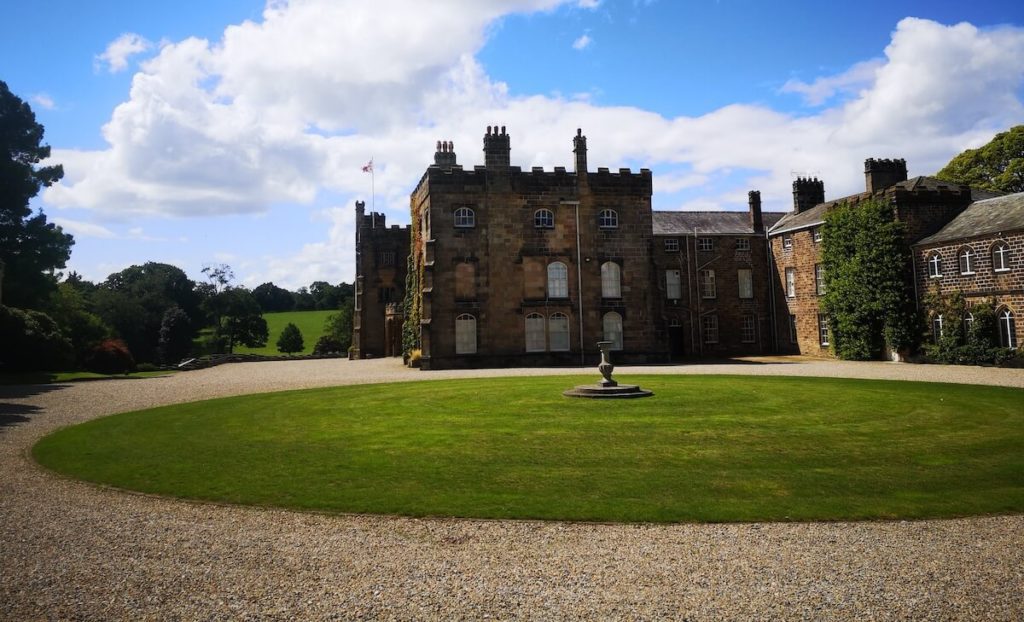 But here in Yorkshire, it is home to Ripley Castle and the Ingilby family who have been in residence for over 700 years.
First stop, the tea room at Ripley Castle for herb-crusted, savoury scones. It was a bustling lunchtime service and a welcome break, followed by the all-important visit to Ripley Store who serve their world-famous ice cream.

---

I'm not sure how Ripley became so well known for this but it's the only place in the world I've been where the 'Soft Serve' ice cream pulled from a machine (like Mister Whippy) has different flavours.

---


A menu of guest flavours changes across the year, and I recommend butterscotch if you get the chance and the blackcurrant crumble which was every bit as decadent as it sounds.
A lick and a stroll back to the car followed.
Ripley Cricket Club benefits from a huge field for parking next to the ground. It's got plenty of capacity for their car boot sale events and busy Friday nights where up to 120 juniors enjoy an evening of cricket.
Watch out for the potholes, though.
I don't know if they have overactive moles in Ripley but they surrounded the car. A geological feature perhaps.
I passed through the gate and set up on the boundary with the camera. I'd barely settled in when a shot from a Ripley batter hurtled into the fence to my right.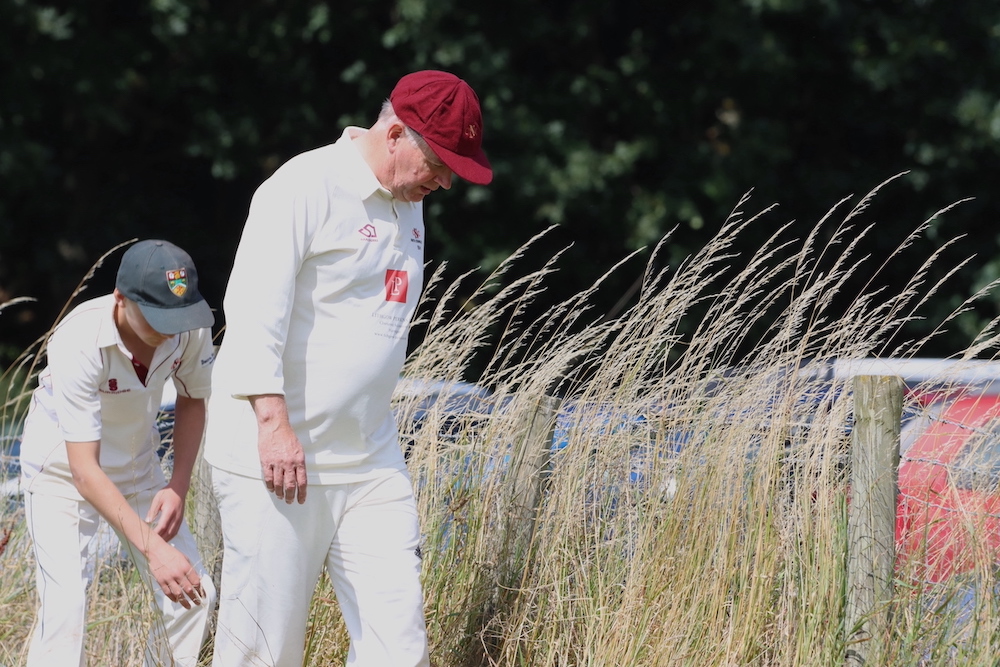 A group of fielders all searched in vain and after five minutes, I went along to help and discovered the match ball some 15 feet into the adjoining field where we were parked. Only a few overs old; a decent shine and seam still.

In all honesty, the prospective appeal of Ripley Cricket Club was tempered a little by the 30 mph winds that were swirling across the ground. The sightscreen at the far end, next to a shipping container, inflated like a catamaran sail at full tilt.
---

The metallic frame was creaking and groaning. The bottom bar of the roller canvas sounded to me like the clanging you get in a harbour with the rigging of sailboats.

---
The ground itself is open. There's no escape from the elements when they come but I doubt it gets this windy often. Bails would frequently be lifted by invisible forces off the stumps, while cricket caps were sent tumbling and cartwheeling across the outfield.
It was a strange old day, really.
On the one hand, the spiteful winds made for a chilly afternoon. But when they vanished, and they did at times, the mercury nudged into the early twenties.
I somehow managed to get both whipped by the winds and sunburnt on the same afternoon. No sunscreen and I won't make that mistake again.
The star of the show, for me, at least, is the Ripley Cricket Club pavilion with its giant sloping roof and wooden bones.
Not as old as it looks, by all accounts, as it dates from the bygone age that was the 1990s. It might not be around too much longer either – but more of that in a bit.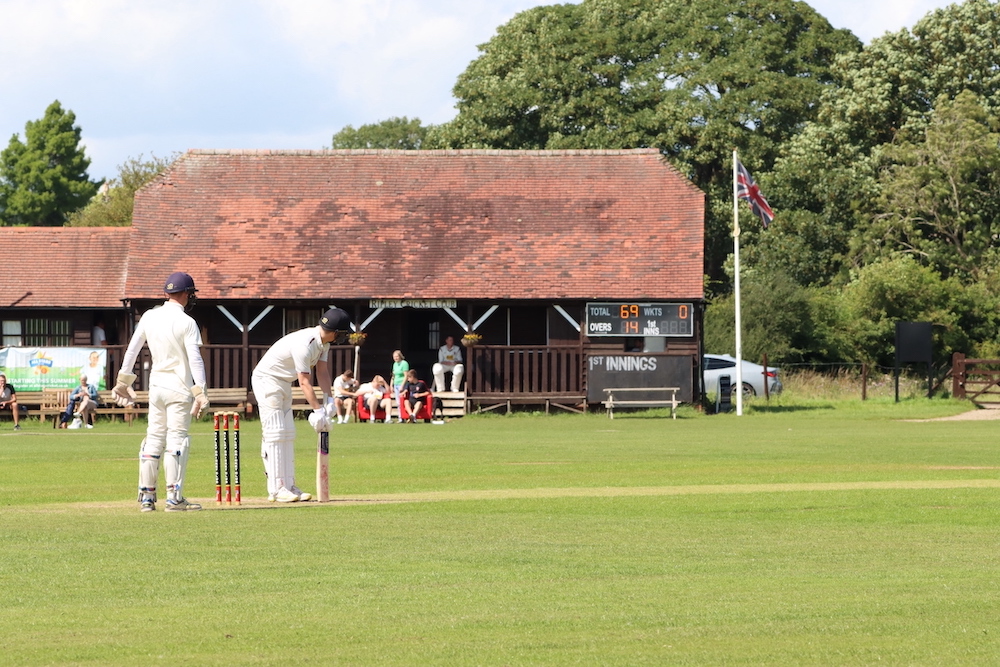 A protruding turret of Ripley Castle, with Union Jack flag fluttering, was visible in the distance. Its owner, Sir Thomas Ingleby, is Chair of the Theakston Nidderdale Cricket League and has a strong connection to Ripley CC having played for the club and is now its President.
I took a stroll around the circumference as I like to do and nodded hello to the clumps of supporters braving the elements to cheer on their teams.
I got chatting with a couple of parents of one of the Ripley juniors playing for their second team today and was given the lowdown on how the home club is faring. It all sounded very optimistic.
They suggested a future visit to North Stainley, today's opponents, in this Nidderdale Division 6 match. Apparently, a pretty spot on the village green, near the River Ure, and well worth a trip.
Conversation flowed easily with whoever I talked to and Ripley Cricket Club seem to find themselves both thriving, but keen to kick on and develop.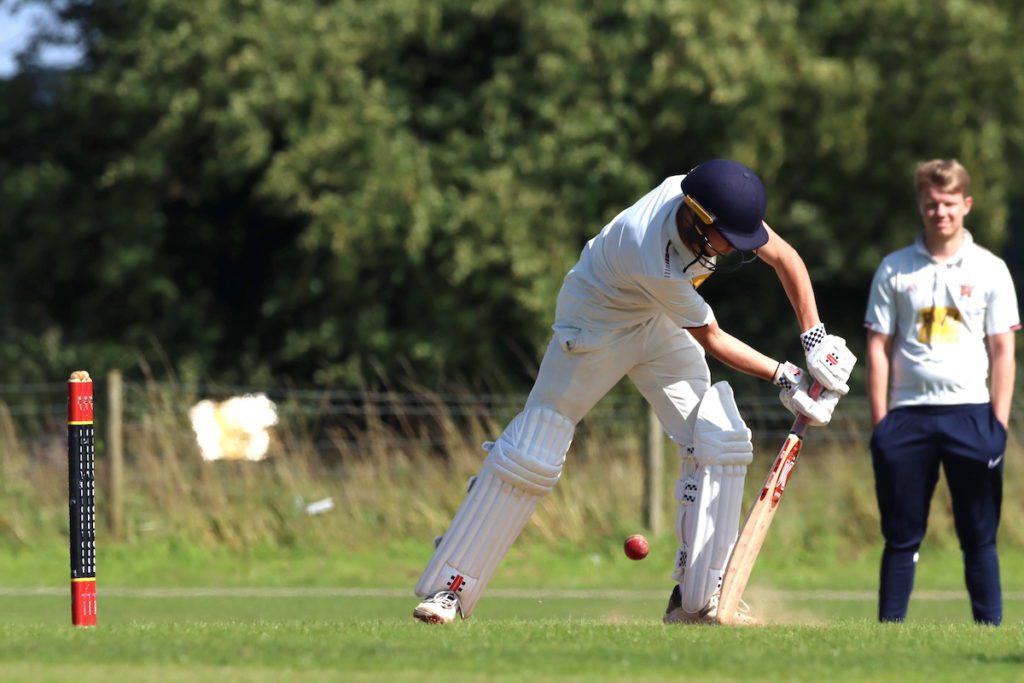 Graeme Baranyai is Ripley Cricket Club's Vice-Chair and shared the news that they have plans for a new pavilion, along with hard-standing outdoor nets.
I hope their replacement home, presumably modern, energy-efficient and more accessible, is still in keeping with the current one and the landscape.
---

On the pitch, they're certainly ambitious and seek to win Division 1 in the next eight years. Their Firsts are currently fourth in Division Three so that would be quite a jump.

---
If they're to reach the top flight, let alone win it, it will be built off the back of enormous depth with their juniors.
Their girls' section is starting with Under 9s planned for next year and in 2024, they will have 11 junior teams, up from eight this season.
It's all about opportunities for juniors to enjoy their cricket and if they want to, transition the U15s and U13s into the adult teams.
On the pitch, Ripley made a flying start with Ian Robinson's 42 and Graeme Baranyai hitting 27. Regular wickets kept the run rate in check and the home side were dismissed for 149 all out from 38.3 overs, to just miss another batting point.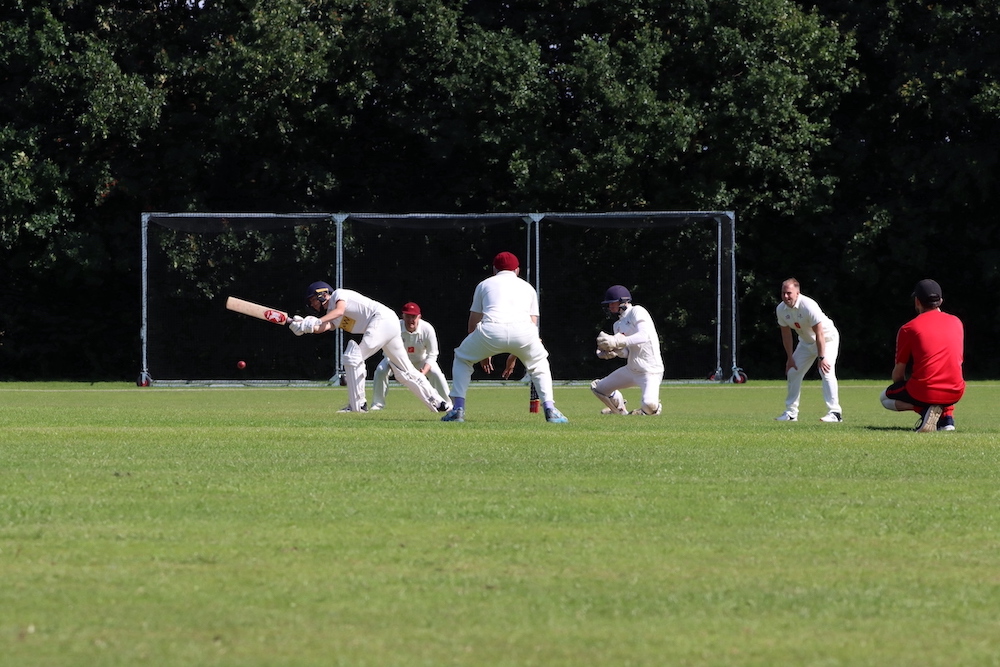 The North Stainley wickets were shared around with Isaac Horner's 3-16 the pick, although Sam Houghton's 3 for 43 caught the eye. One of his wickets saw the stumps splattered satisfyingly and he managed two wickets in two balls, with the hat-trick delivery kept out.

We left at the mid-innings break (it's bring-your-own at Ripley, although I'm told that some clubs have returned to serving teas now).
In the end, the match was abandoned with play, according to Play Cricket, which is an odd way of saying rained off.
North Stainley scored 125 for 8 off 35 overs and it meant they took 17 points from the game, as opposed to Ripley who bagged 15 points.
At the time of writing, North Stainley (118pts) are in the relegation zone, while Ripley occupy fifth place on 182. Darley (248pts) and Upper Wharfdale (238 pts) are the top 2 sides of Division Six in the Nidderdale League.

***

Here are more Nidderdale Cricket League cricket features or club cricket articles from across Yorkshire.

Match Photos
Click around and enjoy the photos below – if you want to donate a cuppa for my next club visit, there's the option to do that here too via myKo-fi page. Let me know if you'd like print-quality photos for your club or if you're a player featured here.
Latest posts by John Fuller
(see all)