Payntr cricket shoes first burst on the scene with all the subtlety of a Fred Trueman bouncer. Launched by ex-county cricketer Dave Paynter, here was a winning combination with the comfort of a running shoe, built by cricketers for cricketers.

It immediately caught the attention of some of the best players around the world; a cricket shoe that withstood the demands of the game with its distinctive Payntr design.
While aesthetics are only part of the equation, I like to think that if Elon Musk or Apple had brought out a cricket shoe, it would look like Payntr.
To understand how Payntr cricket shoes have evolved, who better to talk us through the journey than Dave himself?

We catch up by Zoom on a sunny April morning where we start with the seedling of an idea that began this rollercoaster.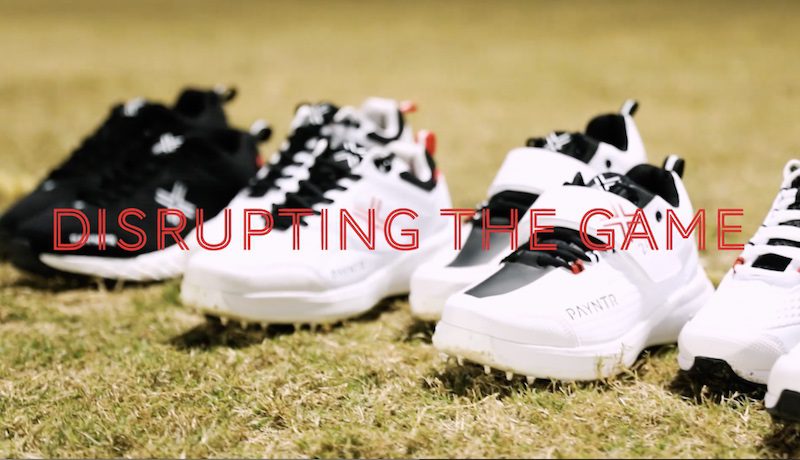 How Payntr began

'It was my dissatisfaction with cricket shoes at that point. As county cricketers, we used to go and buy a nice pair of performance trainers and get them spiked by your old-school cobbler!'

After leaving professional cricket and a stint in his dad's flooring business, it felt like make-or-break time.
'When your back's up against the wall and you're doing what you need to do to pay the bills, that's when the best comes out. I had this lightbulb moment.'
With the inside knowledge of cricket and the contacts, the fun and games began with sourcing a factory capable of providing exactly what we required, as well as designing the shoe and all the other pieces of the puzzle.

Fast forward to when the Payntr cricket shoe came out in 2017.
It properly hit home when Dave was in an airport shop, picked up a magazine and 'there was my shoe surrounded by four global brands in Puma, Adidas, Asics and New Balance!'

He admits to always wanting more; an entrepreneurial engine that needs to be fed to innovate and improve; useful when your strapline is 'Performance Multiplied.'
Eddie Paynter: Bodyline series heritage

Dave's great-grandad was none other than Eddie Paynter who played in the infamous Bodyline series of 1932-33 where England's bowlers employed 'leg-theory' to unsettle Don Bradman and sweep to a 4-1 Ashes win in Australia.

In the fourth Test at Brisbane, Paynter climbed from his hospital bed, struck down by tonsilitis, to score 83 not out before hitting a six to retain the famous urn in the second innings.

The Payntr cricket brand has nice touches to this family legend. An award with the match ball Eddie hit for six had two crossed cricket bats and that is replicated in the Payntr logo.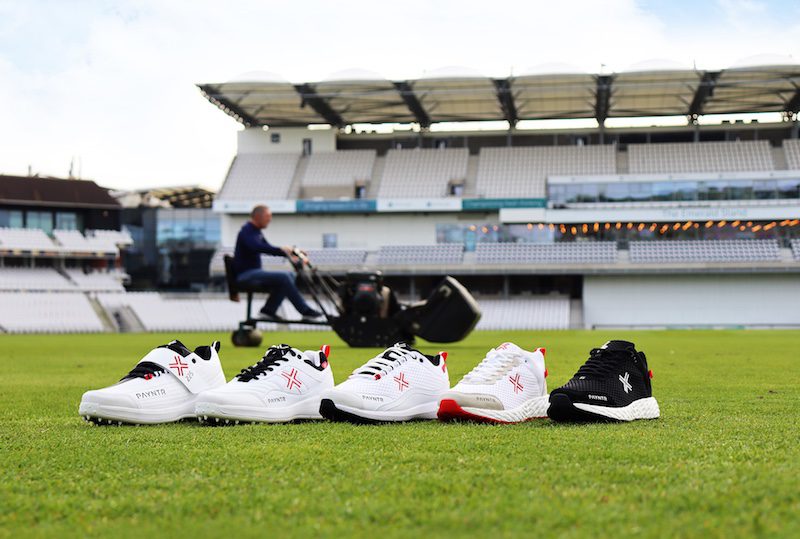 Bodyline Cricket Shoes range
Giving a cricket shoe an identity can be tricky; it needs to stand out and be memorable. For the launch of Payntr's Bodyline range, cap numbers made perfect sense.

BODYLINE 124 – The batting shoe – Don Bradman's number

Ultra-lightweight and responsive shoe for batters and wicketkeepers

BODYLINE 225 – The bowling boot – Harold Larwood's England cap

Durability, ankle support and a velcro strap to lock in the foot while bowling flat-out.

BODYLINE 263 – The allrounder's boot – Eddie Paynter's England cap

Lightweight design with Increased heel and neckline padding for comfort and support, reinforced toe and moisture-wicking to stay cool

BODYLINE 412 – The training shoe (black, grey or white) – David Paynter's Northants cap
If you get the chance, listen to my interview with Dave where we discuss his journey and the design of Payntr shoes, as the devil is in the detail.

The balance is in them having the strength to hold up to the punishment of launching for a legside take or sprinting for a single with a lean shoe weight to give players freedom and speed.
Each cricket shoe has been built with the type of player and the physical demands. Take the incredible pressure on a bowler's foot as it slams down:
'It's all about preventing injury. Fast bowlers are renowned for being injured so if we can reduce that injury rate by creating a good shoe for us bowlers then we've done our job.'

What's next for Payntr?
Their entry into golf, new ranges and collaborations make it an exciting time for this Yorkshire success story.
As Dave put it: 'If I can inspire a few people to take a calculated risk, follow your dreams and really go for it…if I'd never tried and trusted my gut, I wouldn't be where I am today.'
To keep updated on all things Payntr, you follow @PayntrCricket on Twitter, LIKE their Facebook page or check them out on Instagram.
**This is a sponsored article for Payntr – if the mood takes you, click to read Cricket Yorkshire's policy on sponsored content**
Latest posts by John Fuller
(see all)