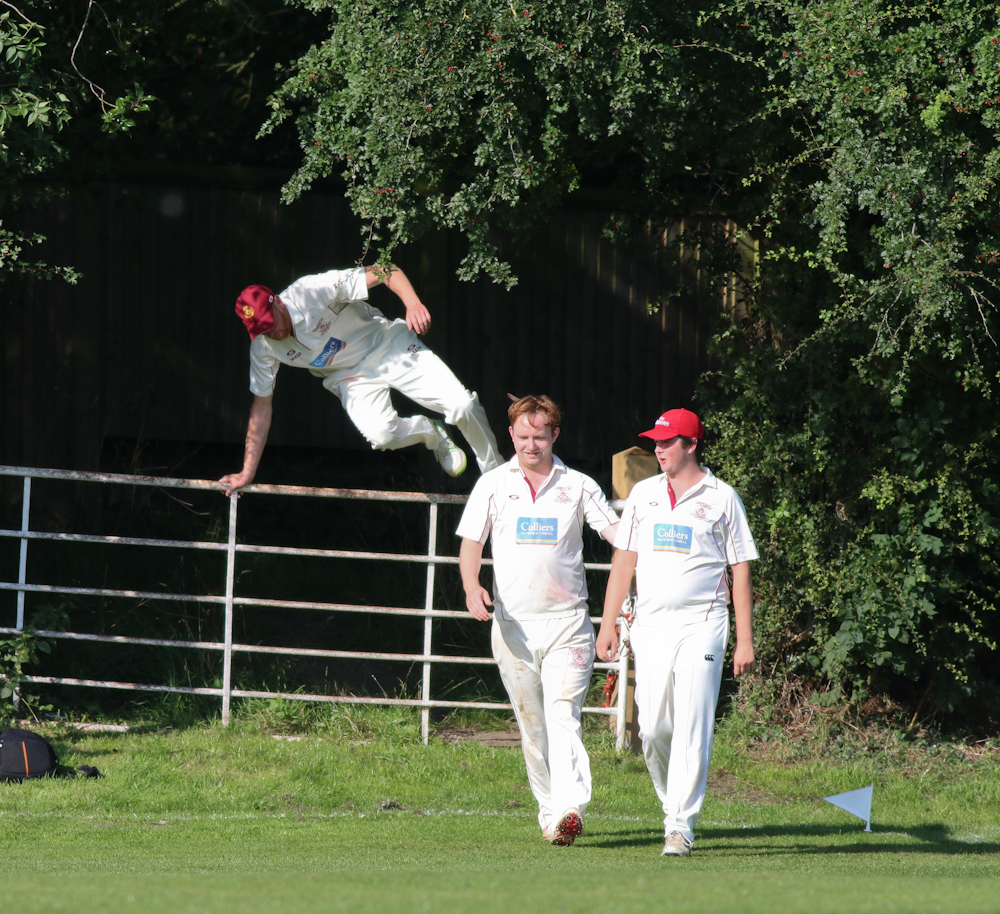 Pannal Cricket Club, of the York Senior Cricket League, has been on my wishlist for some time.
I've scooted past on the train from Leeds to Knaresborough many times and one August afternoon, following a trip to Knaresborough Forest CC earlier in the day, I thought I'd give it a go.
It is always a bit of a gamble turning up late afternoon, having failed to get the live scores to reveal what phase the match was in. 
It wouldn't be the first time I've arrived to learn one side has been turned over cheaply and it was all done and dusted by 4pm.
Nonetheless, due to advice from a friend (thanks Graham), I located Mill Lane just down the road from the Co-op at Pannal railway station and set off to locate some club cricket.
Mill Lane symbolises exactly the kind of allure that Yorkshire has for me and I don't mean the properties at a cool half a million. Only a few miles from the bustling centre of Harrogate, the village of Pannal offers tranquillity and a feeling that you're in the middle of the countryside.
Stopping only to double-check I was on the right track with a local wheeling a barrow, it's a short walk tracking the curve of Crimple Beck to the cricket club.
Regular readers of Cricket Yorkshire will know that I can't definitively pinpoint this inner-city club is my favourite or that secluded Yorkshire Dales enclave is the best. Each has its own characteristics and variety is what defines Yorkshire cricket.
What I will say is that I have a soft spot for quiet village cricket grounds.
There is a satisfaction in taking it all in first so I sat next to a hedge and watched a few overs, a cow with brown splodges in the field opposite languidly looking on as the Ripon bowler rushed in.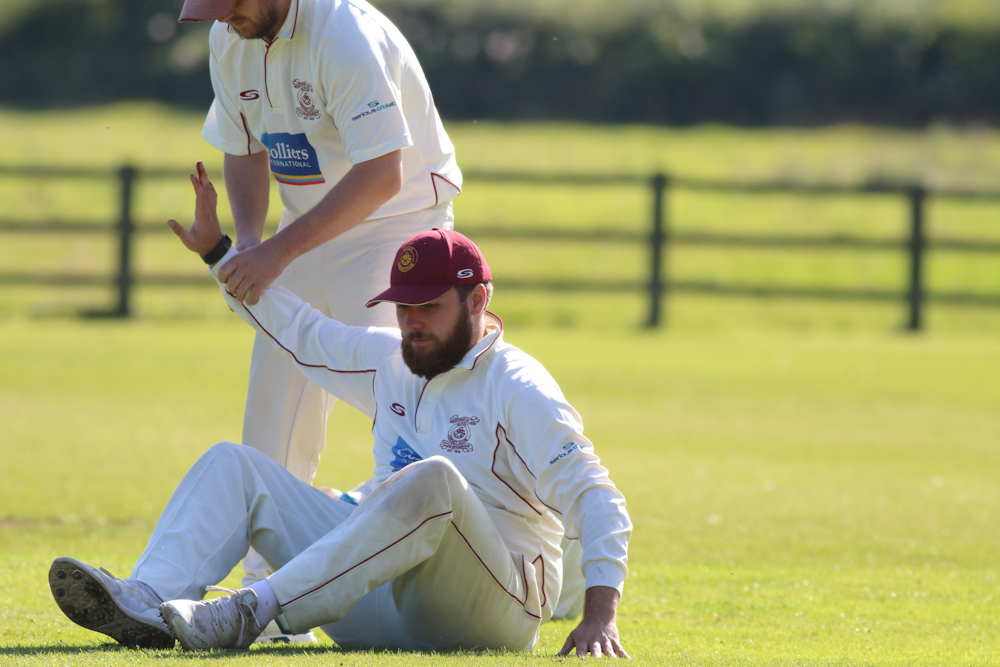 Don't mistake peaceful for uneventful. Within minutes, one of the Ripon fielders was sat down, damaged digit in the air, having torn a nail that was leaking claret all over the immaculate outfield. He jogged off casually to find a plaster or a bit of strapping.
I went in search of a cup of tea and the scorer was rummaging around for some anti-allergy pills after someone had just been stung by a wasp. I wondered what was next? A cow rampage? A battalion of mischevious dragonflies?
Furnished with a brew, I was able to luxuriate in the view from the single-storey pavilion with its white fencing outside.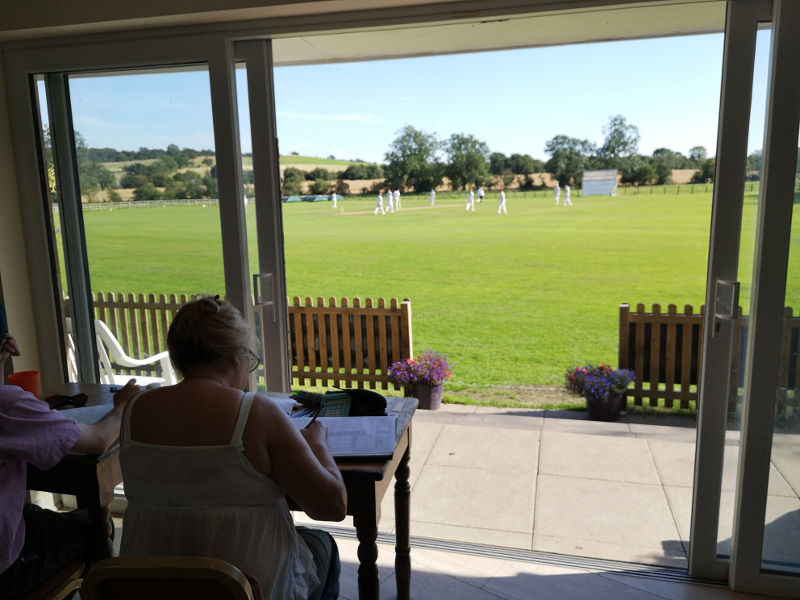 Having indulged in a slice of cake, I ambled up a tree-lined corridor where a man sat on a bench reading a book with the soundtrack of the cricket for company. He likes to come here, he said, to get some air and clear his head and who could blame him?
I continued to the top end of the ground and sat on a stile with the cows mooing away and the occasional train rattling by to my right like a yellow and purple metallic creature noisily darting through swathes of green.
The stile turned out to be quite a busy intersection with spectators parked behind me clambering past and a number of walkers vaulting over. 
I didn't stay longer than about an hour; conscious that there were a number of train connections to get back home; but even in that distilled pocket of club cricket, I had got all that I needed.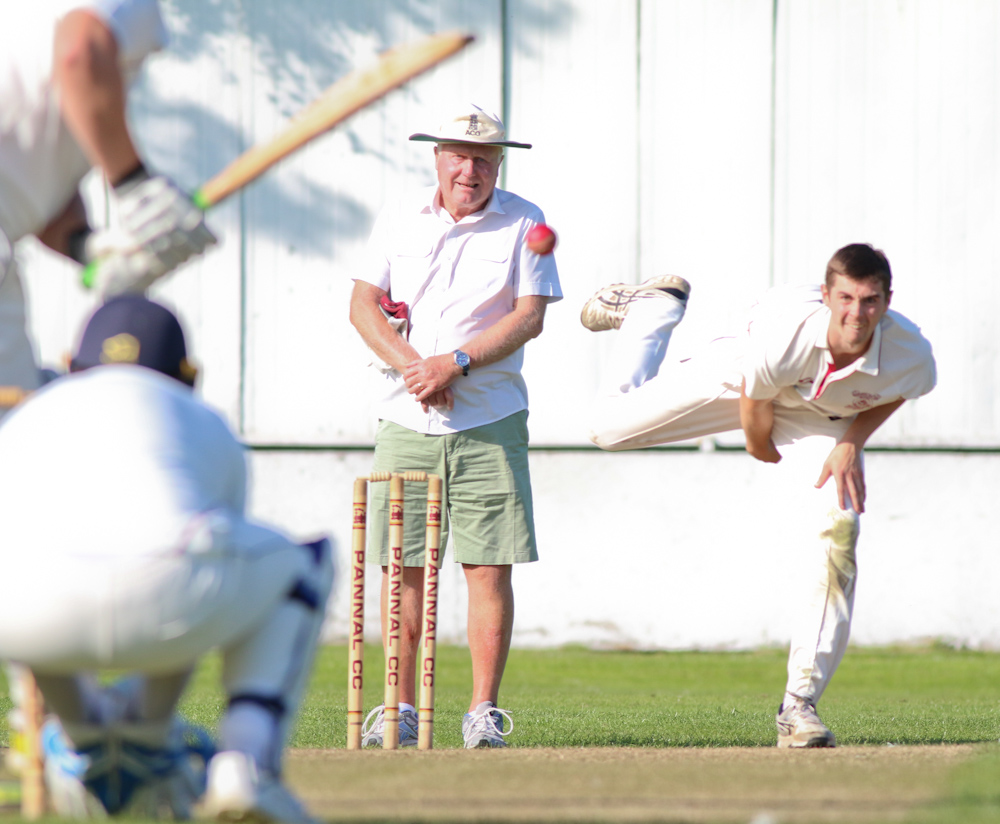 Pannal had been duly added to a long list of cricket clubs in Yorkshire that I'd happily return to.
Ripon secured a winning draw about the time that I was thrust back into the maelstrom that is the concourse at Leeds railway station on a Saturday evening. 
Lasses returning from a day at the races with fascinators perched like nervous tropical fish and lads out on the lash dressed as Barney Rubble.
I let the rising, boisterous wave of noise wash over me, content in the knowledge that trips to Knaresborough Forest and Pannal had recharged the batteries and proved, yet again, what Yorkshire cricket has to offer.
Don't leave just yet…! Enjoy these match photos below (click for slideshow) and please share the article using the Twitter and Facebook buttons after the article  – it all helps spread word of the clubs involved and Cricket Yorkshire.
Thanks for reading!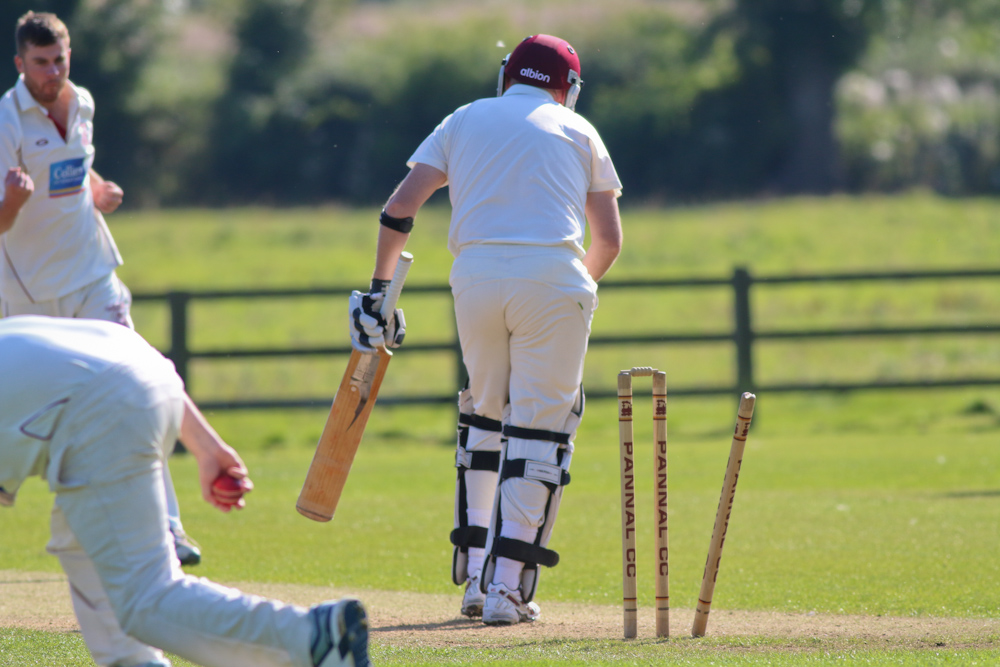 YORK SENIOR CRICKET LEAGUE MATCH PHOTOS: PANNAL VS RIPON
Latest posts by John Fuller
(see all)