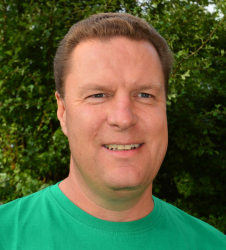 Latest posts by Andrew Gallon
(see all)
Stuffed olives, smoked cheese, pork and apple pie, samosas, Cornish-style pasties, raspberry cheesecake, fruit scones and chocolate brownies.
Eight reasons why we chose Old Malton for our most recent Saturday cricket fix.
I say 'we'. Once my wife realised Malton & Old Malton Cricket Club's home game with Yorkshire Premier League North, Premier Division rivals Stamford Bridge coincided with so-called Yorkshire Food Capital Malton's monthly food market, poor Slaithwaite Cricket Club didn't stand a chance. Later in the season, guys!
There were, of course, sporting considerations.
At the end of last season, Stamford Bridge (champions) and Malton & Old Malton (runners-up) were promoted to the YPLN top flight from its second tier Championship. The latter are playing at Premier Division level for the first time. I figured each would have marked down as 'must win' this fixture at Fitzwilliam Sports Association, Old Malton.
I hesitate to suggest most blokes deem any sort of shopping a joyless activity.
It does nothing for me so, having dropped my wife as near to the food market as possible, carefully avoiding the bottleneck traffic lights in the middle of Malton, I picked out a suitable, potentially shady spot at the cricket ground and settled down for a quiet, pre-match read.
O.S. Nock's Historic Railway Disasters, if you're interested. Abermule, Harrow, Quintinshill. Shocking, all.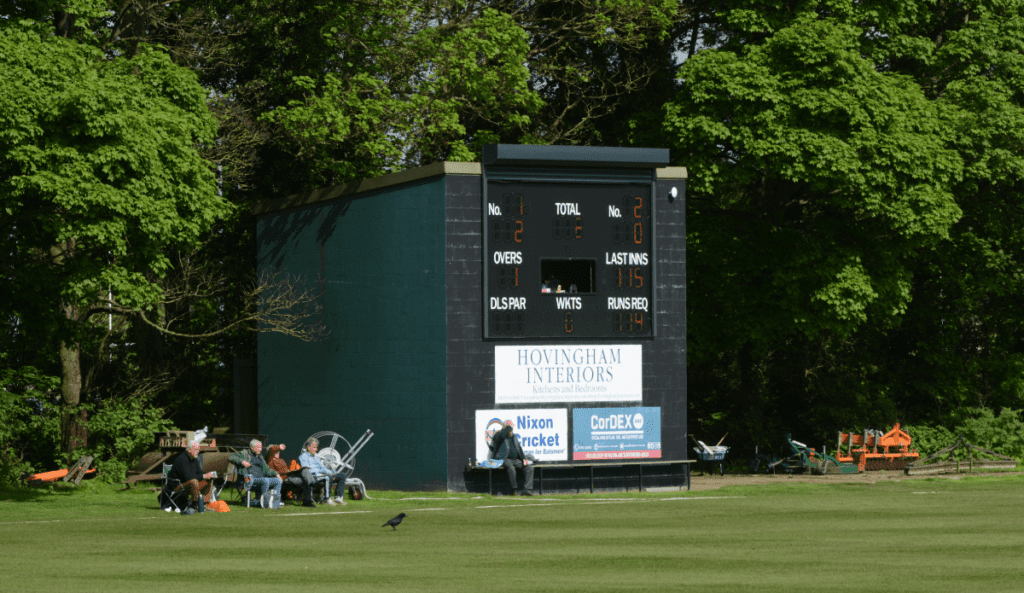 Ahead of a noon start, the players were completing their warm-ups by the time I spotted my wife, strolling down the ground's access then alongside the boundary rope. Carrying a large paper bag, brimming with goodies.
A few – including some sensational samosas – were added to our cricket picnic. Even so, two days later, we still haven't got through every item.
Fitzwilliam Sports Association wasn't new to me. I'd been here in 2019, to watch the cricket club's fellow tenants, Old Malton St Mary's Football Club, whose pitch is laid out perpendicular to its cricket counterpart. There is an overlap. Also, in 2003, I'd watched a rugby union match, next door, at The Gannock, where the Malton & Norton club play.
I'd forgotten how spacious a site Fitzwilliam Sports Association is. This is a cricket ground that would have no trouble staging a cup final. So much spare turf – especially on the Malton side – beyond the boundary rope. You'd get in, comfortably, 1,500-2,000 spectators.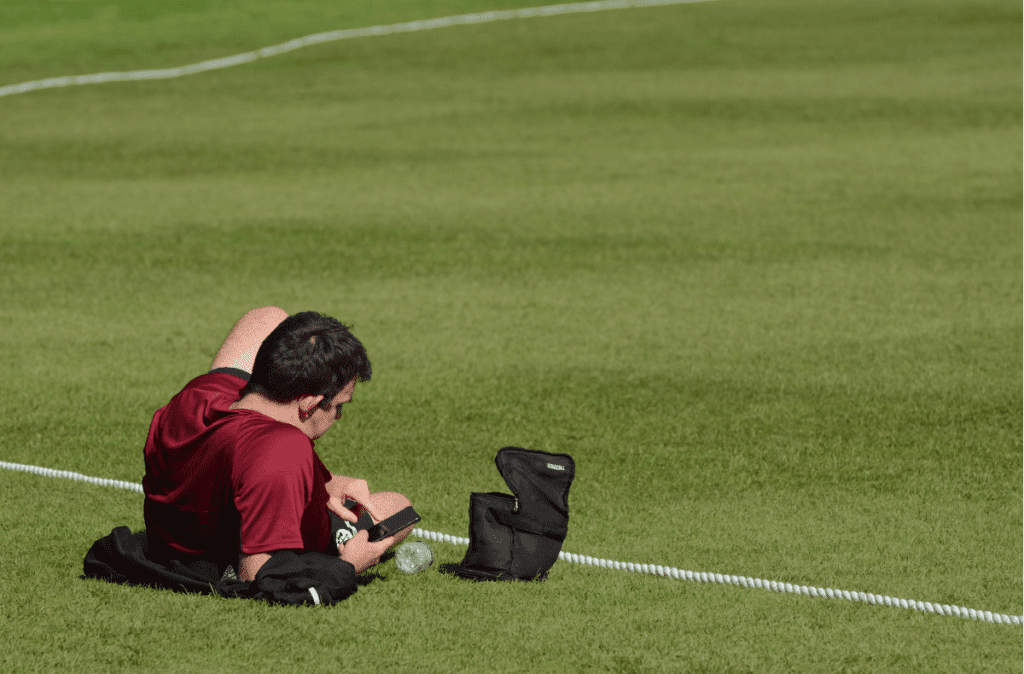 The footballers were also at home (the York Football League season goes on for ever). Seems as though, at this time of year, the cricketers get priority.
Soon after the cricket started, the players of Old Malton St Mary's and Tadcaster Magnets walked past the Derwent end boundary and disappeared through the trees on the far side. Investigation during the tea internal revealed they played (4-1 home win) on a pitch beyond the rugby union ground.
Pre-match, a teenager carrying football boots asked the whereabouts of the football pitch, largely invisible during the cricket season.
We couldn't assist therefore he rang the manager. Turned out he was a Selby Town player guesting for Old Malton St Mary's after his main team's season had finished. He told of "a lot of investment" at Selby Town, including a (welcome and overdue) relaying of their pitch.
---
Fitzwilliam Sports Association boasts an impressive clubhouse, positioned in the southwest corner. A plaque reveals it was opened in 2000, with then-Yorkshire County Cricket Club captain David Byas amongst those conducting the ribbon-cutting ceremony.
---
A Heritage Lottery Fund award, recognised by a separate plaque, helped pay for the building, which houses dressing rooms, a bar and a kitchen, from which – a little later – emerged an impressive cricket tea.
To the east, adjacent fields, oil seed rape in full bloom, were a riot of brilliant yellow. Combined with blue skies, the colour, I always feel, makes Yorkshire look like Provence or Umbria. Our chosen viewing location was overhung by fragrant hawthorn blossom. The site's resident rooks came to say hello, and to request a share in our picnic. What's not to like?
A gently sloping field, at our back, is topped by poplars and provided enough distance to draw the sting of passing vehicles on the B1257, Old Malton Road. Huge, expensive tractors, working hard to pull laden trailers, produced the afternoon's noisiest roar. Before construction of the A64 bypass, I imagine this road was much busier.
Now, I can't recall seeing a greener wicket. I checked with fellow spectators – including a local couple, regulars – and they agreed. But for the presence of stumps, it would have been difficult to pick out the wicket from the rest of the square.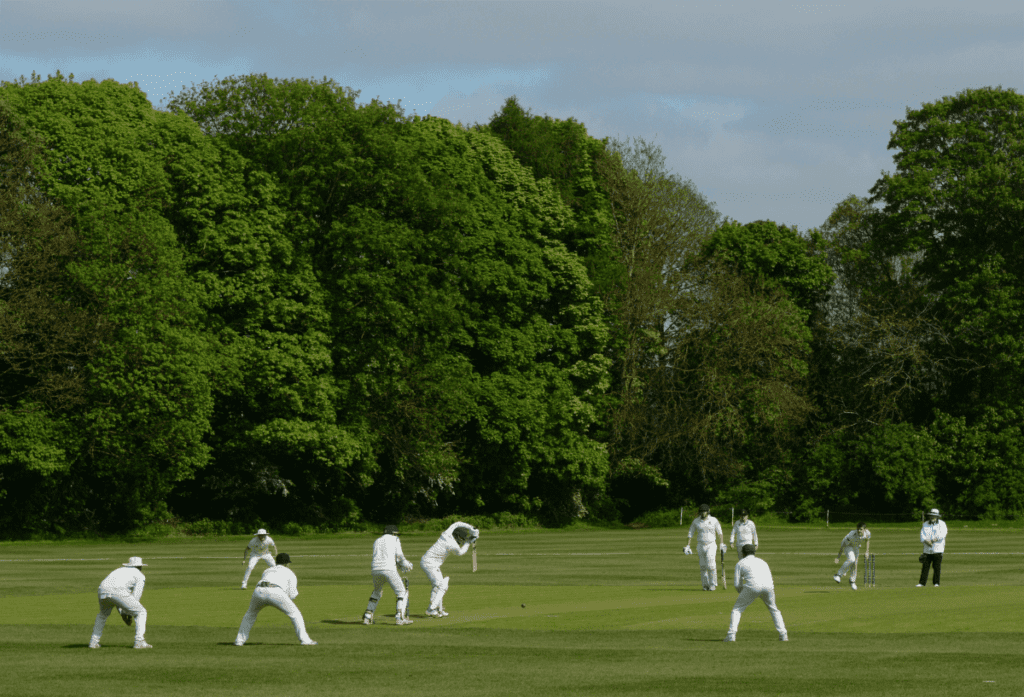 Apparently, the groundsman – doubtless, balancing numerous considerations in his part art, part science custodial duties – had left the wicket uncovered the previous Tuesday night.
Naturally, it rained. And there wasn't much 'drying weather' between then and the Saturday. "It's never recovered," observed the chap selling raffle tickets, to about 80 spectators.
Underfoot, the going (as they might say in this racehorse training district) was soft. Both the outfield and the 'public' side beyond the boundary rope. Hardly ideal batting conditions.
Elsewhere, it must have been worse. In the same division, the games at Sessay (versus Driffield Town) and Woodhouse Grange (versus York) were cancelled.
Stamford Bridge won the toss and elected to bowl. With strong sunshine and an 18-degree temperature forecast by mid-afternoon, I imagine visiting captain Matt Beckett hoped – expected, even – the pitch would dry a little.
---
Most of Malton & Old Malton's innings took place beneath a blanket of stubborn cloud. Soon, they were 14-2, with opener and captain Shaun Harland (5) an early casualty.
---
Midway through the innings, a fellow spectator, walking to his car, passed by. "Seen enough already?" I asked. Told us he fancied catching a bit of Sheriff Hutton Bridge's home match, in the same division, with York-based Clifton Alliance, whom live scoring advised were 44-6. In the event, the visitors won by one run. I'm sure he enjoyed that finale!
At Fitzwilliam Sports Association, much rested on the broad shoulders of the hosts' Australian professional Gehan Seneviratne, a Victorian all-rounder, who is spending his first season with Malton & Old Malton Cricket Club.
In at No 3, Seneviratne was patience personified. He scored 33 from 93 balls (only one boundary!). Just when I thought the import would bat to the end, eager to push on during the last few overs, he quickstepped down the wicket, swung and missed, and was stumped by glovesman Ryan Taylor. Well out of his ground, by the looks.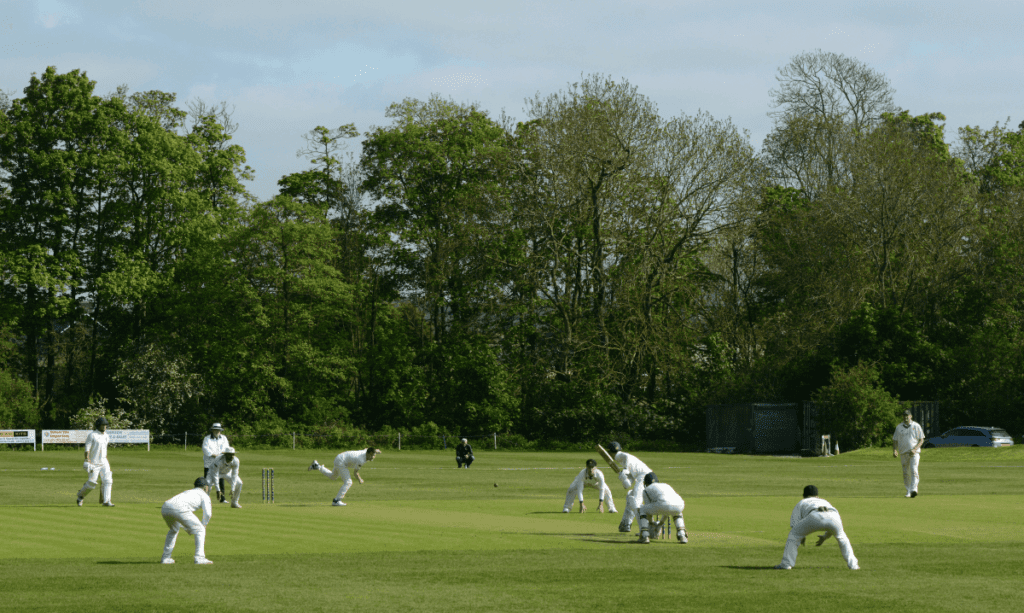 Team-mate James Skelton, recruited from YPLN rivals Sessay, joined Seneviratne, briefly, for a punchy 22-from-22 cameo featuring four fours.
By and large, though, the bowlers had the upper hand. Kevin Murphy (4-30 from 13 overs) and Dave Chaplin (2-23 from 10.3) revelled in the conditions as Malton & Old Malton were restricted to 115 off 46.3 overs. Chaplin's victims included Seneviratne.
During tea, I overheard a home player inform a gathering of elders, seated within conversing distance of the scorers: "That is a very good score. It's wet through."
As you'd expect, we were agog to see how Stamford Bridge coped with the conditions.
Admirably, it turned out, after a hesitant start, which saw them lose Kevin Murphy (0) with only 14 on the board. "That is just pressure," chirped a cover fielder.
---
Once opener Martyn Woodliffe (41 not out off 78 including six fours) was joined by Australian professional Brandon Faber (68 not out off 69), a Queenslander, Malton & Old Malton's afternoon got a whole lot tougher. Faber struck three sixes and eight fours.
---
Malton & Old Malton went through their repertoire of encouragement: "Energy, boys"; "Changing nothing,"; "Great to see, buddy"; "C'mon, Mikey [Linsley], lad". To no avail, although a sharp catch went down at 17-1. "It's coming"; "Only a matter of time here."
Amid improving conditions, despite one or two voluble appeals, the five-bowler Malton & Old Malton attack, which included leg-spinner Seneviratne, could not dislodge either Woodliffe or Faber. The latter, in particular, batted with increasing confidence and fluency. 117-1 off 26.3 overs. Job done. Home early.
It was Stamford Bridge's second nine-wicket victory in a week. The previous Saturday, they had beaten visitors Beverley Town by the same margin. With two wins from four, they rose to sixth in a table topped by 100 per cent Clifton Alliance.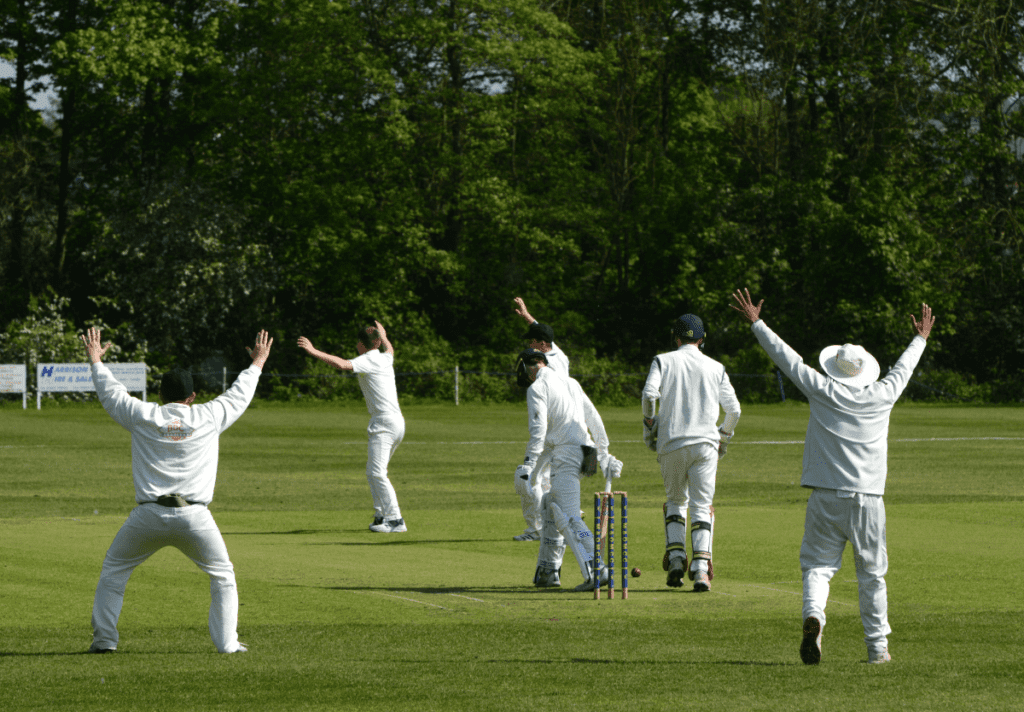 Before the winning run was struck, we had an illuminating chat with the parents of Malton & Old Malton all-rounder Mike Linsley. Mike's mum, Cynthia, is at least partly responsible for the players' superb teas. She should enter the annual cricketyorkshire.com competition!
From various sources, we learned how Malton & Old Malton feel at a, shall we say, financial disadvantage in their new surroundings.
Four players have been lost to relatively big-budget Scarborough Cricket Club, who offered the quartet what, to me, sounded like a very useful match payment.
Awaiting a first win, four games in (albeit one cancelled, at Harrogate, because of the disappointing spring weather), home supporters are braced for what they suspect will be a difficult season. Survival (i.e. avoiding the bottom two positions) is the priority. At present, Malton & Old Malton are 10th, above only Sessay and Scarborough.
Come what may, it was only too obvious everybody – not least, the players – at Malton & Old Malton Cricket Club is determined to enjoy this season's ride.
As cricket learning experiences go, what could be better, week after week, than pitting one's wits and skills against Premier Division opposition?