A trip to Luddenden Foot for the Halifax Cricket's League Parish Cup was an eventful one. The drive takes you up into the clouds of the Upper Calder Valley, along narrow stretches until you plop out on Sowerby Lane.
We parked up just as a tractor wanted to squeeze past the row of parked cars for the cricket. His driving skills were exemplary. Imagine he has plenty of practice up here.
---

Luddenden Foot is a typical Halifax League ground in that it's small, attractive and well equipped. A wooden ladder, like you see at Bradshaw and elsewhere, allows fielders to hop into the adjacent field to retrieve sixes.

---
That was to happen quite a bit in the hour or so we were watching. No-one hangs about in knockout cup cricket, it's kitchen sink or bust.
The Parish Cup, sponsored by Briggs Priestley, began 2022 with 31 teams and at the time I visiting 'Lud' we were down to the final eight.
Match Photos
The visitors were Old Town; a fact I learnt later having spied a cricketer in a Bridgeholme shirt and wrongly assumed who the opposition were.
(*Old Town is another cracking ground, if you get the chance to visit, here's a few thoughts).
Here at Ludd, a memorial stone is an eye-catching touch near the entrance; a sign that Luddenden Foot care about their ground, those who come and those who sadly depart.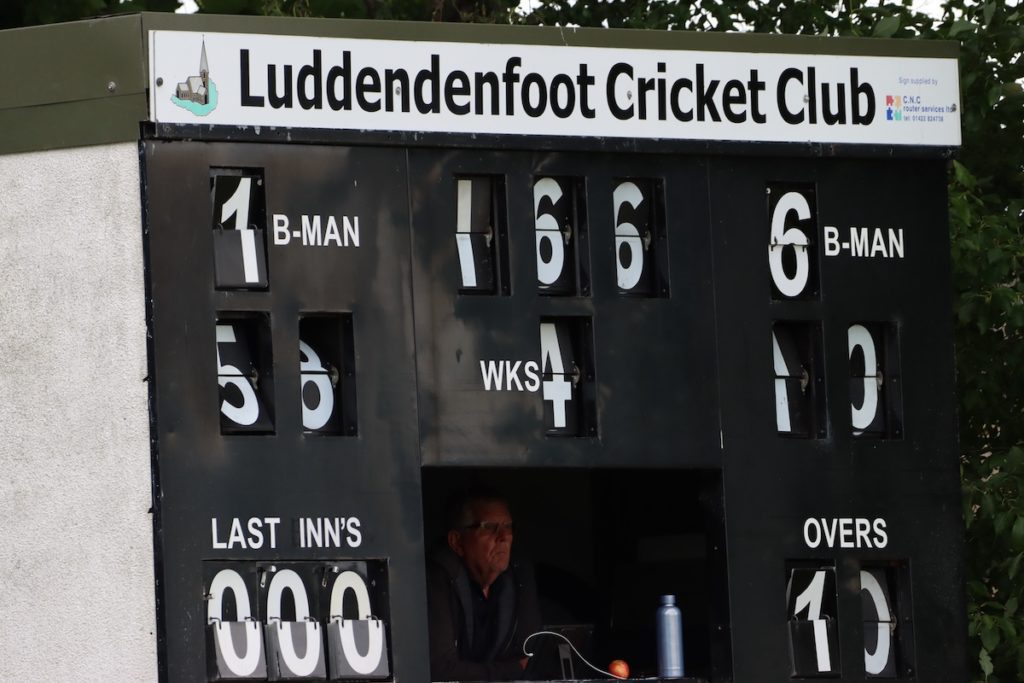 Mrs Cricket Yorkshire and I sit on the wooden bench; right under the noses of the scorers. The mechanical clunks of the numbers being turned is a very satisfying sound.
Another small detail catches my eye; 'RG' carved into it with a pair of stumps and a cricket bat motif.
The views are breathtaking but then I say that a lot about the Halifax League. It's huffing and puffing a bit and imagine April can be perishing up here.
---

There's nothing asthmatic about Old Town's batting. They are smashing sixes as if they have something in the oven at home they must dash back for.

---
I digress, we are into the middle order and wickets from the Luddenden Foot bowlers stem the flow.
Yasir Ali (30) & Istikhar Ahmed (25) swing the bat and 233-8 off 45 overs seems like a decent total as the players come off for tea.
Just before the break, an air ambulance lands in a nearby field. News filters through of a multi-car pile-up between Luddenden Foot and Mytholmroyd. It's a sharp jolt amid the tranquillity. Hopefully, everyone was ok.
A reminder that services like Yorkshire Air Ambulance provide an essential service, especially for more remote communities.
About the same time as we were negotiating our way out of a traffic jam down a country lane with a dozen cars and a tractor, Dean Hans was opening up his shoulders en route to a match-winning 91 off 90 balls for Luddenden Foot.
The eight-wicket win meant an away semi-final against Mytholmroyd; a 2.2 mile drive down Scout Road to their near-neighbours on Sunday 17 July at 1pm.
Warley vs Illingworth St Mary's is the other semi while the Crossley Shield Semi-Final Draw sees Great Horton Park Chapel host Low Moor Holy Trinity and Queensbury at home to Mytholmroyd.
Enjoyed this article? Share it on social media using the Twitter & Facebook buttons below.
Be the first to know about articles, exclusive competitions and reader offers…
Latest posts by John Fuller
(see all)