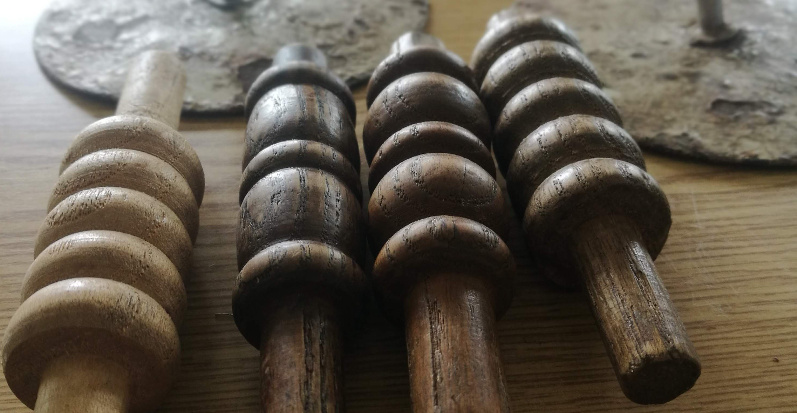 Throughout West Yorkshire, you are never far from a game of club cricket.
Halifax, Sheffield, Leeds, Huddersfield and Bradford are all teeming with clubs but that's really just the start.
So, Saturday came and an experiment of sorts…to see what was out there on the doorstep (within 15 miles of CYHQ), armed only with a full tank of gas and a willing driver.
Old Town Cricket Club, of the Halifax Cricket League, had been on the wishlist for years and it did not disappoint.
We parked up on Old Town Mill Lane just as a guy in a white van adjusted one of those silver foil windscreen reflectors. He asked us if the silvery shimmer might distract the cricketers but we put him at ease.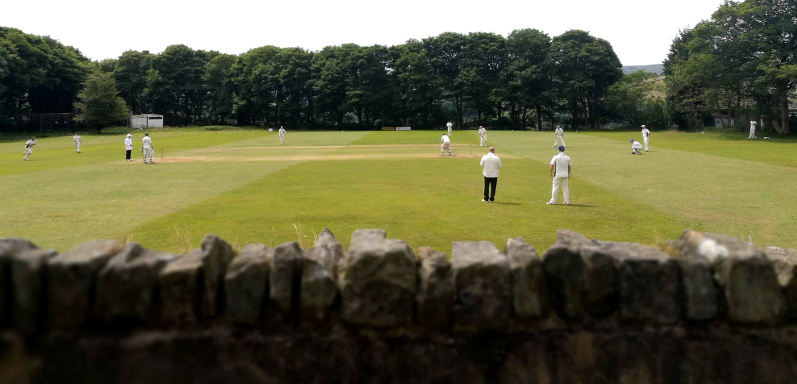 The faded entrance sign announced the visitors, in spidery chalk, as Leymoor with the sponsor as Anne's Driving School.
The single-storey, stone clubhouse sits in front of the enclosed playing surface with the towering mill chimney standing guard in one corner.
There is a dogged pride that cricket is chugging on at the Boston Hill cricket ground.
Talking to Stan, Old Town Secretary, who was busying himself in the kitchen, they are unusual in that there is no push to develop a junior section, they have just the two adult sides.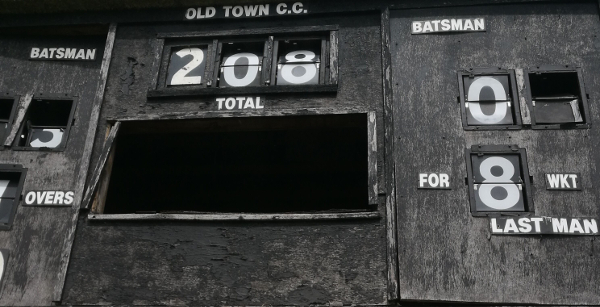 I understand if clubs don't have the desire to coach, organise and develop younger age-group cricket though it relies on retaining a flow of players and puts a club's sustainability in question.
We sat out on the steps of the clubhouse and had a mug of tea; the players were going through gentle warmups, half sunken down out of view.
We didn't stay long; enough time to walk a few laps and get a sense of the place then witness some gargantuan sixes.
At the far end of the ground, through a blanket of trees, it looks as if the land falls away to rolling hills. There are cricket nets but nature has long since reclaimed them. I startle a rabbit whose ears twitch nervously before bouncing merrily off into the long grass.
There isn't much here at Old Town and yet there is everything.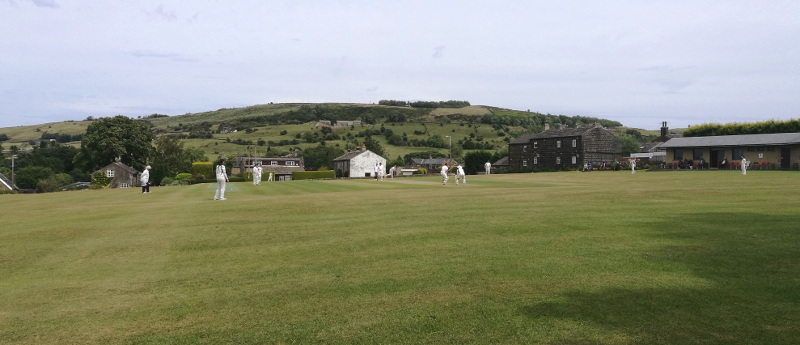 Oxenhope Cricket Club is next on our odyssey after a nine-mile drive on the A6033 with its vast openness before dropping down into this village near Keighley on the Keighley & Worth Valley Railway line.
We walk past Oxenhope Fisheries and find a spot in the shade to sample some Craven League cricket on this raspingly hot afternoon; noting the wall painted white as a sightscreen of sorts on the other side of Hebden Bridge road.
Oakworth had a number of teens in their ranks who were visibly wilting as the heatwave sweeping the country settled like a stifling fog.
One of the red-faced young fielders complained about the length of the game and little wonder if he was used to 20 overs. You could argue it's character-building or you might take the view that it's putting off the next generation.
Our timings were such that we didn't linger to sample the cricket tea but it was laid out, protected from hungry bees or cheeky hands by tea towels.
I could be wrong but I just got the feeling that Oakworth Cricket Club do an epic tea. The lady who passed over a brew said she'd been doing it for years and she wore an apron which sealed the deal for me.  
It was then back in the car and a four-mile dog leg around Haworth took us to the village of Cullingworth. This is a cricket club that was hit hard by player retirements and departures ahead of the 2018 season.
They took the decision to reduce to one team that was entered into the Terry Wynn 2nd Division of the Halifax Cricket League, effectively demoting their first team two tiers.
They live to fight another day but it is must be galling after their firsts won the Division One championship and had gained promotion to the Premier League.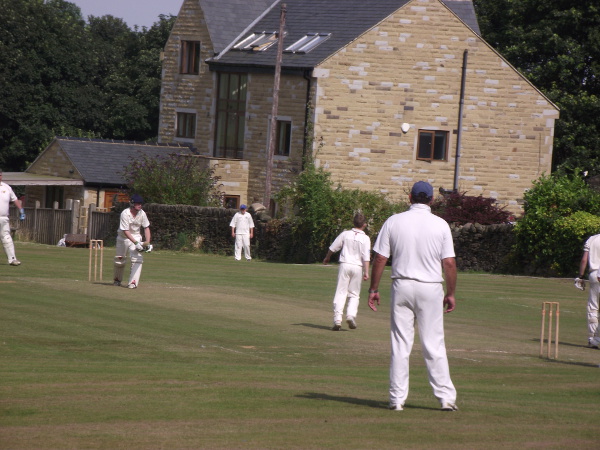 You park up at a taxi company and walk round the front of the club with its oblong playing surface and very short boundary on one side. Their HQ has no great age to it and yet there is a stone marking its foundation in the 1800s built into the entrance; a poignant nod to the past given its recent uncertainties.
Cullingworth's opening bowlers were fruitlessly pursuing late innings wickets as the first half drew to a close. They must have broken a few mirrors that particular week, judging by the close calls as batsmen threw their heft into agricultural swipes.
The wall that runs alongside Roydwood Terrace is remarkably close and in the short time we were there, a catalogue of sixes rained into the alleyway in what would normally be nothing more than a casual flick for a couple.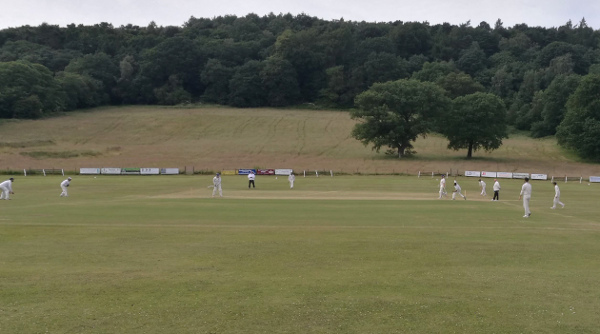 Harden Cricket Club is one of those grounds that looks drop-dead gorgeous all year round. Perched on the South-West corner of the 550-acre country park St Ives Estate, outside Bingley, all you see is trees from the road.

Saltaire 2nd XI were the visitors in this Aire-Wharfe cricket encounter and much as before, we took shelter in the shade of the clubhouse outdoor seats, letting conversations drift over us while a dog tied up next to me, took a passing interest in licking my socks.
The parents of one of the Harden junior cricketers were nervously making their debut in the all-important tea rota and they had excelled themselves. That Victoria sponge was a thing of majesty. There is a knack to putting in a shift and being appreciated but not being too good that you are inked in as regulars.
The B6429 has the regular buzz of traffic and I've often thought it is a shame the cricket club doesn't sit somewhere quieter but actually, the noise is muffled by the windbreak and robust workmanship of Yorkshire dry stone walling.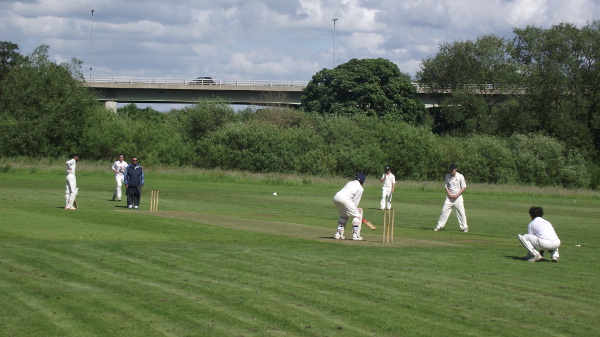 Bradford & Bingley Cricket Club's Wagon Lane base coming into view signalled our whistlestop tour of seven teams in an afternoon was almost up. There was a Bradford League match on the main square but we opted to explore the 3rd XI pitch to see if that was still being used – which it was.
As if to prove that it's a small world, I knew the umpire, Derek, and as Cononley jogged out to defend their 149-9, we discussed such things as Craven League umpiring regulations and the sturdy nature of Derek's shinbones – having once witnessed him struck at short leg and not so much as raised an eyebrow.
Bradford & Bingley Cricket Club's third team pitch may lack some of the mod cons you might look for….ok, the pavilion is a shipping container….but it is a converted rugby pitch that has enabled more cricket – and I'm all for that.
It appears to have bedded in since I bowled here a few years back and the bounce darted between Mitchell Johnson at his devilish best and Team GB's Olympic Curling team.
Satisfied that Division Two of the Craven League was in fine working order, we waved goodbye and I finished my tour at Bingley Congs where the firsts were attempting to winkle out Hepworth & Idle as the shadows lengthened.
So, where is your local club cricket? Consider a visit and you're sure to be made welcome. Certainly, if you're in Yorkshire, there's likely to be tremendous choice not far from home.
Like this article? Support Cricket Yorkshire journalism!

I'm asking those who think what I do is important and has a value to consider supporting it by buying me a ko-fi; it's a donation or a financial thumbs-up with whatever you can afford.
It can be a one-off or whenever you enjoyed a particular article.
All you need to do is click the gold banner above to visit ko-fi where you can buy me a coffee (we'll pretend it's a Yorkshire Tea) and donate sums of £3 – and leave a message so I know what article you read and what you liked. Thanks!
Latest posts by John Fuller
(see all)