Cricketer Chris Metcalf shares his candid story about struggling with mental health and the unexpected power of a cricket bat sticker.
Warning: This article contains references to self-harm and depression.
Life changed dramatically for Chris Metcalf when he woke up suddenly in the middle of the night and, in his own words: 'I thought I was going to die.'
Chris' mum and sister are mental health nurses so he rang them and their advice was that he was suffering from anxiety.

From that initial episode out of the blue, it steadily got worse: 'I couldn't understand why I was anxious all the time and having these symptoms. I'm a free-thinking person, I've got friends, I've got no issues as such but I became really depressed.'

Cognitive behavioural therapy (CBT) followed, a talking therapy designed to help manage our problems by altering the way we think and behave.

'I didn't think it worked for me. It kept bringing up the issue and I just wanted to forget about it. Now, I know it's a good thing to get your issues out there and speak to other people.'

Suffering terrible mood swings, unable to work and increasingly desperate, it all came to a head:
'I overdosed on my prescription medication. I can't remember how many I took. My mind said: I'll take these, go to bed and I won't wake up in the morning. Luckily, that didn't happen.'

It was an extraordinary wake-up call.
Chris found a new partner, Hayley, at his local cricket club, Sowerby Bridge CC, and the relationship gave him a fresh start.
He also has medication that is working and is more settled than when he hit that cliff edge.
Cricket also gave him a lift in an unexpected way…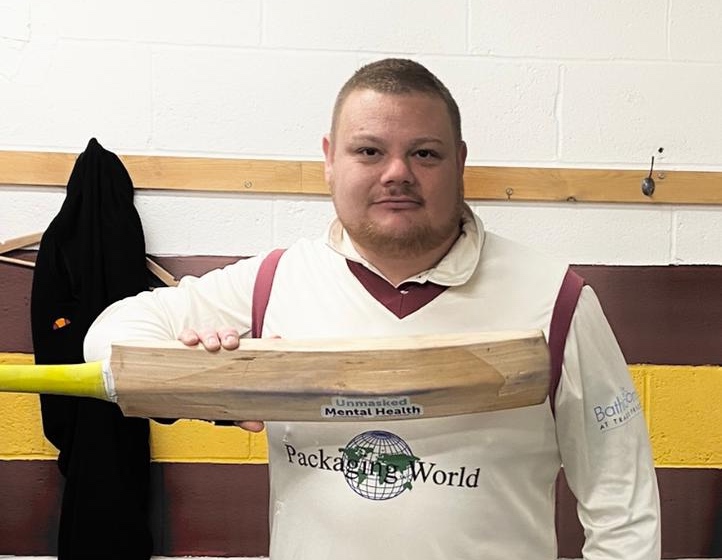 Cricket bat stickers = conversations
Chris is an Ambassador for Unmasked Mental Health in Halifax; which was set up by three friends who have faced their own mental health battles.
The organisation offers an app to chat anonymously, has a counselling service and hubs where anyone can visit to talk about how they feel without judgement. Sowerby Bridge Cricket Club are one such hub and there's scope for other clubs to get involved in future.

Chris put a sticker promoting Unmasked Mental Health on his cricket bat and the interest has been enormous: 'It completely hit the roof! I've sent out over 5,000 stickers and I'm so happy about it.'
Something as simple as a cricket bat sticker can start a conversation and mental health challenges are so common that it has struck a chord with cricketers and clubs across the country.

Chris' story is powerful but sadly, by no means unique. He revealed that there have been two deaths in the Halifax Cricket League in which he plays.
It is absolutely vital that we all talk about our mental health, offer support to others and signpost help all the time.

I recommend Opening Up Cricket for their advice and mental wellbeing and suicide prevention sessions that can be hosted at cricket clubs.

Knocking Mental Health for Six
The Halifax Cricket League have launched their own campaign to promote mental health and well being at every one of their member clubs across Halifax, Huddersfield and Bradford.

Chris' experiences have resonated and the campaign has been driven by a member of the League Executive, Keith, following a tragedy in his own family.
Fifty banners have been made that will be displayed at every club around the ground perimeter and at all major cricket finals for both the Senior and Junior League.

Each banner includes a QR code that directs to a page on the Halifax League website with information for anyone to contact any of the six mental health organisations they are partnering with.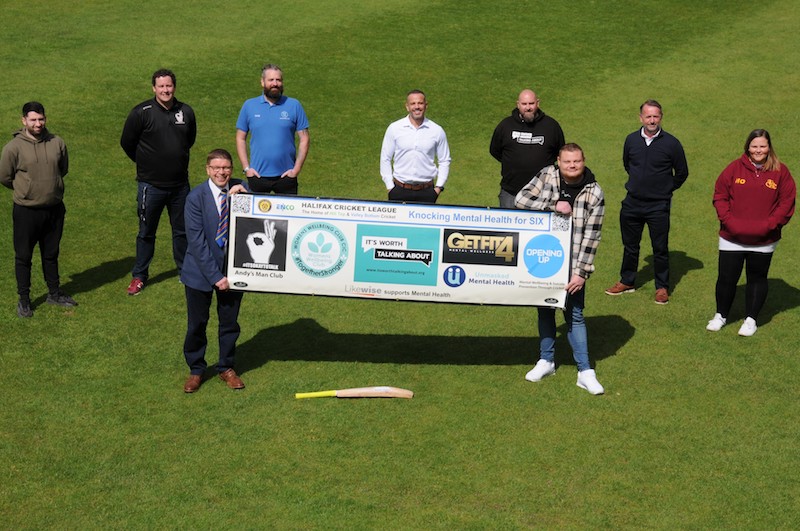 Photo: Front: Anthony Briggs (ENCO Halifax Cricket League) & Chris Metcalf (Sowerby Bridge CC). L to R: Alex (Get Fit 4 Mental Health) Andy Greenway (Andy's Man Club) Doug Dennison (Unmasked Mental Health), Manuel Benages (Get Fit 4 Mental Wellness), Andy Clements (It's Worth Talking About), James Kellett (Likewise Floors), Holly Orchard (SBCC)

These are: Andy Man's Club, Unmasked Mental Health, Women's Wellbeing Club, Opening Up Cricket, It's Worth Talking About and Get Fit 4 Mental Wellness.
The goal here is to help spread this important message to as many people as possible.
Wouldn't it be fantastic if more cricket leagues in Yorkshire and beyond got involved?
Anthony Briggs, ENCO Halifax Cricket League Chairman, said: 'Our objective is simple – we want to remove the stigma of mental health and signpost people for help and support through fantastic organisations that do amazing things that change lives on a daily basis.'
Podcast: Listen to Chris' story
Chris Metcalf's experiences are an important listen and they are the subject of a new Cricket Yorkshire podcast episode.
Please share this article and the podcast far and wide, if you can spare a moment. Thanks to Chris for his honesty and opening up about what he has been through.
Do you need urgent help?

These NHS resources signpost immediate help such as an NHS mental health helpline, charity support and crisis coping tools.
If life is difficult, Samaritans are available, day or night, 365 days a year. You can call them for free on 116 123, email them at [email protected], or visit www.samaritans.org to find your nearest branch.

Do you / your cricket club want to find sponsors, fundraise successfully and grow your membership?
Learn simple, step-by-step methods to create incredible value for members, sponsors and funders.
Our Make Money For Your Cricket Club e-course is an enjoyable way to learn at your own pace.
It covers 4 modules with short video lessons:
Membership
Events & Fundraising
Sponsorship
Grants & Funding
Latest posts by John Fuller
(see all)