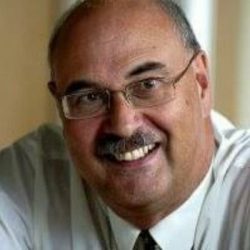 Latest posts by Bill Marshall
(see all)
Bill Marshall talks to captain Raqeeb Younis about battling back from Covid and the push for trophies at Jer Lane Cricket Club in the Gordon Rigg Bradford Premier League.
Raqeeb Younis is just grateful to be walking this earth, let alone playing cricket.
The Jer Lane captain may have been thinking cricket, cricket, cricket at the start of the season, but two major events in his life this summer rather switched his focus to survival.
Firstly, he caught Covid-19, resulting in a one-week stay in Bradford Royal Infirmary, and then, from nowhere, he developed a pulmonary embolism.
---
But a season of strife could end with the Gordon Rigg Bradford Premier League club lifting three trophies.
---
The first one is already in the bag – namely last Sunday's Group B T20 finals day at Carlton, who do a fine job of staging the league's more minor 'pyjama- game' competition.
The second target is the Division Three title – Jer are leading the table, 20 points ahead of second-placed Hopton Mills with three matches left.
Then, the day after the regular league season finishes, there is the small matter of the Jack Hampshire Cup final on Sunday, September 12 against East Ardsley, currently fourth, at Spen Victoria (noon).
If anyone thinks that the league title is heading Jer's way, however, the experienced Younis is quick to point out a few potential pitfalls.
They have Bradford derbies against Buttershaw St Pauls (home, August 28) and fifth-placed Bowling Old Lane (away, September 11), both of whom have beaten Jer in the league this season, and in between those tasty clashes, they visit Northowram Fields, who are currently third.
But back to Younis' health issues.
Talking after his team had convincingly defeated Heckmondwike & Carlinghow in the semi-final and Sandal in the final, he said with a large dollop of understatement: "It has been a bit of a hard year for myself."
---
"It started off really well, but then it has been a season of injuries and Covid."
---
"I was feeling a bit queasy when we played Yeadon in the league, and just after the game it hit me hard and I spent a week in hospital."
"My oxygen levels were really low and I was struggling to breathe and my whole body was in bits, but thankfully when I got out of the hospital, I felt a little bit better and started playing again but I was not 100 percent."
As if that was not enough, then came the blood clot.
Younis added: "Three weeks ago, I got a clot in my lungs and I was told that I would not be playing again, but luckily I have made a full recovery, and thankfully the boys have stood up and been counted."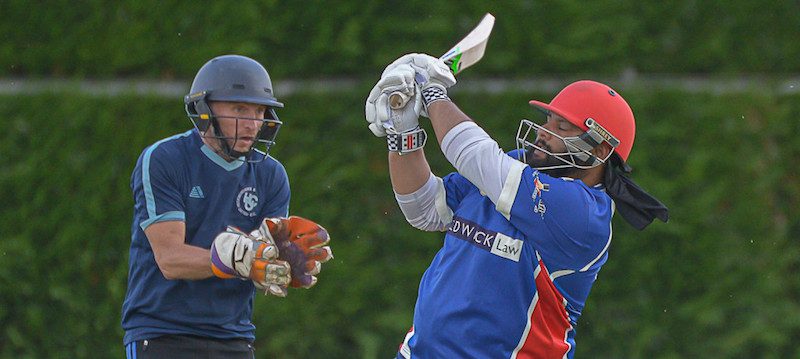 Hero of the day for Jer at Carlton was opener Farakh Hussain (above), who smashed 125 off a mere 61 balls against Heckmondwike, hitting seven fours and 12 sixes.
One of the maximums smacked into his own car (shades of Illingworth St Mary's) over the hedge, while another gave a motorist passing by a dent in their bonnet.
Mind you that was still not as amazing as a match at Roberts Park, where Farakh hit a low six that managed to clock his wife, who was on the banking, on the side of the head, resulting in her going to hospital.
With Younis (30) and Cosmond Walters (28), in contrasting styles, playing cameo roles (Younis' was the longer cameo), Jer racked up 207-5 against Heckmondwike, which was some revival as they were only 63-1 after 10 overs.
Hussain, who was on his third bat by the end of the innings, enjoyed flicking sixes into the leg-side, but they were more well-timed shots than a matter of brute force.
Only opening bowler Razeb Raja returned decent figures as Hussain hit Khurram Shehzad – the only player on the day wearing white trousers – for three sixes in one over and did likewise against Waqas Asaad four overs later, also hitting two fours in an over that cost 26.
The talented Walters hit Heckmondwike skipper Usman Qureshi for two sixes and two fours in the 18th over before being dismissed in that same stanza.
Heckmondwike, not surprisingly, could not match this onslaught and finished on 116-9, with Chris Allen (28), Abdullah Qureshi (27) and Shehzad (22) doing best with the bat as the accurate Walters, Osama Ahmed, who extracted bounce with the pink ball, and Mohammed Aezaz Dar showed their mean side.
Sandal, again with their smart light and dark blue blazers on view afterwards, had direct passage straight into the final, but their 108-9 after winning the toss never looked enough, with only Brandon Hewlett (22) posting a score as Dar (2-10), Walters (2-18) and Mohammed Jamal (2-13) kept them pinned down.
Hussain, who was bushed after his earlier effort, and Abubakar Dawood both scored 18 opening in the reply, and it was 38-0 after two overs, with the initial over of the innings by Sam Noden costing 24.
Jer, who were given 22 runs in wides, much to the frustration of Sandal skipper Kristian Shuttleworth, were seen to a four-wicket victory with 13 balls to spare by wicket-keeper Imran Mirza (27no), despite Amjid Sadiq returning 4-7.
---
Younis said of the finals day: "Thankfully Farakh was on song in the first semi-final and won us the game. He was a bit tired at the end and it was a magical knock and once he gets going, he is hard to stop against any bowling attack.
---
"In the final, Sandal are a good unit and put us under the pump after we were 38-0 after two overs, but they just hit a line, bowled well and put us under a bit pressure but we have the experience to see us over the line and they were probably 30 to 40 runs short."
As for the chase for more silverware, Younis said: "The league is a little bit tight, but the weather has played its part and a few teams have started catching us up with their bonus points, while we were called off without collecting any bonus points."
"We have a hard run in as Buttershaw St Pauls beat us in the league earlier this season, and then we have Northowram Fields, who are third but fighting for top spot."
"And then we have Bowling Old Lane, who beat us a couple of weeks ago, but hopefully winning this will have given us a bit of confidence going into Saturday – winning a trophy always helps."
"And we are also looking forward to the Jack Hampshire Cup at the end of the season, but we aren't really thinking that far ahead as we have these league games and we need to concentrate on Saturday."
Editor's Note: Thanks to Bill for this interview and to Ray Spencer whose top-notch photography in this article is well-known in the Bradford Premier League. Ray is available for hire, just visit rayspencerphotography.co.uk.
He covers matches, presentations and corporate events for various teams, leagues, websites and magazines.
Enjoyed this read? Join thousands of cricket fans who get the Cricket Yorkshire Newsletter – exclusives, competitions, partner offers and much more straight to your inbox!