It is rare to see a female cricket umpire in men's cricket so when I heard that Jane Pratt and Jo Ibbotson were to umpire the Crowther Cup Final, it was a chance to talk to them both about their journey with officiating.
Jane spoke to me for the Cricket Yorkshire Podcast (see interview below if you'd like to listen) about her links with club cricket in Yorkshire, how she moved from scoring to wearing the white coat and progressing to Premier League umpiring.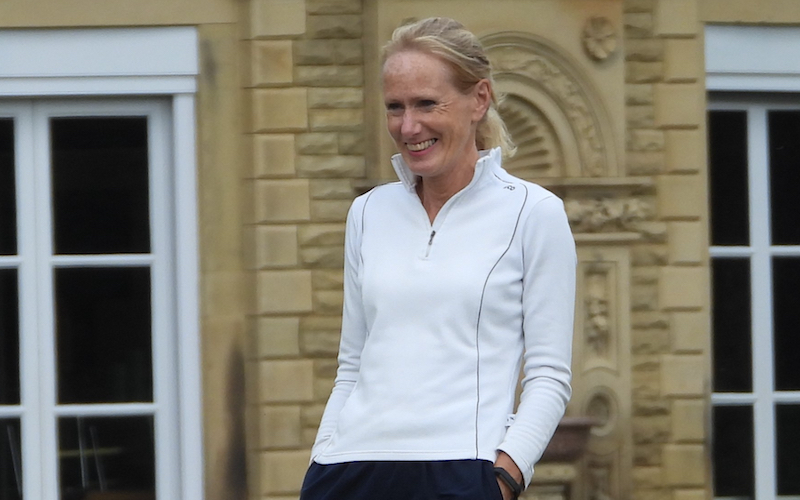 She currently umpires in the Aire-Wharfe Cricket League and Yorkshire Premier League North so the Crowther Cup Final appointment with Jo is around the standard she's already used to, although training and mentoring has kicked on:
'I think there's far more on-field training and guidance given now than there was when I first started. It was more a case of: learn the laws, try and apply the laws!'
As a teacher, Jane's challenge is the sheer time commitment of umpiring cricket matches on Saturdays and balancing work. The line of umpiring being 'the best seat in the house' brought a wry smile during our interview. While it's true, her approach is to be innocuous.
---
'You don't know what you're going to get, you're always learning and observing, it's part of the beauty and my intention is to give the best that I can do and hope that the players don't notice me. You want to be a presence for everything that cricket stands for but don't want to be interfering!'
---
The podcast episode (available on Apple, Google, Spotify etc) is an excellent listen if you have 20 minutes at home or perhaps on the way to umpire a cricket match. It includes a rambling question from yours truly about player discipline and how she handles that:
'At the toss, you set out expectations very clearly and if you don't have consistency, that's when you have difficulties. It's often the look, quiet word or stepping in before something gets too heated.'
We also discuss why more women don't umpire in men's cricket – is it out of choice, preferring to officiate women and girls formats or not getting the opportunities?
For Jane, who began with standing in lots of junior cricket, it obviously needs the interest and time commitment for what is a long day. However, the issue of female umpires should ultimately be, well, a non-issue.
'I would hope that as women's cricket is developing, you will see more female umpires coming through – but the bottom line is I'm an umpire, I just happen to be female, and there shouldn't be any difference.'
Jo and Jane umpiring the final of the Crowther Cup together (2nd XI teams who've entered the oldest cup competition in the world, the Heavy Woollen Cup) is a first for the competition but they're both experienced officials in their own right.
For Jane, the difficulty lies in whether to umpire at the highest standard possible (which is likely to be men's cricket unless appointments in the professional women's game materialise in future) or support women and girls cricket by being involved in that side of cricket.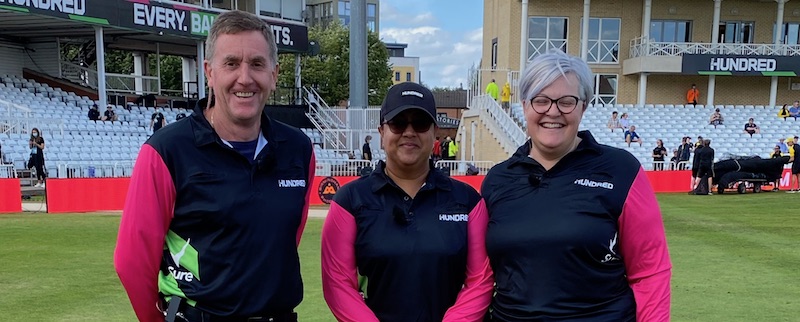 Meanwhile, Jo Ibbotson (top right), is well-known in South Yorkshire cricket circles having begun umpiring at Wath Cricket Club.
As well as duty in the South Yorkshire Cricket League, Jo has since gone on to officiate in the Rachel Heyhoe-Flint Trophy and well as this year's The Hundred competition.
In a tale many will relate to, her immersion in the game was all down to her family – dad Mick played and umpired while her mum was tea lady, her elder sister scored and elder brother played for good measure.
At Wath, they needed an umpire to avoid impending fees from the league so Jo volunteered and never looked back:
'I loved it. Four years later and I have umpired at grounds I only dreamt off. Being selected for the women's pathway of umpires, watching the women's game develop and progress and meeting other like-minded ladies who just love cricket has been amazing.'
She added: 'Having to to stand in a men's league soon toughens you up, and you have to be resilient, but I love it.
My dads friend and colleagues always joke saying he'd be so proud, I know he would, but also I've been lucky as it's a great time to be involved in the women's game.'
Thanks to Jane and Jo for sharing their stories with Cricket Yorkshire and if you want to listen to Jane's interview, you can catch it below
Editor's Note: The Crowther Cup Final is at Sandal Cricket Club on Bank Holiday Monday 30th August between Woodlands & Hanging Heaton.
Enjoyed this read? Join thousands of cricket fans who get the Cricket Yorkshire Newsletter – exclusives, competitions, partner offers and much more straight to your inbox!

Do you / your cricket club want to find sponsors, fundraise successfully and grow your membership?
Learn simple, step-by-step methods to create incredible value for members, sponsors and funders.
Our Make Money For Your Cricket Club e-course is an enjoyable way to learn at your own pace.
It covers 4 modules with short video lessons:
Membership
Events & Fundraising
Sponsorship
Grants & Funding
Latest posts by John Fuller
(see all)