It's an odd time of year for cricketers and cricket clubs. A bit of a twilight zone stuck between faint memories of the last game in September and the prospect of winter nets.

Coronavirus and this current, second lockdown in England have thrown everything up in the air once more as we all hunker down.

The good news is that there are ways cricket clubs can innovate and look ahead to when restrictions ease.

Here, I've put together four ideas that will definitely help improve your cricket club.
Bold claim, huh? Well, have a read and see what you think…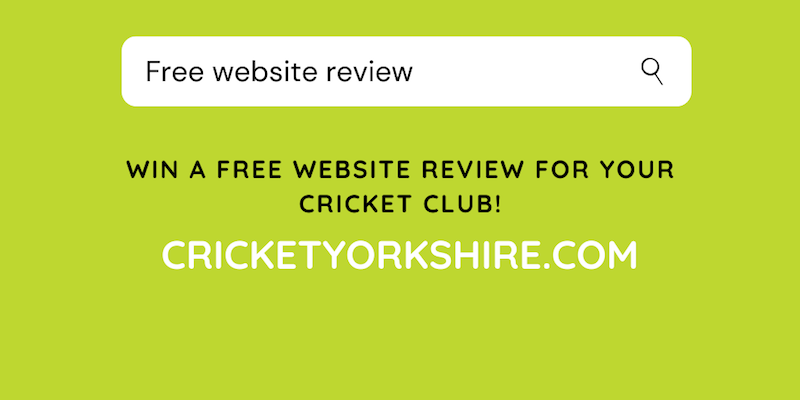 1. Register for an awesome free website review from Cricket Yorkshire

Now is the time to knock your cricket club website into shape so that you're happy with the content and design before nets and membership renewals come into focus.
Whether you use Play-Cricket, Pitchero or have designed your own cricket website, there are always updates and amends to do.
Sometimes, it can be useful to get a third-party opinion…

I'd be happy to offer a 10-minute website review by video for 3 cricket clubs! This offer ends Sunday 15 November at 9pm – so enter by then!
Fill out the form below if your club wants to win a website review. I will pick 3 clubs at random and then record a video review.
It includes:
First impressions
What's to like
What can be improved


2. Easyfundraising for Xmas

Easyfundraising is a website that allows cricket clubs to earn a small commission from every purchase their members and supporters make.

Here's my feature on how to fundraise for your cricket club just by shopping online.
If you're not doing it, it's an easy way to earn – with no cost to anyone other than the purchases they would already have made.

We're all in lockdown and also thinking about Christmas presents. This is a way your supporters can directly help your club. You will need someone to keep banging the easyfundraising drum though.
Sign up here for free or if you already have an account, pick it back up again and do a Zoom call to sign up everyone on the call!

3. Good to Go Award

The amount of work that volunteers at cricket clubs have had to do extra because of Covid-19 is truly remarkable.

Prepping the club to make it safe and ready for visitors will be key for the 2021 season. Yes, we got three months in but I think there was reluctance by many to venture out.

The Good to Go Award is a free industry standard by Visit Britain that your cricket club is keeping to Government and public health guidance.

Why do you need it? It will be something to share on social media, display at your club and talk about in emails to members.
Anything you can do to reassure and encourage more people to visit your cricket club will be a positive step forward and is worth considering.
4. What funding is available?

I'm sure many of you are regularly scouring the internet for new funding opportunities for cricket clubs.

Sport England have re-structured their funding and it is worth checking back in to see which fund is right for your cricket club, if you haven't already applied.

Cricket funding and cricket grants crop up and then disappear all the time. There is Funds4Runs where clubs can register their interest for a range of opportunities next year.

From All Stars funding to a filmmaker programme that will turbo-charge your video skills, it's worth adding your club with further details expected in the coming months.
Thanks for reading and keep an eye on the website as there's new features every week!
Latest posts by John Fuller
(see all)