It was with a sense of contentment the prospect of cricket frequently brings that I boarded the bus to Halifax from Bradford Interchange.
Retracing a chapter from my first book All Wickets Great and Small, I was going back to Queensbury Cricket Club. The highest cricket club in the country, so they reckon. 
You can see other solar systems from up there. Well, certainly Stoodley Pike, outside Todmorden in one direction and the slim outline of Emley Moor mast in t'other.
A half-hour later of sweating profusely in the back of the 576 that huffed and puffed its way up the gradient of Horton Bank Top, past both new and old Dolphin pubs, I was deposited at a bus stop.
I have a knack of rounding down the distances between places when carrying heavy camera equipment and travelling on foot. No matter. The walk along Old Guy Road isn't far and is certainly worth it.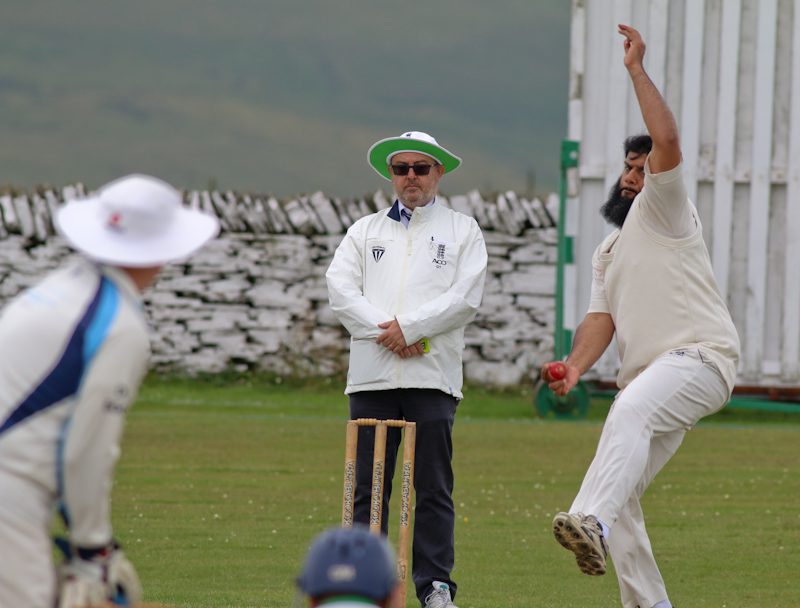 You hear Queensbury Cricket Club before you see it. Their seconds game against Great Horton Park Chapel was underway and the hum of players chuntering floated my way then a faint 'tock' of a cover drive racing towards the whitewashed wall.
That said, it is deliciously quiet up here. The last time I came, the sun was out and yet an unsettling wind was gnawing at marrow. This time, rain was in the air but there was a mugginess lingering. 
No need for that third sweater today.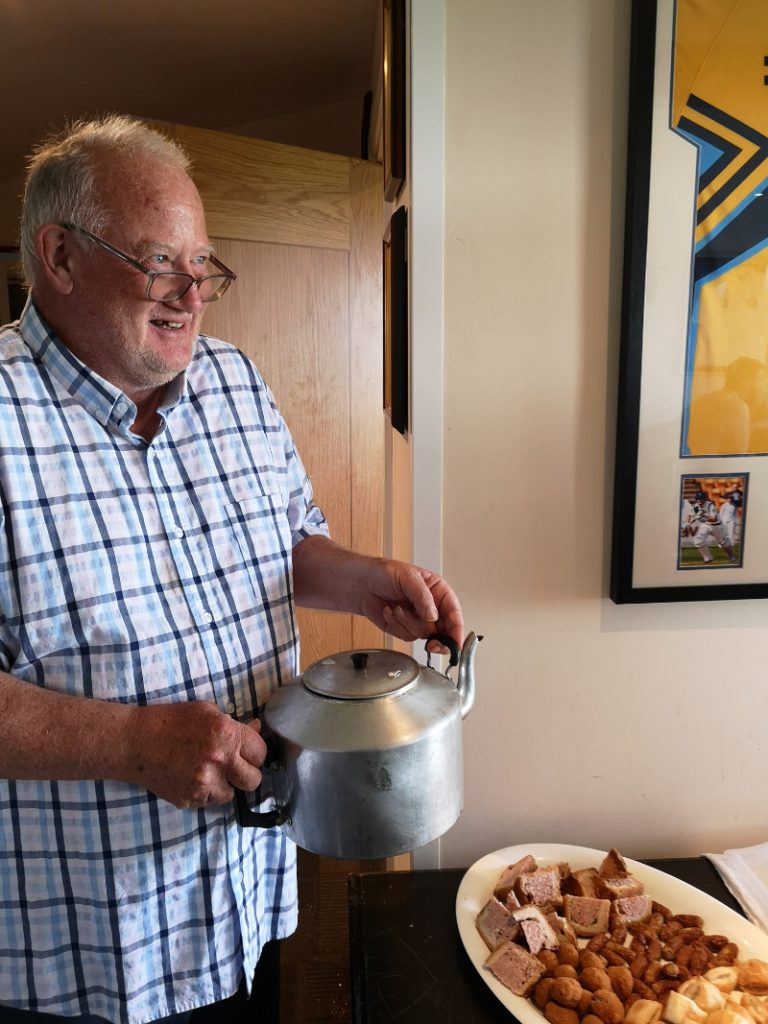 I was dropping off copies of my club cricket book to their Secretary, groundsman and tea lady, (Neil Myers) and we caught up on news over a brew.
I am asked often enough about my favourite cricket ground in Yorkshire. I can't possibly choose just one but Queensbury is right up there. 
It is as Yorkshire as it gets. I have great affection for this postage stamp of a cricket ground perched where the contours huddle like the wrinkles of an eyebrow.
Folk talk to you up here. Ok, some of it is sheer wonder at why I'm photographing second-team cricket in the Halifax Cricket League but there's a sense of community.
Queensbury are proud of getting their three teams out each week when others struggle. They might not be world-beaters but that matters less to them than providing everyone with a game and they're to be applauded for that.
The afternoon was pretty much everything I look for in a cricket match. Idle conversation with strangers. Jaw-dropping views. A bull groaning in a nearby field.
I was even treated to the ultimate honour. Tucking into tea before the players. Excellent it was too and who indeed can refuse the jammy embrace of a sugar-coated doughnut at 1,200 feet above sea level?
Ah yes, the match itself.
Queensbury won by 110 runs having batted first and posted 217-7. It was an innings that first ambled along, held together by Phil Sharples' knock of 66. At the time of writing, his wicket was captured for posterity as Cricket Yorkshire's Facebook cover.
The last rites of Queenbury's batting endeavours went to infinity and beyond as sixes began to pepper the surrounding fields.
Play was also paused a few times as fielders rummaged around for the match ball amid a blue sea of cricket covers, just beyond the square leg boundary.
I've had the good fortune to dip into village cricket on a few occasions in 2019. Addingham in the Aire-Wharfe Cricket League springs to mind as having ticked all the boxes.
But, Queensbury delivers on many fronts. I'd like to see them have a crack at the National Village Cup again, years after they last entered.
The fixture pile-up can be prohibitive but everyone needs to see and celebrate cricket grounds this satisfying.
For now, enjoy the video and match photography here on Cricket Yorkshire and please share the article on social media if you liked it.
MATCH PHOTOS:
Scorecard: http://queensbury.play-cricket.com/website/results/3918587
Latest posts by John Fuller
(see all)