An afternoon of exploring Yorkshire cricket grounds I'd never been to before began with a trip to Silsden Cricket Club who are aiming to rebuild after switching from the Aire-Wharfe Cricket League to the Craven Cricket League.
We tipped up just as the home side were warming up; a prerequisite on a day where it could be cracking flags one minute then basking in sunshine the next. First impressions of Silsden were very positive; it has an attractive ground with the gorgeous slab of Aire Valley fields framing the background.
Tree-lined on the side that flanks the Keighley Road with benches dotted about and stellar outdoors nets in one corner, there's plenty of variety for the intrepid traveller to take in.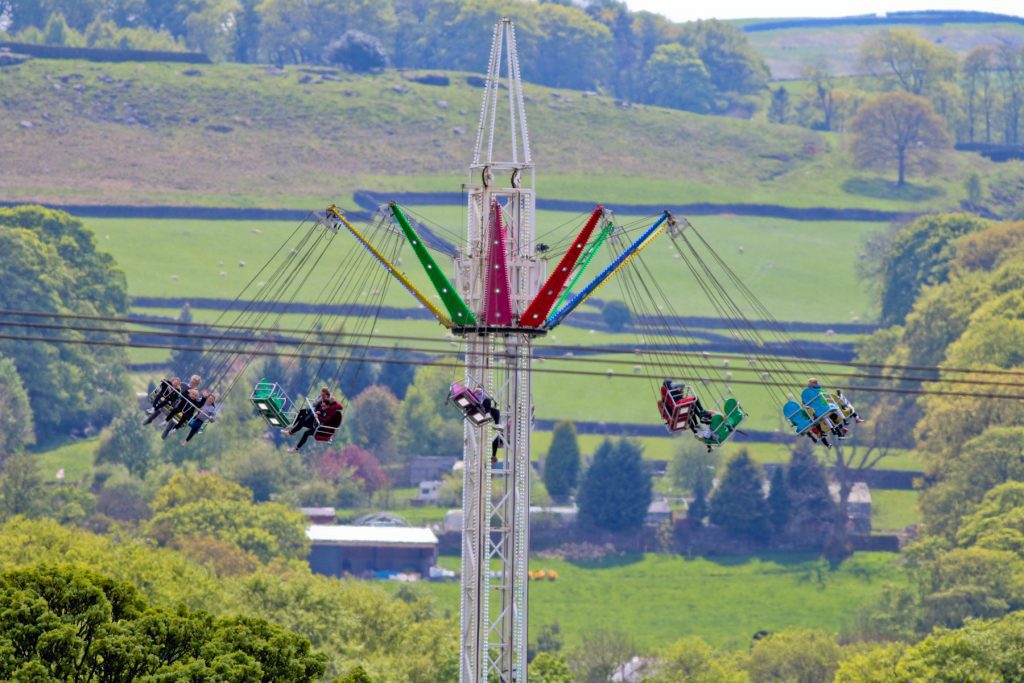 Delighted yelps from the funfair echoed over to Silsden CC where the visiting batsmen of nearby Bradley lost an early wicket in some controversy.
Harry Andrews was adjudged to have been caught at slip and trudged off with a face like thunder, claiming not to have touched it.
The decision itself was a little disjointed, the fielders perhaps expecting the batsman to walk and the batsman convinced it must have deflected by another means.
The clubhouse, shared with Silsden AFC, is another fine example of facilities emerging through hard work of volunteers, allied with funding partners including the ECB and Football Foundation.
I particularly liked the fact you can sit inside with a brew, shielded from a spiteful wind, and watch the cricket from behind the bowler's arm.
We stayed about an hour, enough to feel satisfied to have chalked up another discovery and moved on to the village of Addingham. For the record, Silsden beat Bradley by 9 wickets in this Division Three encounter.
CLICK ROUND A FEW MATCH PHOTOS…
A few overs at Addingham
For those Cricket Yorkshire readers who might not know (including myself, as it turns out), Addingham is a West Yorkshire village that's a few miles from Bolton Abbey. Their seconds were at home to Shadwell in Division 6 of the Aire-Wharfe Cricket League.
This is proper village cricket. The ground is a picture, off the Main Street, with a wooden bench under a tree for a corner view to look up to the angular field beyond the cricket club.
It's actually quite a large playing area but this encounter was on one of the strips closest to a neighbouring field with bleeting sheep and a stile to handily park yourself with a camera to snap a few overs from close quarters.
Shadwell were on the cusp of being bowled out for 98 and I was able to fire off a few frames to watch the last couple of wickets to fall before everyone trooped inside to get their circulation in working order again.
The clubhouse is a grey, single-level building that blends well into the landscape and where we joined the players for a brew. It has a small bar across from the kitchen hatch where the teas were being refilled and is tastefully decorated with trophies and memorabilia.
It will surprise regular readers to learn I did not launch face first into a generous and delicious-looking cricket tea at first opportunity. In fact, I sat on a bar stool hugging a mug of tea and listened to the contented chatter of cricketers swapping tales over mountains of food. There are many worse places to be.
I think I'll be back to Addingham before too long; it has all the components of a very appealing place to watch or play the game.
We didn't stay long but Shadwell were put to the sword as the home side cruised to a 10-wicket win, with Jonah D'Arcy scoring 50 not out off 84 balls.
MATCH PHOTOS
Latest posts by John Fuller
(see all)