Not even a rare soggy Saturday could dampen the enthusiasm at sampling Ripon Cricket Club's award-winning cricket teas.
Having won the Cricket Yorkshire Cricket Tea of the Year the previous week, our visit to Ripon to deliver Bettys vouchers from our competition sponsor Yorkshire Tea was one filled with laughter, delicious food and a sense of what Ripon are about.
---

Having dipped into the city centre to take in the cathedral and dine at Claro Lounge (highly recommended for an informal bite), we arrived with Ripon tucking into Acomb's batting.

---
The scorecard was stuck at 27-4 with persistent drizzle, covers on and the players sheltering inside.

We find Debbie, along with close friend Alison, beavering away in the kitchen, surrounded by trays of food.

First furnished with mugs of tea, gradually the story of Ripon's cricket teas unfolds. The 2022 season is the first time Ripon have been able to do them, post-Covid restrictions, and so the plan was always to go the extra mile.

All of which explains why each team get a roast (it's gammon today), along with homemade sausage rolls, spicy chicken, quiche, brownies, lemon squares, Malteser cake, fresh fruit and veg, and probably a few other bits and pieces I've left out.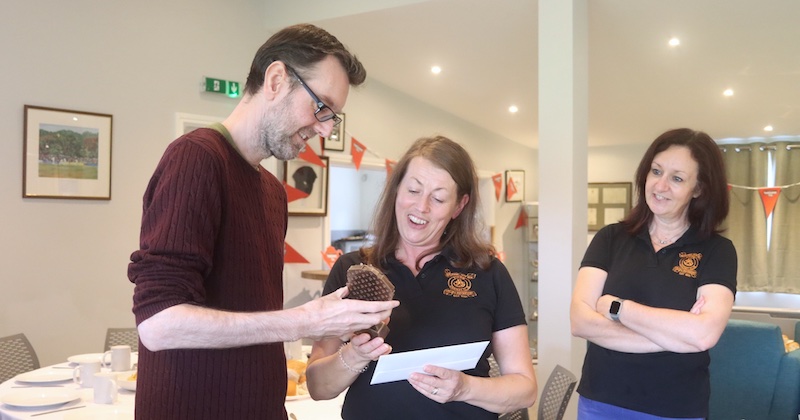 It changes every week and the players put in cheeky special requests which tend to get incorporated.

The set-up is deliberately sociable. Two round tables, one for each team, are complete with tablecloths and individual settings, and adorned with mugs. Home and away teams eat separately but close by.
Debbie tells me she trained as a pastry chef with Bettys many years back so in some ways, it's come full circle with the afternoon tea vouchers as a prize.

You can tell she's in her element as the chatter between her and Alison reaches the front of the pavilion where play has resumed.

At some point, a miscreant sausage rolls to the back of the oven and prompts a mini investigation as to a smell of burning. Cue more giggles.

Periodically, Alison enquires how the reduced-overs game is progressing so the military operation of serving up can be timed to perfection.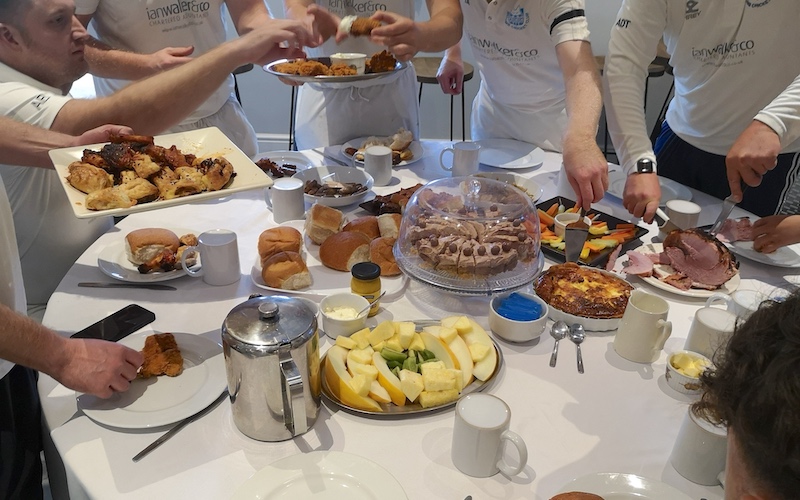 When we do break for tea, the visiting Acomb lads are straining to dive in. There's a short presentation and a trophy for Debs with generous applause from both teams who know they're being well looked after.
Before Covid struck, Ripon's pavilion was leaking and knowingly referred to as 'the chicken shed.' Dan Watson's, as Chair, led a successful Sport England grant and generous fundraising drive from members that transformed the pavilion.

It is a beautiful example of a traditional cricket pavilion that really hasn't changed much at all since the architect's drawing from the start of the last century.

A fitting venue for the Cricket Yorkshire Tea of the Year winners.

A few observations, if I may.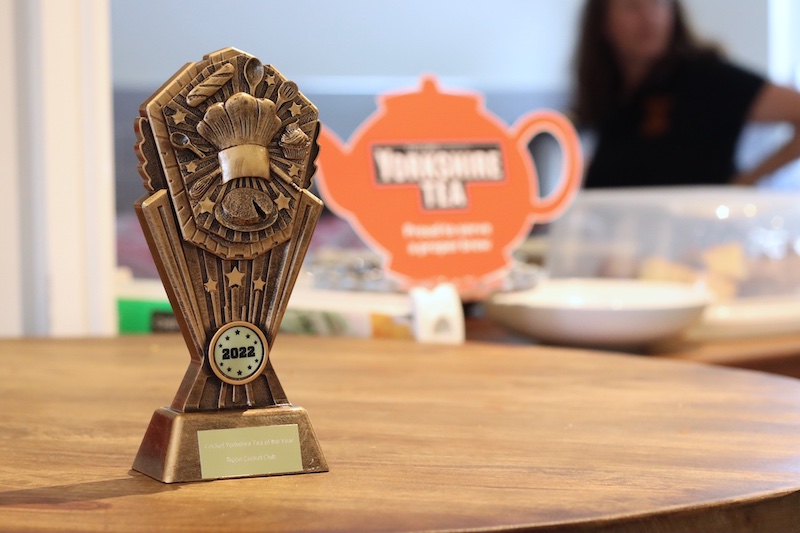 By choosing a sit-down cricket tea, it's a very sociable affair. No-one leaves (from either team) until the lion's share of the food has been demolished.
Incidentally, a fine cricket tea also encourages Ripon Seconds to return and tuck in later, thus extending the evening and bar takings no doubt.
There's also a canniness around sticking to budget too. The cricket tea costs around £80-£90, give or take, to make. That clearly doesn't account for many hours from Debbie who fills her fridge and kitchen at home with the enormous supplies needed.
Umpired for Acomb at Ripon on Sat,First time I've visited for 40 yrs. I must say what a cracking place to play Cricket, despite the weather. Superb traditional pavilion,ground,hospitality and setting. Outstanding tea's and tea ladies. Thank you👍🏻💙

— David Tute (@DavidTute) September 11, 2022
I also appreciate some clubs will have a much lower budget yet the cost to players for a Ripon tea is a fiver which is terrific value for money and compares favourably with what you might typically grab for a supermarket meal deal.

Cricket teas take a lot of time to prepare. Understandably, not everyone wants – or can – devote that. What the cricket tea award has really shown is that once again volunteers at cricket clubs are doing remarkable things.

Meanwhile, Mrs Cricket Yorkshire and I sit with the umpires and the scorer, breaking into occasional conversation but mainly just eating and sighing with that deep relaxation which comes from excellent homemade food.

The cricket is eventually abandoned; it is a very rare meteorological blip in a bone-dry season – but not before Ripon have shown their credentials off the field.

Yorkshire Premier League North, Division 2 Galtres
Acomb 160-9 (Matthew Williams 61, Jake Briscombe 4-19)
Ripon 122-7 (Rob Taylor 55, Barry Steel 3-10).
Latest posts by John Fuller
(see all)