Ripon Cricket Club have been crowned winners of the Cricket Yorkshire Tea of the Year for 2022, sponsored by Yorkshire Tea.
Founded in 1810, the cricket club is located in the heart of Ripon with two senior teams and a reputation for stellar cricket teas.
---

Ripon win a whopping 2,500 tea bags from our sponsor Yorkshire Tea, as well as afternoon tea for 4 at Bettys.

---
Debs Watson received multiple entries and fulsome praise for the terrific range of food laid on throughout the season.
She'll typically start preparations on a Thursday evening and gets to the cricket club at around 6-7am on Saturday morning.
---

Tables are laid with a white tablecloth and cake stand in the middle. There's a roast joint on each table – with pork, gammon and beef served during the 2022 cricket season.

---

As you can see below, there's a feast laid on by Debs, including various vegetarian options from butternut squash to couscous and coleslaw.
Home-made runs through Ripon's cricket teas with warm scones fresh out of the oven and a range of cakes.
Even other clubs entered to say how deserving Ripon's teas were!
Congratulations to Debs and Ripon Cricket Club – we'll come along to a game soon and arrange your prizes.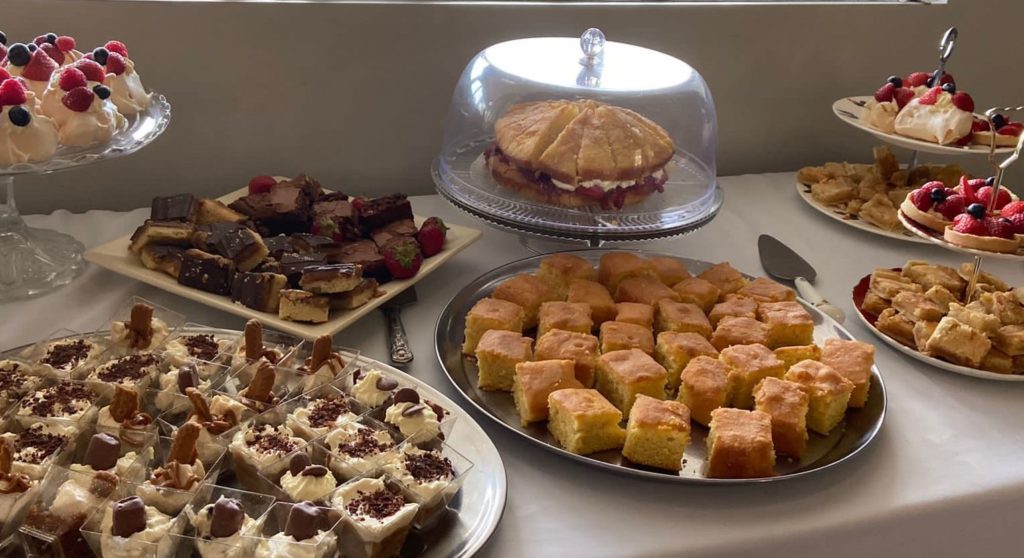 Our inaugural cricket teas competition for clubs in Yorkshire had a fantastic response across the region. We were sent over 50 entries, with many photos, videos and written submissions about the efforts of volunteers across the season.
It ought to be said that the standard was phenomenal – we have a lot to be proud of in Yorkshire! Thank you to everyone who took the time to enter or who commented and shared posts on social media.
Judging was held with Cricket Yorkshire and Yorkshire Tea at Bettys Café Tea Rooms in Ilkley.
Highly Commended
Hartshead Moor
Duncombe Park
Bradshaw Cricket Club
Copley Cricket Club
We felt that a number of cricket clubs ought to be recognised given the variety of cricket teas we saw and the incredible generosity and quality on show.
We shortlisted these four clubs below who all wow-ed us in different ways too.
From Vanessa and Jessie at Copley to Janice at Bradshaw, they represented the Halifax Cricket League with aplomb. Copley's strawberry pavlova and this Biscotti cake looks very tempting.
Bradshaw reckon their cricket teas actually help with player recruitment each year!
In fact, a quarter of the clubs in the Halifax Cricket League took part and that might be worth a cricket book one day.
Liz Evans of Hartshead Moor wrote eloquently about her involvement at the Bradford Premier League 2nd division club in West Yorkshire, with unctuous chocolate brownies, iced lemon drizzle squares, roast potatoes with truffle oil and sweet chilli chicken wraps.
Duncombe Park shared photos of tables groaning with strawberries dipped in chocolate, cupcakes and scones. The hat-trick of tea ladies there (Kirsty Durrant, Lucy Witty and Dawn Butler, above) impress players and visitors alike. As one observer put it:
'The teas are nothing without the three ladies that do it with so much love and care. If it wasn't for them, we all may be more athletic but certainly less excited at the interval!'
If your cricket club didn't make the shortlist, don't take it to heart – the volume and calibre of entries was fantastic – and there's always next year!
Well done to all – Teas are still an important part of the game and we'll continue to champion those who make them.
Latest posts by John Fuller
(see all)