This is not a nerdy cricket bat review; it's an early Christmas list for Santa. We will not be talking about straightness of grains while smothering ourselves in linseed oil.
Instead you get a shortlist of six, wonderful cricket bats to drool over, rush out and buy or just gaze longingly at online; I'll leave the fine details up to you.
These haven't been rigorously tested by a secret army of cricket-mad squirrels but it's a signpost to some wonder willow.
1. Kookaburra Xenon 900 (£172.12)

This bat has edges you could eat your lunch off along with a pronounced spine, dashing orange colour scheme and professional quality unbleached English willow at your disposal.
AB de Villiers has used this beauty in the Indian Premier League (IPL) and veteran gunslinger Brad Haddins uses the Xenon to reduce bowlers to tears.
If you're in the UK, Barrington Sports are one of only two places you can get your hands on one. Exclusive and off the scale on the biff-ometer scale.
2. Gray-Nicolls F18 Players (£247)
Any cricket bat named after a fighter jet deserves attention, it's that simple.
Nottingham and England cricketer James Taylor used this bat at the 2015 ICC World Cup (no snide comments please, as we like Jimbo) and I've seen his actual bespoke blade (seen at the front of the image above) which has impressive balance, given it resembles a tree trunk in breadth, and marvels at those humungous edges.
The F18 comes in various guises – PLAYERS, 5 STAR, 4 STAR, FORCE, LE, Blade, Test and 500 Light. It's somewhat disappointing the chance to name them after Top Gun pilots to differentiate the bats wasn't pursued.
The Gray-Nics F18 Goose, anyone?
Still, the profile of the bat aims to deliver seismic power high in the blade to aid back foot dashers whilst the shape sculpted down at Robertsbridge in Sussex generates the speed required to be a front foot master blaster.
This bat is so exclusive that it has its own glass case in the futuristic Barrington Sports store in Knutsford. It was named after the master podshaver, Andrew John Kimber, who made a select few from the rarest grade one clefts.
Blessed with a deep, long bow, slightly higher driving area to XXIX (also in the AJX range), fractionally rounder face and a slightly oval handle, clearly this bat is for the serious batsman prepared to invest in a bat that that delivers on all fronts.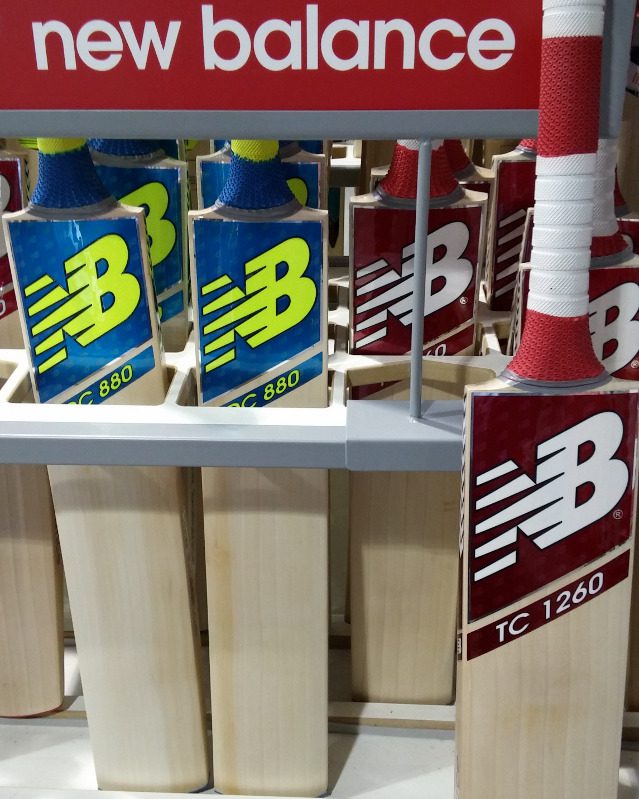 New Balance are still a relative newcomer to the cricket bat market having earnt a stellar reputation with their shoe ranges but they are on an upward trajectory with their green and blue DC1080 bat winning the All Out Cricket 2015 Gear Test.
The TC1260 is endorsed by Yorkshire CCC favourites, Aaron Finch and Gary Ballance, and its cherry and white livery, grade one willow and chunky edges make it a popular choice.

5. Bradbury Classic Pro V (£182.25)
Individually hand crafted in Perth, Western Australia, by Paul and Sally Bradbury, you can only buy Bradbury cricket bats in the UK through Barrington Sports. A quirky fact for you…their first UK customer was the artist Damian Hirst who commissioned Sally to make a bat with '666' across it.
Bradbury have forged a reputation for quality down the years and this grade three willow bat with a traditional shape and tapered edges will do the business.
6. Gunn & Moore Six6 F4.5 (£416)
This GM high-end bat has elongated swell height, powerarc bow and concaved back profile. Or put it another way, Yorkshire and England regular Joe Root has used it to craft runs all over the world and expect to see his Six6 F4.5 primed for action in the Ashes this summer.
So, that's your lot. Six bats that caught the eye and with any luck, whetted your appetite for making hay, whether or not the sun shines.
Enjoy your batting!
*Prices are through Barrington Sports and are subject to change but the underlined links connect to that product so you'll see what the current offer is*
**This is a sponsored article as part of our partnership with Barrington Sports – if the mood takes you, click to read Cricket Yorkshire's approach to sponsored content**
Latest posts by John Fuller
(see all)