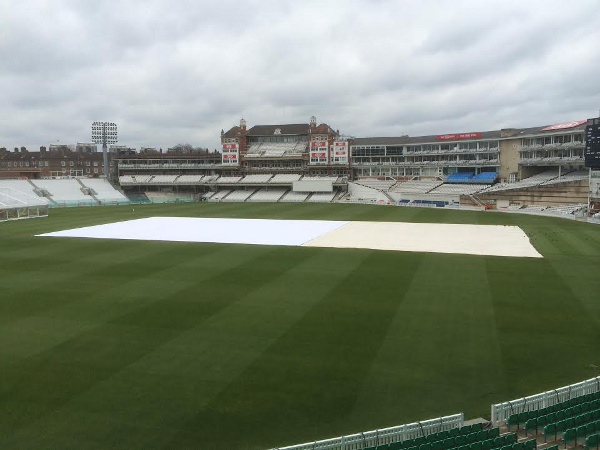 As the frost crackles the leaves and we all cross our fingers against winter floods, spare a thought for the groundsmen around the country safeguarding sporting facilities from the elements.
Based in Northampton, the company total-play has been working with those professional and amateur groundsmen, designing and installing top-quality sports surfaces, including cricket covers, since they began in 2007.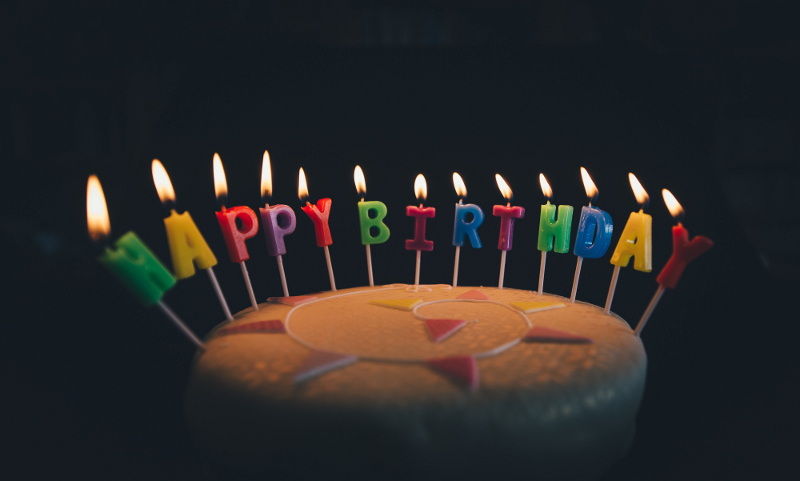 We're a sucker for a birthday here at Cricket Yorkshire and total-play's flagship 'Climate Cover™ pitch protection system is fifteen years old in 2017.
That decade-and-a-half landmark suggests both commendable longevity and that their cricket covers are proving a valuable asset time and again.
It's an understandable point of pride for them that total-play supplies advice and expertise to the ECB National Academy, Test match grounds, county grounds as well as schools & local league clubs.
At recreational level, the England & Wales Cricket Board's 'Get the Game On' initiative goes beyond a well-meaning hashtag and handy PR; it taps into the need to save fixtures to bolster participation and player retention.
While it's not the most glamorous side to cricket, the art of groundsmanship is as vital as it gets and having premier equipment on hand to counteract our unforgiving but typical weather can make all the difference.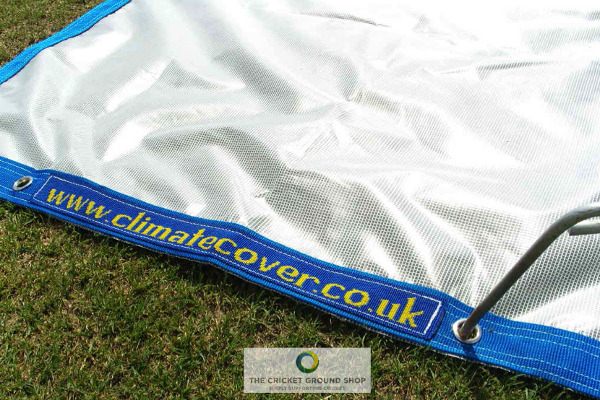 WHAT IS CLIMATE COVER?
Ok, so surely every cricket cover is predominantly the same and achieves an identical outcome?
If you're not a groundsman, it's a fair assumption; one I had until chatting to Anthony Burton, total-play Product Development Manager.
From my own travels around Yorkshire's cricket clubs, you get to see a startling diversity of sightscreens, covers and scoreboards in terms of design, functionality and their condition.
I've also played on my fair share of uncovered pitches and it can make you look unplayable as a bowler or undercooked as a batsman!
What total play have been able to do with the collaboration of groundsmen, agronomists and material specialists is to produce a 100% waterproof flat sheet cover that's strong, lightweight and breathable.
The Climate Cover™ pitch protection is made from a specialist fabric designed for total play in the UK and sold exclusively through them.
That bespoke material achieves a number of key objectives at the same time – notably being light to enable it to be comfortably carried and put in place (or stored) quickly and easily while being robust enough that it doesn't tear or fray due to the weather (but can be repaired):
"We reckon that one person on their own can handle up to a four-pitch cover, that's around about 80ft by 40ft, without any real difficulty."

Anthony Burton, total-play Product Development Manager.
Gone are the days when groundsmen and staff are forced to grapple with unwieldy and extremely heavy 500g-600g per square metre PVC material that is so much more difficult to handle on-site.
If it starts to rain with gusto – 'siling it down', they call it round these parts – covers need to be carried out and secured quickly and efficiently.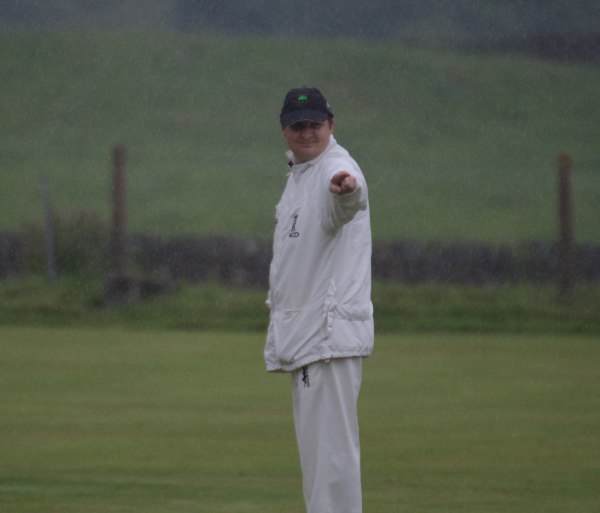 Whether it's a Test match ground or a village club out in the Yorkshire Dales, time is the only currency to worry about in those frantic moments.

The virtue of Climate Cover™ is the reduction in handling; saving crucial time getting cricket covers on and off; a significant evolution in the way groundstaff have been able to do their jobs with minimal fuss.
There's also a safety consideration with those alternative heavy tarpaulins in strong winds that make them a nightmare and a hazard to be controlled and kept down on the ground; wildly flapping around as if assuming a life of their own.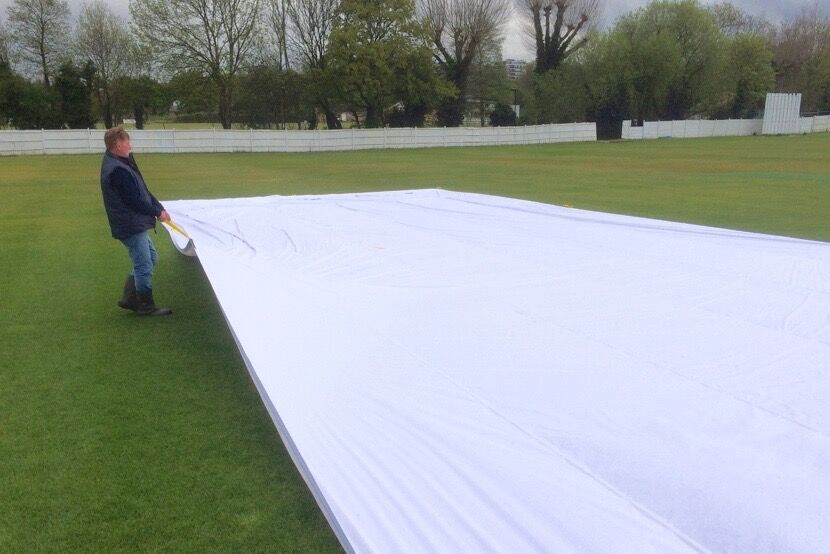 BREATHABLE CRICKET COVER
It is a delicate balancing act between keeping a cricket ground dry and ensuring the covers haven't 'sweated' whereby the grass is at risk from disease and short-term, it can produce some very bowler-friendly conditions.
The Climate Cover™ sheet is both translucent and breathable; a vital double-act that allows light and air to pass through – ensuring protection from rain but encouraging vapour to escape and maintaining a healthy grass plant that continues to grow.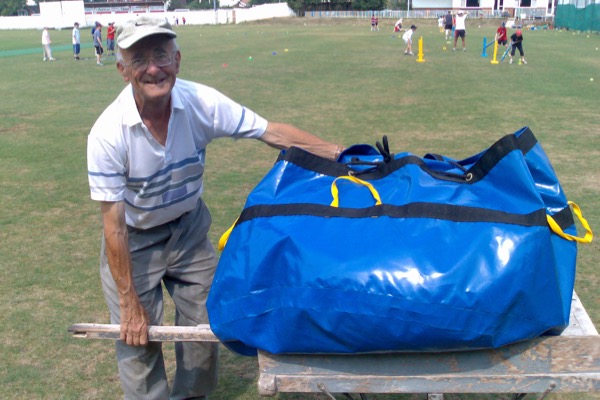 HOW LONG DO COVERS LAST?
That's a question of what they're made from and how well looked after they are after purchase.
But, cheap and cheerful is a shortcut to a leaking cover just outside off stump on the eve of a cup final when the world is watching.
This sponsored article may debunk a few myths notably that any groundsheet will do.
Cricket clubs have many cost considerations around preparing for games but ultimately, ground equipment is what can save a fixture hit by the weather or protect a ground in the time in between.
A polyethylene (PE) sheet is a low-cost common plastic but may only last a year or two, then you have PVC that costs a bit more but is a bit more repairable and heavier duty so they can cope with more wear and tear – but they are limited by the weight and aren't breathable.
Feedback from customers to Anthony and the total play team illustrates that durability is another asset with Climate Cover™:
"When they're being used and stored properly, we've seen clubs get four to seven years' use out of them. Simon, the head groundsman at Somerset CCC, pulled out a Climate Cover sheet that is still in use and nine years old!"
There are ways you can safeguard your investment by buying a protective bag for your cover to keep it dry and safe when not in use (pictured above).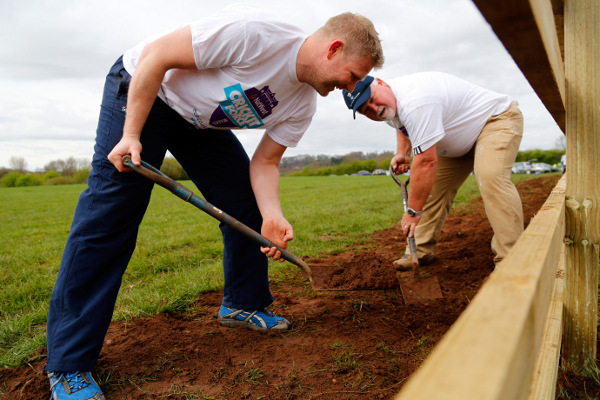 CLIMATE COVER COSTS & NATWEST CRICKETFORCE DISCOUNT
Prices start at just over £1,000 for a 80ft x 15ft cover that would be sufficient for covering a single wicket.
Their covers are available in a selection of sizes to offer configurations that can cover the full square and also in bespoke sizes.
total play are a proud supporter of NatWest CricketForce (NWCF) and registered clubs can take advantage of generous discounts for the 2017 season.
This year, NWCF clubs get 25% Extra Cover free when buying the popular two-pitch cover, saving £389 on the price of an 80ft x 25ft Climate Cover.
It ought to be noted that total play cater for all budgets and offer a range of solutions for rain cover from flat sheet ground covers to mobile and inflatable pitch covers.
Who knew the land of opportunity when it comes to flat sheets, raised covers, rain covers, growth systems and frost protection covers?
With those discounts available for NatWest Cricketforce registered clubs, as well as payment plans and funding streams open to those clubs keen to invest in ground covers, there's every reason to have the same state-of-the-art cricket pitch equipment as counties and international grounds.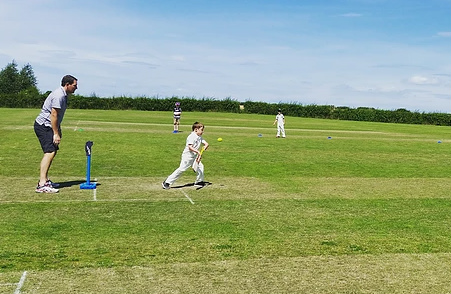 OUSEBURN CASE STUDY
Ouseburn Cricket Club are based between York and Harrogate and compete in the Theakston Nidderdale League.
They have a feast of cricket that keeps the groundsman there, Edward Pearson, very well occupied – running three senior teams, juniors from under nines to under seventeens from their HQ at Great Ouseburn playing fields.
The 2016 Nidderdale League Div 1 Winners bought an 80 x 20 foot Climate Cover in Spring 2015 to cater for their particular geography, as Edward explains:
"We bought this size Climate Cover as it would afford the covered pitch extra protection to the sides.

Due to our site gradients, normal wheeled covers don't work well enough, as the rain runs under them."
The point about rain finding its way under the arched covers that can be wheeled on and off reflects some of the complexities with wanting the best protection but appreciating the lie of the land is unique to every club.
With Climate Covers, a pitch can be covered for extended periods (similar to a raised, wheeled cover) but rain will be less able to sneak underneath.
The Climate Cover 'system' also includes booms for directing surface water away from sensitive areas, storage accessories, inflation tubes for larger covers and galvanised steel pegs.
While I'm warming to my theme, I've seen the Bowdry water collector pressed into service before and it is a great 'companion' product that quickly absorbs standing water from any surface.
Huddersfield Cricket League's Delph and Dobcross Cricket Club should be able to testify to the power of super sopping after before drawn from the hat in a total play competition last year to win a Bowdry foam roller.
UNIQUE THREE-YEAR WARRANTY
As you'd imagine, a groundsheet gets plenty of use in any one year and for that reason, no manufacturers, except total play, offer warranties. But, this is a tried and tested product that they fully stand behind and so groundsmen can have that peace of mind with a three-year guarantee.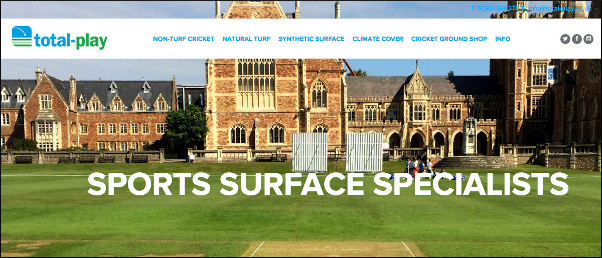 CONTACT TOTAL PLAY FOR CRICKET GROUND ADVICE
If you want to discuss anything you've read in this sponsored article then email Anthony who is on hand to field any questions.
Alternatively, if you'd prefer to browse their Cricket Ground Shop, there are all kinds of practical solutions to help with groundsmanship.
To link up with total play on social media, they are @TotalPlayLtd on Twitter and TotalPlayLtd on Facebook.
*This is a sponsored article on behalf of Total Play – if the mood takes you, click to read Cricket Yorkshire's policy on sponsored content.**
Latest posts by John Fuller
(see all)