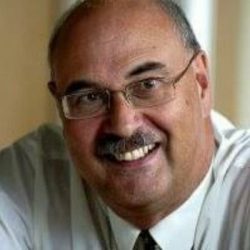 Latest posts by Bill Marshall
(see all)
Bradford Cricket League cricketers, past and present, came together at Wagon Lane to support Dementia UK.
A floodlit charity cricket match at Bradford & Bingley Cricket Club has been hailed as a success, and certainly won't be forgotten in a hurry by the club's scorer Judith Wragg.
She was stung on the neck by a wasp while on duty, but, the trooper that she is, carried on scoring, alternating between applying ice to the affected area, operating the electronic scoreboard and identifying the players through her binoculars.
---
The T20 match, between sides captained by Phil Slater and Mark Gilliver, raised £3,000 for Dementia UK.
---
Both captains have good reason to want to boost the charity's coffers.
Phil's dad Jeff, a notable Bradford League cricketer, died last year after suffering from dementia, while Mark's father Allan, a former professional footballer and talented Bradford League cricketer, is still suffering from the disease, but put in an appearance on the night.
Four sponsors each donated £250, and £2,000 was raised on the night – £400 from the barbecue and £1,600 from a tombola and raffle, despite the match only being arranged a matter of weeks beforehand.
It is hoped that the contest, between Phil Slater's XI, who also included Phil's brother Richard, and a Bradford League Select XI, will become an annual event.
About 300 attended the match, which went down to the last ball, with David Clow getting a single that took Phil Slater's XI to victory.
Emotional skipper Slater said afterwards: "What a great night for cricket and the cricketing family, and it just goes to show what can happen when everyone comes together to raise money at a game that my dad loved so much."
"The attendance was fantastic – a couple of hundred at least – and by the sound of it we have run out of everything, which is a good thing in some ways."
The Bradford League Select XI made 180-7, with openers Mark Gilliver and Lee Goddard both scoring 24 before James Smith clobbered 54, 35 extras also boosting the total, Chris Thompson showing his competitive edge by taking 2-14.
Slater's XI, which included many of the Bradford & Bingley team-mates that he skippered to Priestley Cup glory in 2010 and 2015, were well behind the eight ball early on.
However, they were rescued by Matthew Duce (51) and Clow (33no), who will doubtless have been asked afterwards if he was making a comeback.
Clow hit the penultimate ball behind square for six to tie the scores, although Slater's XI were helped by fieldsman running in the wrong direction (or no direction at all) in the latter stages because they could not see the pink ball.
---
Slater said of the match: "I thought that we were dead and buried, but you are never out of it in cricket, and they were fantastic innings by Ducey and Dave Clow and it was a great finish. No-one likes to lose, especially experienced league cricketers."
---
Jeff's mother Janet said: "It has been an emotional night, which has been a success, the weather has been kind to us and we have met so many friends who have come up to say hello. It was lovely."
Mark Gilliver, whose company Cricket School Limited provided the coloured clothing for both sides, added: "It has been absolutely brilliant and I cannot believe how many people turned up. I didn't expect that as it has all been arranged in three weeks to a month."
"I really enjoyed it, despite us getting 180 and losing on the last ball, but because I was running in the wrong direction in the field at one point, we will definitely be playing with white balls next year!"
Donations can be made to Dementia UK via the JustGiving page that has been set up: www.justgiving.com/fundraising/phil-slater17
Enjoyed this read? Join thousands of cricket fans who get the Cricket Yorkshire Newsletter – exclusives, competitions, partner offers and much more straight to your inbox!