What are the best cricket books on Amazon? Ok, by 'best' I actually mean best-selling and this is a snapshot that changes by the hour.
As we all look for lockdown entertainment, I thought I'd do some reviews in the coming months and flag up what's available from cricket books to cricket training on the online shopping platform.
It should give some ideas and inspiration for readers and has the added bonus that anything you buy from Amazon via this website earns me a small commission to go towards Cricket Yorkshire costs such as hosting.
I've picked out three titles from the rankings to discuss a little…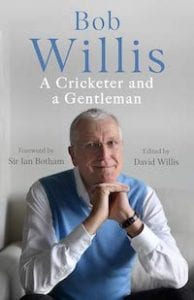 Bob Willis: A Cricketer and a Gentleman

The Sunday Times Bestseller celebrates the life of Bob Willis as he forged a playing career with Surrey, Warwickshire, Northern Transvaal and England.
The fast bowler with that big hair and recognisable long, run-up who racked up 325 Test wickets and 899 first-class scalps for good measure, despite chronic knee pain.
A career as a Sky TV commentator and pundit followed, with a reputation for blunt assessments that could be withering but never dull.
I was watching the Australia-India Test series recently and randomly thought there was a bit of Bob Willis' action in the way Jasprit Bumrah runs in, arm pinned to his side.

This biography has contributions from luminaries across cricket and comes with a breadth of glowing reviews.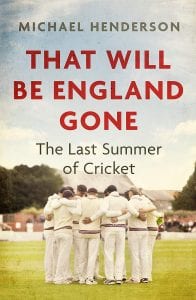 That Will Be England Gone: The Last Summer of Cricket

Has there ever been a more prescient cricket book title than Michael Henderson's?
There are pre-Covid visits to Test matches, trips around the county circuit (including Scarborough) and observations on all levels of the game from the sing-along of a Roses T20 to concerns over club cricket.
No less than Michael Parkinson gives it a thumbs-up: 'Philip Larkin's line "that will be England gone" is the premise of this fascinating book which is about music, literature, poetry and films as well as cricket. Henderson is that rare bird, a reporter with a fine grasp of time and place, but also a stylist of enviable quality and perception.'
Cricket 2.0: Inside the T20 Revolution
Get ready to deep-dive into the world of short-format cricket as you learn the learn about the evolution and revolution that is T20.
I got this on Kindle and happily motored through; an accompaniment to the diet of T20 I was desperate to watch at the tail-end of 2020. Indian Premier League, Caribbean Premier League, Sri Lanka Cricket League, you name it, I've probably hoovered it up.
There's number-crunching and analysis but then that feels apt in an age where Twenty20 cricket has gone hi-tech, since the days I'd have a thrash with a pub team on a Wednesday evening after work.
Wigmore and Wilde know their multi-coloured, sponsored-emblazoned onions and call upon players, teams and commentators to shed light on trends, tactics and the science behind the power and the glory.
So, three very different cricket books and as I mentioned, the Amazon list changes all the time. You'll see the current top 5 below…
**Shameless cricket book plug of my own**
If you haven't read my two books yet then All Wickets Great and Small looks at club cricket in Yorkshire and Last of the Summer Wickets is a celebration of the Scarborough Cricket Festival.
Happy reading and I'll be doing more cricket reviews in the months ahead.
[amazon bestseller="cricket book" items="5″]

What cricket books do you like? Leave a comment below…
What cricket books have you been tucking into in the last year? Any recommendations?
Latest posts by John Fuller
(see all)