Alan Vollans typifies the kind of cricket volunteer we can all relate to. He has been helping at Anston Cricket Club for 40 years as player, coach and instrumental in growing the game.
I imagine if you're reading this, you'll know someone at your local club who is similarly committed to grassroots cricket. If only they could all get the recognition they deserve, eh?
Well, aside from the annual Yorkshire Cricket Board's OSCAs that anyone can enter, it was a pleasure to note that Alan had won the British Empire Medal for services to cricket and the community in the South Yorkshire & Nottinghamshire regions.
It's a nod to 40 years with Anston CC, a cricket club East of Sheffield, where Alan has been everything from captain to groundsman and now, at 80 years young, he's President.
I thought I'd talk to Alan in particular about his drive to create a women's cricket team. The more I learnt, the more it became apparent that this South Yorkshire enclave has been a forward-thinking hub for advancing the women's game.
It began with representation; women served on the social committee at Anston Cricket Club in the early 1980s. That might not appear a leap now but it was a gear change in a traditional cricketing heartland.
It was also the catalyst for a concerted push to build their own clubhouse: "The fundraising got to manic proportions! We were doing some sort of event every week, whether a cheese and wine evening round someone's house or hiring a barn for a village disco with 200 people there."
With women involved socially and in all aspects of running Anston, it wasn't long before thoughts turned to playing cricket. When the new clubhouse was built in 1984, it was the right time to forge ahead.
Alan credits another volunteer, Janet King, with arranging a women's cricket team that year from the local health authority to play Anston Ladies at a softball game.
Andrew Watson, Executive Director of the Yorkshire Cricket Board, was coach to the original women's team at Anston 25 years ago.
He had already been coaching for 12 years and started up two other women's teams in the area – including Sheffield Utd Ladies. He was at Anston for 5 years before setting up another women's team at Kiveton Park (a nearby village). 
Andrew recalls: "Twenty-five years ago, women's cricket was very different compared to what we have today. It was very expensive to play with national, league and club affiliation fees to pay. It was 40 overs weekend hardball cricket and travelling distances were huge."
"Friday night was women's cricket night at Anston and we had 18 women wanting to play but were all beginners from 8 years old to 55 years old!"
"The first match was against Roundhay Cricket Club from Leeds…Roundhay batted first and scored over 200 and Anston batted 3 times and got half their score. We didn't win many matches in the first year or so, but when the big day came, there was massive celebrations and tears!"
From slow beginnings, there was pride at how female cricketers from Anston progressed. Many of those original players went on to attend the first YCB Women's Development Centre and three went on to the Centre of Excellence.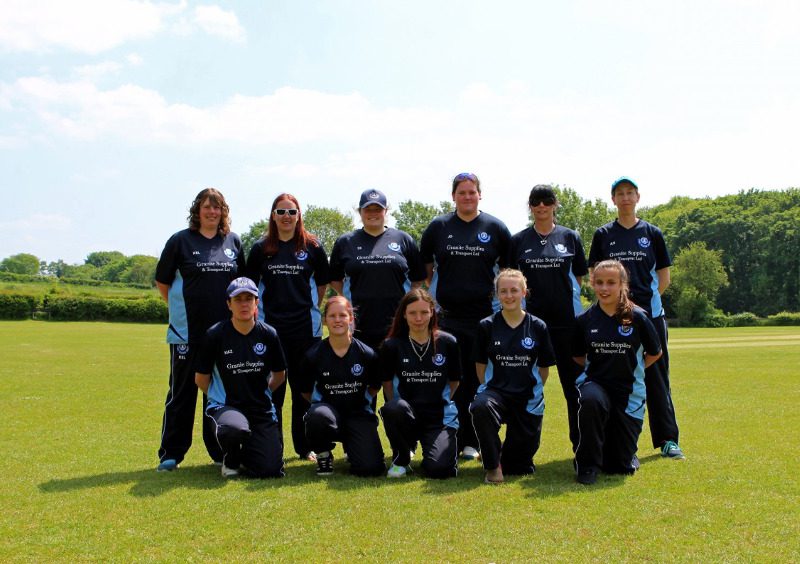 As Andrew points out: "Nowadays, women can choose whether they want to play hardball, softball, 40 overs, T20, festivals, indoor and outdoors. It is cheaper to play and we have massive TV coverage and the England players have contracts."
As for Anston's fortunes with women's cricket, they have risen and fallen down the years, as all clubs do, with players and volunteers coming and going.
Pleasingly, Alan reckons Anston are currently in a strong position with a Yorkshire Ladies League XI and a team in the new Super 8s competition: "We've more players now than we've ever had."
We wrap our interview with the Queen's Birthday Honours. Alan was sworn to secrecy for weeks after getting a letter from the Cabinet Office about his British Empire Medal. He still doesn't know who nominated him.
Alan couldn't quite believe it but is quick to deflect my praise and instead redirect it towards all of the cricket volunteers out there. Nonetheless, he's got a cricket CV to marvel at. 
Coaching juniors at Anston, delivering cricket in local schools and being instrumental in setting up the Yorkshire Over 50s county team are just some of his other achievements. 
Congratulations to Alan who will receive his Medal from one of Yorkshire's lord-lieutenants and also gets an invite to The Queen's garden party next year.
The YCB's Andrew Watson summed it up well: "The honour is so richly deserved. Indeed, it reflects an understanding at the highest level that the work which all volunteers undertake provides so much for so many and is essential to the health of recreational cricket."
Share this article using the Twitter and Facebook buttons below….

Thanks for reading, if you've learnt something new about South Yorkshire cricket or know someone who might be interested in this interview, please share the article via Twitter and Facebook.
*This is a sponsored article as part of our partnership with the Yorkshire Cricket Board – if the mood takes you, click to read Cricket Yorkshire's policy on sponsored content*
Latest posts by John Fuller
(see all)