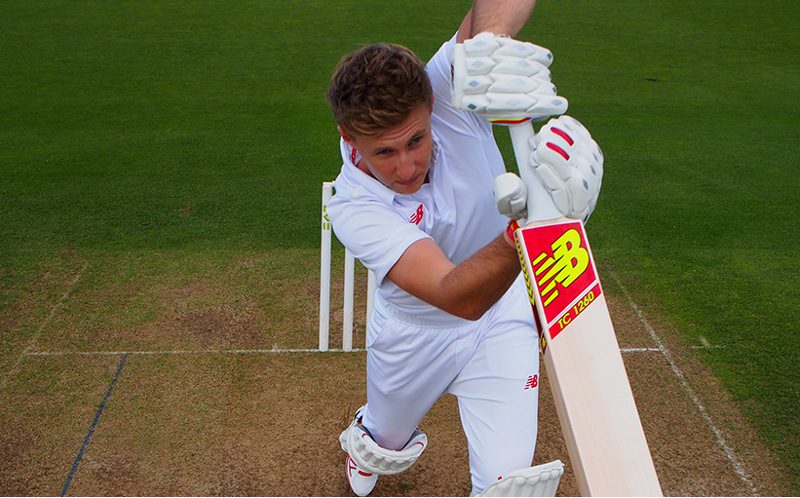 Just in time for England's challenging tour to UAE to face Pakistan, the world's number-three-ranked Test batsman, Joe Root, has moved from long-time bat sponsor, Gunn & Moore, to relative newcomer, New Balance.
While cricket retains a loyalty not seen in football where contracts evaporate the moment a star pouts or has his head turned, in commercial terms, this is surely the cricket transfer of the year.
A heads-up, this isn't a sponsored post so the interest in this particular story was the high-profile, Yorkshire sportsman involved and the decision to switch from an established cricket brand to a much newer name and how this might play out.
Root's contract with Gunn & Moore has recently expired and the Yorkshire and England star has taken the plunge with a deal that has started with England starting their tour with a two-day game at Sharjah CC against Pakistan A from 5-6 October.
It must be blow for Gunn and Moore whose Six6 DXM bat was Root's last bat but they were putting a brave face on it, with this from Unicorn Group Managing Director Edward Lowy:
"We have sponsored Joe for 11 years – since he was 13 in fact – so whilst we are naturally disappointed, we of course understand that players move on for commercial reasons."
Unicorn Group Managing Director Edward Lowy
During that stint, Root became Wisden Cricketer Of The Year, number one ranked batsman and won Man of The Series in the 2015 Ashes, among many other accolades.
Of course, cricketers changing kit suppliers happens but refreshingly is not run-of-the-mill. After all, credibility only stretches so far and punting a myriad of equipment brands as the bees-knees loses steam pretty quickly. We're not all idiots, after all…
New Balance announced the news with precious little fanfare with a few moody shots of Joe, with mountainous quiff, hugging a bat but make no mistake, it is a platinum signature for the footwear brand as they jostle for consumer trust.
The mercurial cheeky-chappie from Sheffield Collegiate, Root's switch reinforces New Balance's stable of England cricketers alongside Mark Wood, Ben Stokes and Gary Ballance.
Their tagline of 'Always in beta' might relate to their own website which has no cricket bats at all, though they distribute through a network of retailers – ahem, including our good friends at Barrington Sports.
Gunn and Moore still possess a stellar line-up of global stars using their cricket equipment; just at Yorkshire County Cricket Club, that includes Alex Lees, Adam Lyth and Andrew Gale.
So, who cares about which international cricketers are using what cricket bat and what will this mean?
Actually, you all do. At least that's what marketing teams are paid to decipher but here's a quick exercise – when you next dig out your cricket bat, consider what made you choose that brand and that bat?
Was it the weight distribution, the colourful stickers, the fact that a pro cricketer uses one just like it or perhaps you're supporting a local podshaver instead?
Whether through good fortune or canny timing, the Root deal kicks off in plenty of time before England go to South Africa, where New Balance have forged a stronger presence; being the official apparel and footwear supplier to Cricket South Africa (CSA) as well as individual sponsors of David Miller and Dale Steyn.
Don't under-estimate the power of celebrity, it's why brands shell out muchos spondoolios (working on my Spanish) to harness the fanbase of star players and teams with global appeal.
Joe Root is about as marketable asset in cricket sponsorship as a brand could wish to have in their roster with a pedigree across Tests, ODIs and Twenty20, a clean reputation and millions of fans across the world.
The financial aspect to this deal, discretion being the greater part of valour as usual, inevitably will spark some discussion – was the move purely done for financial gain?
Even if it was, frankly, what's wrong with that?
'Get the best deal for your client' would be the Cricket Yorkshire take on things from outside the goldfish bowl looking in, perhaps for Root and his management team, New Balance might have felt like a better fit with any other companies Joe is now working with.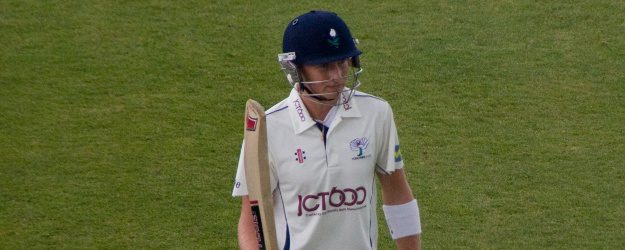 To dissect a brand's ethos for a second, New Balance seem are a bit more edgy and less traditional than Gunn & Moore – make of that what you will, perhaps it's a new beginning in every sense for the shy young cricketer I interviewed at a Yorkshire CCC press day when Cricket Yorkshire was just getting started.
For a brand investing in a player, it's about timing and riding the crest of a wave.
Joe Root has been with Gunn & Moore for over a decade during which he's become the England vice-captain and been essential for Yorkshire and England across all formats.
New Balance will be aiming to capitalise on the next phase of Root's career with the belief of many that Joe will succeed Alastair Cook as England Test captain in the next five years.
Short-term, fans will start buying whatever cricket bat from New Balance that Joe Root puts his name to and it's a statement of intent from this brand, better known for their footwear, as they seek to consolidate their presence in cricket.
Latest posts by John Fuller
(see all)