The votes are in, they've been independently checked by Doris from Doncaster and…ok, ok, I'll behave.
This is the first year of the Cricket Yorkshire Awards, launched in August to showcase and champion creativity and innovation across websites, writing, photography and social media in Yorkshire cricket.
Thanks to everyone who took the time to enter the five categories, there were some outstanding and ingenious submissions that took a lot longer than anticipated to decide winners from.
A mention too for Pitchero who we're delighted to have sponsored the Cricket Yorkshire Awards, they're a forward-thinking company offering all the tools for sports clubs to thrive online.
So, here are the winners and judging comments for each category.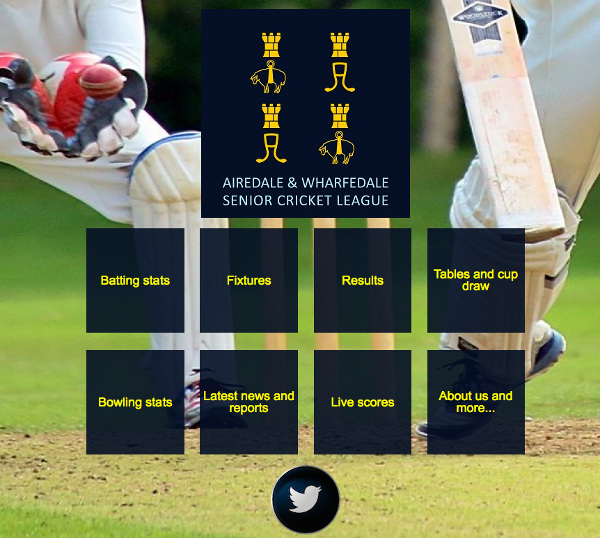 Best Cricket Website (Club/League)
JOINT-WINNER: Airedale & Wharfedale Senior League Website (Play Cricket) – Kevin Owens – http://awscl.play-cricket.com/
The Airedale & Wharfedale Senior Cricket League have a brilliant, comprehensively redesigned website on the ECB's Play Cricket network in time for the 2016 season, thanks to six months of tireless development by Kevin Owens.
It shows off what Play Cricket websites are capable of and will act as a one-stop-shop for all things Aire-Wharfe League from umpires assessment forms to league records.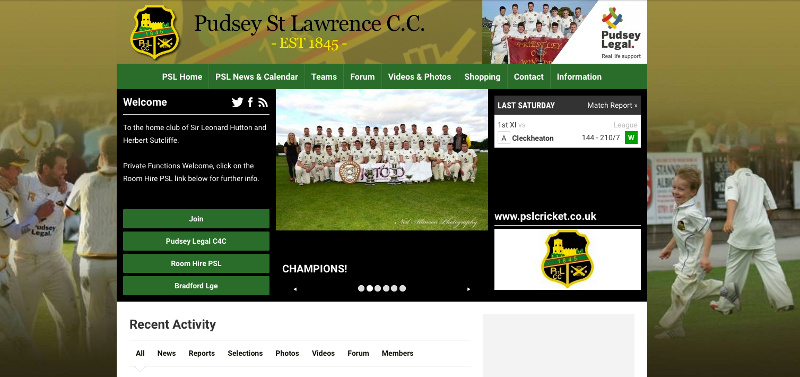 JOINT-WINNER: Pudsey St Lawrence Cricket Club (Pitchero)
http://www.pitchero.com/clubs/pudseysaintlawrencecricket
The Pitchero network remains a popular global sports network for more than 12,000 sports websites, whether club, league or county organisation.
Pudsey St Lawrence Cricket Club from the Bradford Cricket League have invested time and energy into making the most of what Pitchero can offer.
From the striking background to clever support for its sponsor Pudsey Legal in the top banner space, they have gone above and beyond the mere fixtures, results and stats.
In Neil Allinson, they have a former player-turned-club photographer who supplies regular quality images that really enhances their web presence.
The Top 100 Pitchero rankings are based on an algorithm of numbers to each website allied with the frequency with which it is updated.
Pudsey St Lawrence CC are consistently in the top ten and the top-ranked Yorkshire cricket club.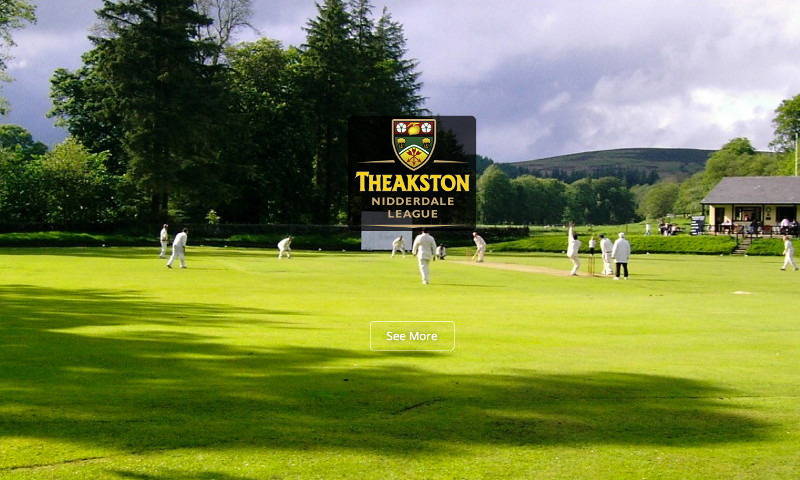 HIGHLY COMMENDED: Theakston Nidderdale League (WordPress)
http://www.nidderdaleleague.co.uk/
The Theakston Nidderdale League have been at the forefront for years when it comes to delivering an attractive league website that provides fixtures, results, performances and league tables all integrated via the CricHQ application.
Through clever use of WordPress, the website now takes advantage of functionality like multiple editors for a variety of content, rotating images across the header images and plugins such as Google Forms to enable user-generated content along with articles that can be easily shared on social media.
League Secretary Graham Hyde keeps what is a website for a huge cricket league covering nine divisions and thousands of players regularly updated while the league are fortunate to be able to use Barry Gill's brilliant photography of league games.
The use of WordPress means the look and functionality can be tweaked instantly while local web host Bronco in Ripon ensures continuity of service. All in all, an excellent website to be proud of and little to separate all three websites across Play Cricket, Pitchero and WordPress.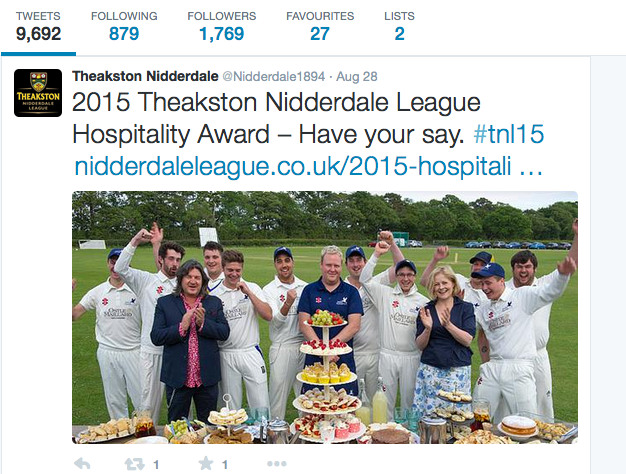 Best Use of Social Media
WINNER: Theakston Nidderdale League @Nidderdale1894 and Nidderdale League on Facebook
How a cricket league takes advantage of social media and excels at it is a vital part of its modern communication. Almost everyone has a smartphone nowadays and social media conversations and engagement is key to retaining players as well as attracting lapsed or new ones.
The Nidderdale League has embraced Twitter and Facebook to talk to players, supporters and officials across the region while adopting the CricHQ platform with its social connectivity has boosted that dynamic.
Rather than cross-post the same content over all social channels, the Nidderdale League tailors its contributions to the medium and audience.

So, Facebook is about sharing news, performances, event and photos and when Rob Ellis hit more than 500 runs in a weekend, that flashed over Facebook to more than 12,000 timelines as well as getting national media coverage.
The Nidderdale League has also embraced the bite-sized immediacy that Twitter offers sharing short bulletins, signposting longer website articles and doing their part to encourage discussion and debate through the launch of #crickethour.
Social media is a tool cricket clubs and leagues need to maximise and if used innovatively, as with the Nidderdale League's player loan scheme, it can be really beneficial – well done to the Nidderdale League for the social media conversations they continually drive.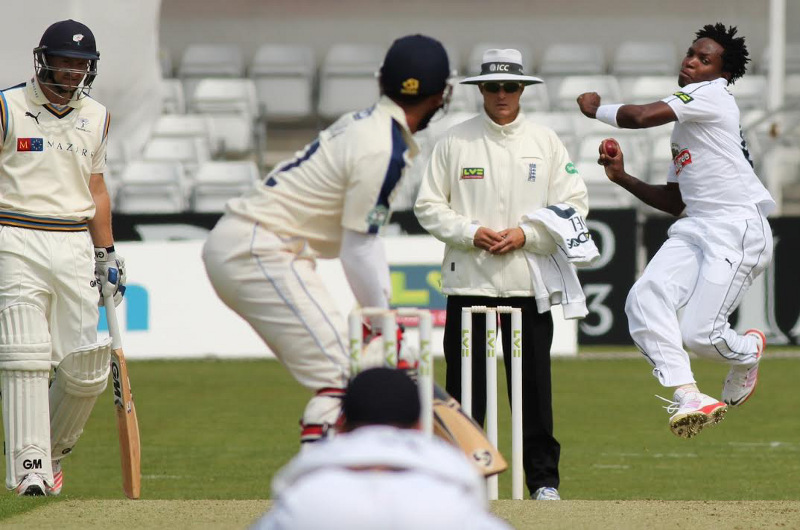 Cricket Photo of the Year
WINNER: Jeremy Lonsdale
In a digital age where a striking image can catch our flitting attention online and hold it, a cricket photo can be the ace in the hole.
This category proved really popular this year and the breadth of entries across county and recreational cricket was impressive so we'll be showcasing the photos in a future article.
However, several photographers stood out for recognition from all the entries received.
Jeremy Lonsdale's photos on Flickr are well worth a look and his Awards entries included Bairstow being bowled at Hove in 2013 and Yorkshire pushing for that final wicket at Trent Bridge to claim the Championship in 2014.
But the winning photograph comes from his 2015 portfolio with Yorkshire taking on Hampshire at Headingley.
Adam Lyth watches Cheteshwar Pujara face a full throttle Fidel Edwards. Really fast bowlers in county cricket that purr through the gears are a sight to behold.
The framing of this photo this felt spot on, as if you are facing Edwards yourself out in the middle. Well done, Jeremy…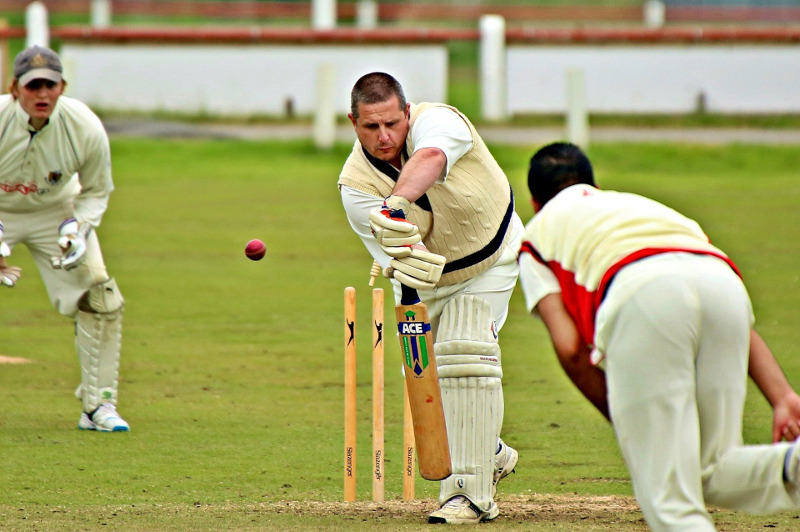 HIGHLY COMMENDED: John Whiteoak
Meanwhile, John Whiteoak photographs Aire-Wharfe cricket and is Skipton CC's resident snapper, the images of which go onto the club's Facebook page.
The three photos submitted included stumps flying and an attempted run out but the highly commended image is of Skipton CC's number eleven being bowled.
I can both relate and sympathise…
The bail has leapt into the air, clearly visible, the concentration on the batsman's face and his crisp, well-captured profile all make for another awesome photo.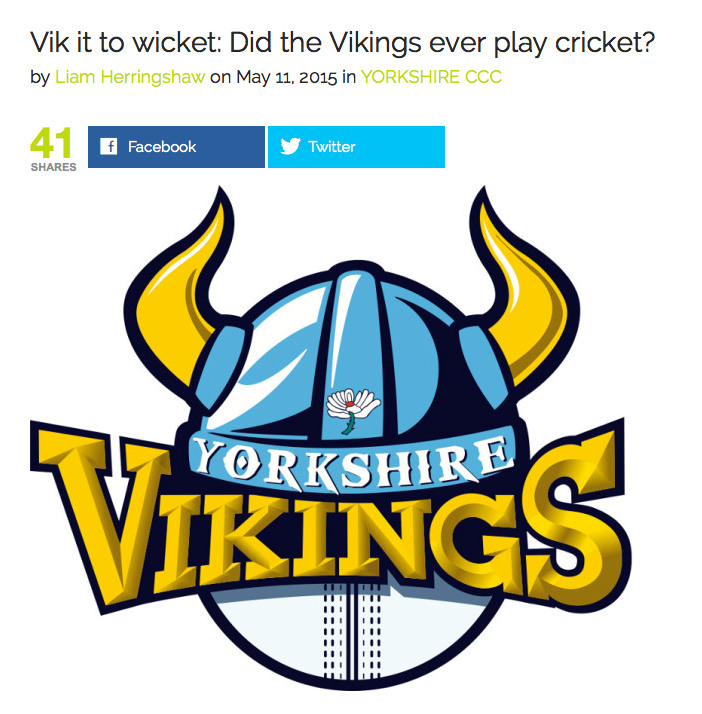 Cricket Writer of the Year
WINNER: Liam Herringshaw
To showcase cricket writing and give talented bloggers, writers and journalists a platform to be championed from, this category is open to any articles, written for this award or already published, and automatically include anyone who has written for CricketYorkshire.com.
Congratulations go to Liam Herringshaw, who has contributed a number of memorable articles for the Cricket Yorkshire website when not playing for Ovington CC on York's Knavesmire or talking about fossils on Twitter.
The winning article is a must-read called Vik it to Wicket: Did the Vikings ever play cricket?
It's well researched, flows as strongly as the river Ouse, Liam's home-town tributary and is packed with humour and light touches.
A notable writer in the past for ESPNCricinfo and The Nightwatchman, Liam is a worthy winner of Cricket Yorkshire's inaugural writing award.
**The site always welcomes new writers…anyone else interested in writing for Cricket Yorkshire can check out our writers' page.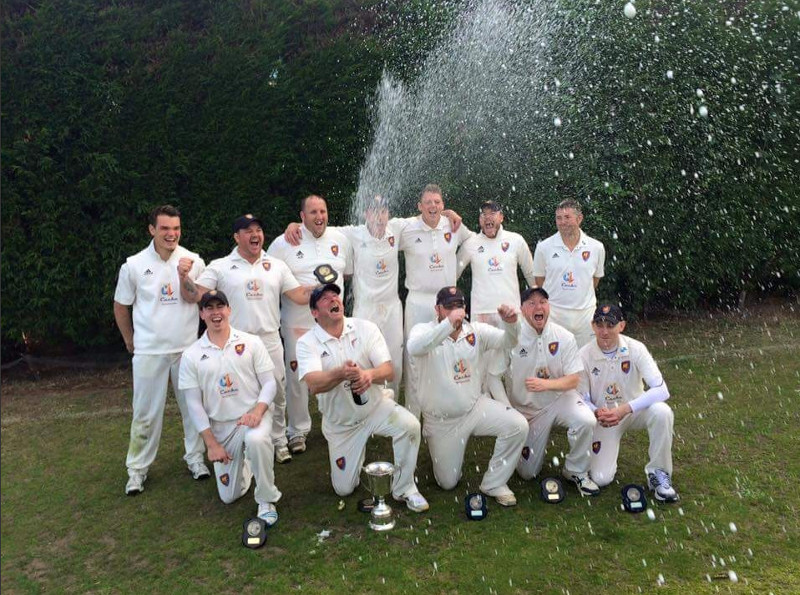 Cricket Innovation Award
WINNER: Brook-Walton Cricket Club
Innovation, creative endeavour and something out of the ordinary are what this category of the Cricket Yorkshire Awards is all about.
In a climate where cricket clubs are merging or folding due to the changing lifestyles and priorities of the playing population, it is extremely rare to see the creation of a brand-new cricket club.
According to the Yorkshire Cricket Board, the formation of a cricket club that goes on to play league cricket has happened only a handful of times in the past few decades.
It is therefore inspiring to see the birth of Brook-Walton CC who formed in 2013 and only began as a team in the third division of the Pontefract & District Cricket League last season.
The ambitious project of Ex-Streethouse and Wrenthorpe cricketer Richard Vigars, this has been an extraordinary start for Brook Walton. The first eleven have won back-to-back titles that sees them in Division One for 2016 while the seconds, who only formed this season, won promotion to Division Seven weeks ago.
Creating an entirely new identity, ethos and playing group with sustainability is no mean feat and it's to the credit of Richard and all those involved at Brook-Walton so congratulations to them for winning our Cricket Innovation Award.
HAVE YOUR SAY…
That's it everyone….thanks to all who entered and please do share this article far and wide to celebrate the breadth of creativity and endeavour from all those involved in our 2015 Cricket Yorkshire Awards.
To comment on the article, scroll to the bottom where Livefyre comments are active across the website.
Latest posts by John Fuller
(see all)