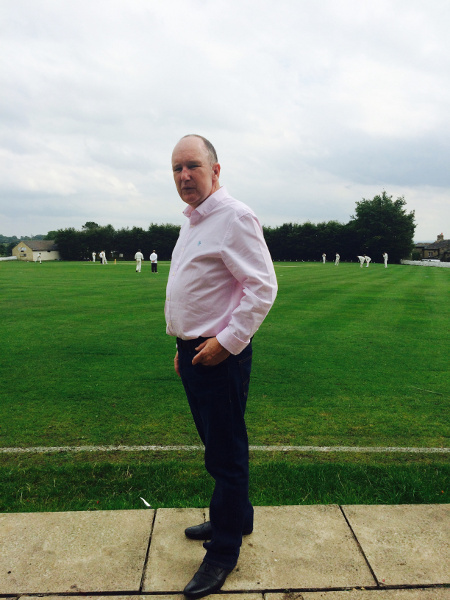 This is an interview about the damage the sun can do – and how being out in it watching or playing cricket can play its part – from Lawrence, Chairman of Rawdon Cricket Club who has also worked for years at the Yorkshire Cricket Board.
Keen to raise awareness of skin cancer, Lawrence has been kind enough to openly share his story with Cricket Yorkshire and all of you. I hope you'll consider having a read and sharing this with others (share buttons are at the top).
If you want to comment on the article, you can do so by scrolling to the bottom of the page.
It was sobering listening during the interview and I can only imagine what it's been like for Lawrence and his family to go through and I wish him a full and speedy recovery.
**
It began with a trip to the GP after the discovery of a mole on the left side of Lawrence's forehead.
In fact, he wasn't even planned to have it checked out but his wife insisted which, as it turned out, was an early and crucial intervention:
"As we fellas do, I probably wouldn't have gone to the doctor's with it even but my wife pressurised me into it."
Neither the GP nor dermatologist saw anything obviously amiss but to be sure, Lawrence was sent to a skin specialist at Chapel Allerton in Leeds.
The diagnosis there was a basal cell carcinoma – a form of skin cancer that develops from our basal cells, which are found in the epidermis layer of the skin.
It is treatable by removal of the affected area, which is what happened with Lawrence back in October 2013.
"I can remember quite vividly when I got the call back and making a follow-up appointment. It was Christmas eve 2013. I had to go back in early January for the results and that was when they told me it was a melanoma."
Melanoma is another form of skin cancer where the melanocyte cells that divide the epidermis and dermis layers of skin become cancerous.
Having already had an operation and thought he was clear of trouble, there was a fresh diagnosis and referral to a specialist at the melanoma clinic of St James's University Hospital.
Here, there was sobering news to come to terms with. Melanoma is the most aggressive form of skin cancer and there were exhaustive questions about lifestyle and recreation:
"It was basically put down to skin damage and I had to have a bigger area removed from the forehead around it. I also had to have dyes injected into my forehead to see if it had got to my lymph glands."
A skin graft from his neck replaced what was taken from his head – and Lawrence went back every three months for a year and all seemed to be promising.
In March of this year, he noticed a lump at the side of his left ear and a biopsy – cell samples – were taken which revealed the devastating news was that his skin cancer was back.
In May, another operation removed this latest danger and at the same time, he had his lymph nodes removed in his neck as a precaution.
Your lymphatic system is part of our defence system and there are lymph nodes all over the body. It is possible to get lymphoma where cancer starts in the lymph nodes or metastatic cancer, where it spreads there.
This is no small procedure. In Lawrence's case, he was operated on and cut from his right ear right down the side of his face but this is an on-going battle.
A recent scan revealed the cancer hasn't spread so it's clear in his neck and it hasn't spread beneath his neck into his chest but the latest treatment is a six-week course of radiotherapy.
Without radiotherapy, the studies show that there remains a 40% chance of the skin cancer returning which drops to 15% with radiotherapy.
For anyone who has been diagnosed with cancer or had family or friends go through it, Lawrence's experiences chime as that rollercoaster of emotions, hospital appointments, tests, results, operations; ultimately a medical journey.
So far, this has all been about the treatment path for someone diagnosed with cancer. Lawrence is quick to praise all those professionals that have been treating him along the way whether nurses, cancer specialists or surgeons.
A key part of coming to terms with cancer and making adjustments in life is surely an understanding of the science, treatment and repercussions with something as scary and unknown to a patient as cancer.
The research tell us at least one in every three people in the UK will develop cancer at some point in their life but until it affects us or someone in our close circle then it can be something of a shapeless spectre.
With Lawrence, every step along the way has been explained carefully and while there is little positive news with suffering from cancer, being in possession of all the facts can help with processing everything.
The encouraging news too is with the advances in medical research over the past few decades when it comes to successfully treating certain types of cancer, as Lawrence puts it himself in stark terms:
"I also think ten years ago, if they'd have said you've got cancer, it was a death knell; it was a question of how long whereas now, they're very positive and upbeat that they can sort it out."
When tracing the causes of skin cancer, it can sometimes be those of a certain age who are now suffering from attitudes to the sun from decades past. Once upon a time, there was little in the way of worrying about taking in too much sun. Far from it:
"It was ignorance of the damage the sun can do. We never heard of skin cancer at that time. In the sixties and seventies, we just used to play out in it for hours and while I used to wear a hat, there never used to be the attention to putting on high-factor protection that we do now."
We get to talking about the role that cricket has potentially played in the health scares he's now having to face and Lawrence is candid enough to admit that cricket has likely as not contributed – particularly through sometimes playing for hours outdoors without a sunhat or cap.
I've written before about cancer and attitudes in the UK to the power of the sun – or perceived lack of it sometimes – through Cricket Yorkshire's association with Yorkshire Cancer Research.
It's a constant message to hammer home that a scorching hot day is not the only time anyone outdoors needs to be on their guard.
The day at the Headingley Test match when I was sunburnt was no publicity stunt to make a point, it was perishingly cold but still I returned home looking like a sun-dried tomato.
It isn't always just the sun-worshippers sitting on the beach for days that are at risk.
In Lawrence's case, having a beer on the terrace at Rawdon in the sun watching some cricket felt as care-free as you could be.
However, damage to our skin through the sun is a little like de-hydration in that it can stealthily creep up on you and when you feel its effects, it's already partly too late.
Forearmed is forewarned, whatever skin type you have…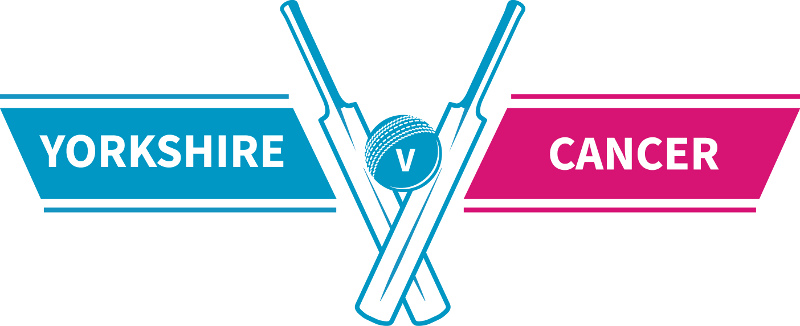 Nowadays, Lawrence admits to how cancer has changed him:
"Now I'm frightened to death, I never go out without putting high factor suncream, factor-50 all the time, If you see me on a Saturday at the cricket now, I always have a wide-brimmed hat on.

Probably too late for me now as it's in there…"
So, what can be done? Education from a very young age about putting on sun-cream, wearing the correct headgear and avoiding the sun at the hottest parts of the day feels like a start but, a little like the issue of wearing helmets in cricket, it's the older generations – ones ironically with the power to fend for themselves, that need just as much education, support and advice.
Prevention and early diagnosis and treatment sit side by side with the vital research into treatments for not just skin cancer but every type of cancer there is.
So, what's Lawrence's current prognosis?
Well, he is having his face mapped and measured and a special mask built for the radiotherapy sessions to allow for very specific targeting of the cancerous cells.
The hope is that with radiotherapy, his cancer is kept at bay with no future recurrences and I have all fingers and toes crossed that this remains the outcome.
Be safe all of you and I'd really appreciate any sharing on social media for this article. Special thanks go to Lawrence for offering to talk at length about what it's been like to live with cancer.
To learn more about Yorkshire Cancer Research, visit http://yorkshirecancerresearch.org.uk.
Latest posts by John Fuller
(see all)