Stepping down off the train at Pannal, the local Women's Institute were doing a spot of pruning at what must be one of the finest floral backdrops of any station.
There to meet me was Steve Gill, Spofforth Cricket Club's Chairman, for the short drive east back to his village where his club was hosting a county U17 girls T20 tournament.
A right turn on School Lane and there in the distance is the where the road peters out and the unmistakable landscape of green fields and a sightscreen getting ever closer.
Away from the clubhouse and cricket square, Spofforth CC have a separate area of grass where the outdoor nets are based with room enough for a helicopter to land.
The more I hear, the more I realise that this is a club cricket that works its socks off to raise funds both for itself as well as local charities.
The helicopter reference was a nod to Yorkshire Air Ambulance for whom Spofforth raised thousands of pounds a few years back.
They persuaded budget airline Jet2.com to donate one of the most imaginative cricket fundraising prizes I've ever come across: an auction for the chance to have a Boeing 747 named after you!
Today, the forecast is iffy – how often have I written that in the past two months – but I'm expecting to catch some, if not all, of Yorkshire's opening game against Lancashire.
These midweek county matches brought it home for me how many people sacrifice their time and energies so that a game of cricket can be played.
He's by no means alone in this but Steve had arranged a day off work not for a break but to enable him to help run around prepping everything that goes with a club looking after not one but three county squads.
The rain falls about the time that Lancashire's openers stroll out together. For an under-seventeen side who are unbeaten in league cricket all season, Yorkshire don't look their best for the first couple of overs as boundaries prove easy to come by.
That being said, I'm struck by the quality of girls county age-group cricket – crisp strokeplay, canny bowling and plenty of commitment in the field. In fact, everything appears as professional as, well, the professionals.
Beforehand, the Yorkshire U17 team and support staff posed for a squad photo with a bevvy of cameraphones from the assembled parents paparazzi and myself firing in front of Spofforth's delightful scorebox.
A nod at this juncture to Steve Gill's wife, Sandra, who is the club's Secretary and first eleven scorer for whom the scorebox is apparently home from home.
Today, it's occupied by Harriet, Yorkshire's Team Manager who is kind enough to fill me in on players and what is already shaping up to be a successful season.
A walk around the boundary affords the chance to bump into those parents connected to the girls game including Andrew, Head Coach at Wrenthorpe Ladies, whose daughter Megan is one of six cricketers from the club side in today's squad.
The blend between club and county is such that in the women's game, there are Yorkshire under 17s who play county cricket and the squad for this T20 is missing a few regulars, involved the day before at Harrogate in a Yorkshire Diamonds warmup and unable to play twice in quick succession.
Yorkshire keep their composure as Lancashire put together a stand of 67 but the run rate slackens and the innings closes on 111-3 off 20 overs. It ought to be noted that a fair few overs of that innings were played in heavy rain but everyone stayed out, got on with it and did their jobs.
Jack is there with his gazebo from Yorkshire Cancer Research with suncream and UV-detecting wristbands on offer but it's been raining or overcast since setup so we pass the time putting the cricketing world to rights, one issue at the time. Very therapeutic it was too.
Inside, tea – or lunch – is being taken and Spofforth have pulled out all the stops with Terry, Treasurer and long-time stalwart, who is making cuppas, pouring pints behind the bar and looks perfectly content.
He has has been a member of Spofforth Cricket Club since the 1950's and appropriately enough for today, was the first captain of a Spofforth Junior Team when he led the U16's to championship victory in 1953.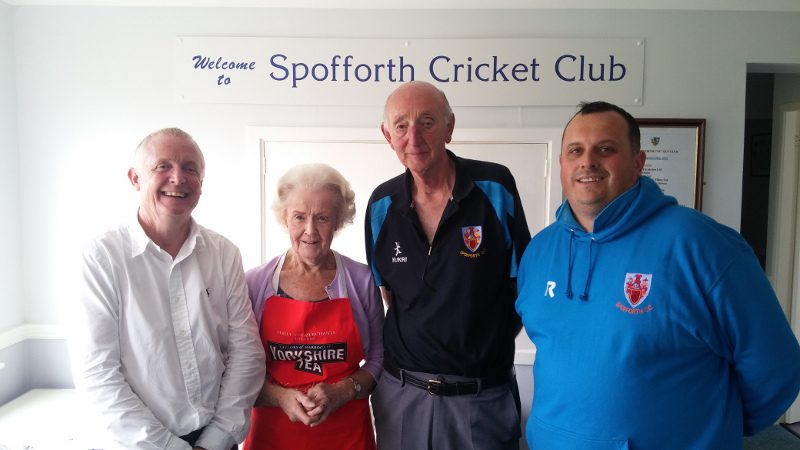 In a story that will resonate across cricket clubs with volunteers of similar dedication, Terry's cricket CV includes captaining the first eleven for many years and racking up the trophies as well as helping out on the committee.
He pauses beside me at one point, lets out a sigh and admits cricket has given him decades of enjoyment. He plans to hand over the role of treasurer to someone else now that the demands of HMRC are all online but will stay involved somehow.
Spofforth's commitment to junior cricket sees teams across under-nines, under-elevens, under-thirteens and under-seventeens with plenty of ECB-qualified coaches, whose training is paid for by the club.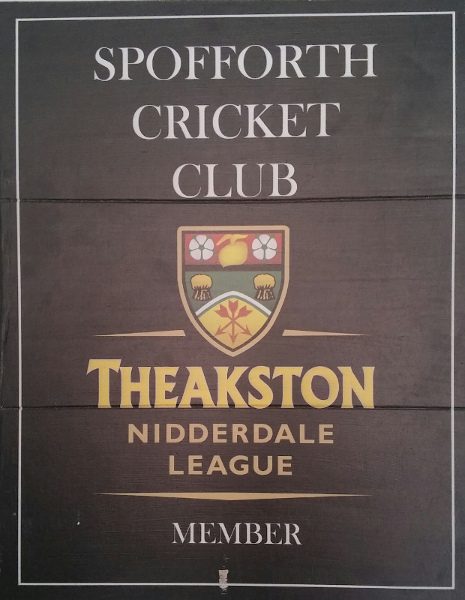 As for today, what's in it for the cricket club?
Steve Gill put it to me that hosting a county match is a notable accolade, given Yorkshire's representative teams have an abundance of choice (700+ clubs) of where to be based.
Yorkshire U17's batting efforts get off to a shaky start chasing a revised target of 55 from ten overs. They lose four quick wickets including two runouts – is there an upset on the cards?
I walk the boundary again and get talking to Yorkshire County Cricket Club allrounder Will Rhodes, who is here to broaden his coaching knowledge and learn more about the role of a county team manager.
It must be inspiring for these girls to have a Yorkshire first eleven player attending to offer his insight.
Yorkshire take a breath, rebuild and keep the score ticking to ease to victory by six wickets with five balls to spare. They have been an irrepressible force this season in group 1 of U17 A Division of the County Championship and top the group in T20 for good measure.
I can't stay to the end but the overriding sense from Spofforth is that both Yorkshire U17 girls and their host club are in fine fettle and credit to those coaches, committee members and players for what they're achieving on and off the field.
Spofforth Cricket Club: http://spofforthcc.com
Yorkshire Women Cricket: http://yorkshirewomen.play-cricket.com/
Latest posts by John Fuller
(see all)