There is a strong Yorkshire contingent who have been selected in the England Women's Blind squad for the upcoming 2023 IBSA World Blind Games in Birmingham.
The IBSA World Games is the world's largest sporting event for those athletes who are blind and partially sighted. This is the first time the Games come to the UK with more than 1,250 competitors from 70 nations expected to take part across August.
Cricket is included in the event for the first time and this is also the inaugural England women's competition, other than bilateral series against Nepal and West Indies.
Kathryn Jelfs-White, captain of the England Women's Visually Impaired team, told ecb.co.uk that it really was an exciting step into the unknown as for half the women's squad, it will be the first time they've faced an international team:
"Ultimately, we won't know what the opposition is like until we get there, but we're not going to this competition to make up the numbers. We're going there to give it a good go."
England will play Australia and India twice in the group stages.

England Women's Fixtures
19 August, King Edward's School, England v Australia (1pm)
21 August, Tally Ho CC, India v England (1pm)
22 August, King Edward's School, England v Australia (1pm)
24 August, Tally Ho CC, India v England (1pm)
26 August, Edgbaston, Group Winner v Group Runner-Up (11am)
Jelfs-White added: "Domestically, we play mixed-sex cricket and with a different ball to the international game. There are two tiers in the national league, supported by smaller regional leagues below that. We've a couple of hundred players, but there's always room for more."
Helen Lawson, Jess Lowe, Reanne Racktoo & Georgie Ridgway are the Yorkshire Vikings cricketers included in the squad and at least two of those will be in the starting 11.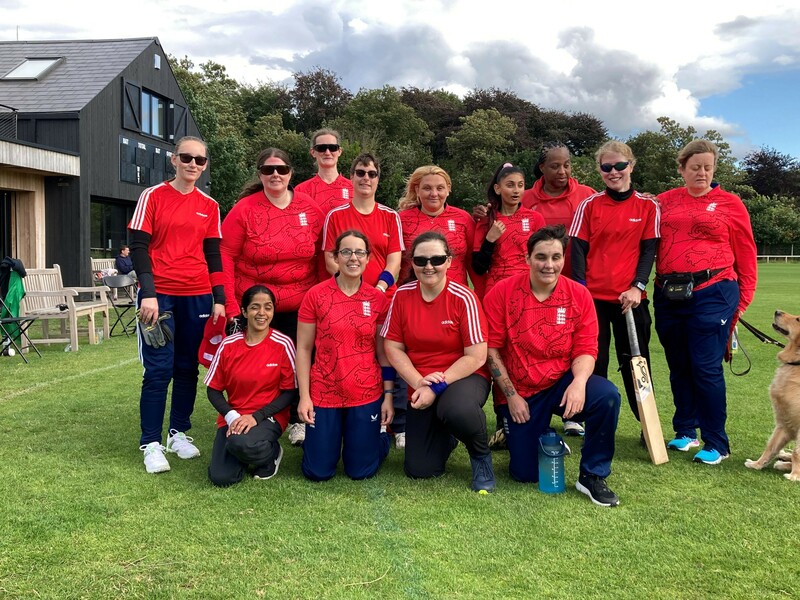 Ridgeway is England's vice-captain while the other players have yet to make their England debut.
The event kicks off on 19th August with both finals taking place at Edgbaston on 26 August.

Meanwhile, Yorkshire Vikings are third in the BCEW National League Division Two table – with an incredible five draws out of six fixtures, presumably because of the weather.
Good luck to both England squads and to learn more about blind cricket, visit https://bcew.play-cricket.com.

England Women's Blind Team
Kathryn Jelfs-White (cap)
Leanne Harvey
Georgie Ridgway
Laura Brooks
Helen Lawson
Sayma Begum
Hannah Young
Alison Heasman
Theresa Robberts
Jess Lowe
Atia Aslam
Sharnie Mabey
Minerva Ainsworth
Camille Elliott-Kamara
Heidi Linegar
England Men's Blind Team

Ed Hossell (cap)
Moshfique Ahmed
Asif Ali
Matt Dean
Nathan Foy
Muhammad Ghalib
Sam Hoskin
Rory Hossell
David Howells
Nathan Jameson
Gareth Jones
Mohamed Khatri
Matthew Page
Luke Sugg
Mark Turnham
Latest posts by John Fuller
(see all)