Let's go! #shinebright pic.twitter.com/AmD4pS4dBJ

— Yorkshire Diamonds? (@YorksDiamonds) August 11, 2019
A visit to Emerald Headingley to watch Yorkshire Diamonds face Loughborough Lightning in the Kia Super League delivered everything you could want – except a home victory.
It began with a surreal walk up from the railway station to be gradually overtaken by an elongated golf buggy with 'Yorkies' (Yorkshire Cricket Foundation matchday volunteers) ferrying supporters to the stadium.
On a windy, overcast morning with rain in the air, it felt far removed from either a film set or a golf resort.
On learning that the players would be stationed at the far end of the ground at the base of the Emerald Stand (rather than the typical plastic T20 bus shelter), I opted to follow suit.
With this being part of the double-header with the Yorkshire Vikings, there were a few more in to cheer. 
I wonder what would happen if the men played first? The worry is that many would leave but I think it's worth an experiment to give the Diamonds a chance at a packed stadium.
A group of lads in navy hoodies thumped their white inflatable sticks enthusiastically together as the Diamonds' pair of Healy and Winfield ticked off their first boundary.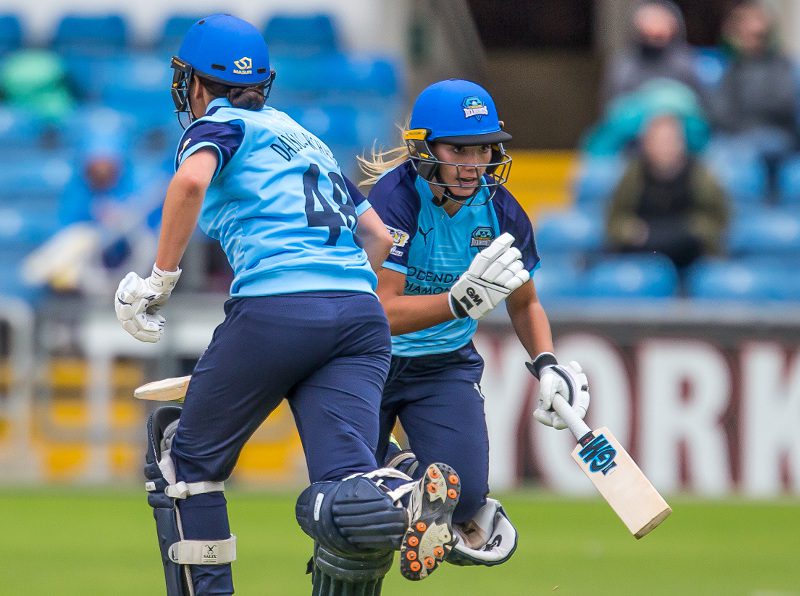 I'd been where they were for the England-Sri Lanka World Cup group game and watched Ben Stokes belatedly attempt to rescue the hosts with a late assault.
Having the staccato repetition of those inflatable sticks was at first annoying but we have some at home and I was happily drumming away, much to the neighbours' delight no doubt, during the World Cup Final.
The loss of Yorkshire Diamonds' international Anglo-Aussie pair for precious little could have spelled disaster but rebuilding with Hollie Armitage (23) and Jemimah Rodrigues (20) injected some momentum.
The visitors tried eight bowlers to disrupt and contain and last year's Kia Super League runners-up were effective in burgling a wicket whenever pressure began to build.
At one point, I'm pretty sure Chamari Athapaththu flashed up on the big screen for the Lightning as the Sri Lankan took her turn to bowl and she was in her Yorkshire Diamonds gear, having previously played for them.
I wandered off to find a hot brew to defrost a little only to have an internal dialogue about on what planet £1.50 for a bag of crisps is acceptable. Sometimes I can be a right Victor Meldrew.
I noticed that they sell Bovril to drink, popular with the rugby supporters apparently but plumbed for a hot chocolate to usher back in the circulation.
If you've not visited yet, the new Emerald Stand really is a fine accomplishment. I can't readily get too excited about concrete and girders but it's helped transform that end of Headingley and the whole ground was open, so even the padded seats were available.
Players would routinely pass through the stand and clatter in their spikes down the stairs. At one point, Yorkshire Diamonds' skipper Lauren Winfield walked past a girl and said hello.
In turn, she looked back at Lauren, a look of amazement across her face, clearly chuffed that she'd just met an England international. It's a tough time, results-wise, for the Diamonds but the support is most definitely still there of all ages.
A score of 121-6 felt light but not beyond the realm of possibility to defend, if the bowling could spark. Over at the St Michael's Lane entrance, there was face painting while Skipton Building Society had a Speedgun Challenge.
The gents were up at 62mph when I passed with boys and girls categories too and prizes available. 
One young lad walked past after his go, turned to his dad in disbelief and disgust, spluttering: "37??!" If the camera adds ten pounds, perhaps the speed gun subtracts 20mph?
For the second innings of the day, I stood at the cusp of the East Stand and watched the Yorkshire Vikings, who had been netting, amble past.
Jonny Tattersall was carting a cricket bag on his back almost as big as he is and Tom Kohler-Cadmore barely got five feet further without another autograph request.
It was not a warm day, earmarked for 21 degrees but there must be another Headingley in the Bahamas the BBC is thinking of. That was the least of Yorkshire Diamonds' problems.
They bowled too short and their fielding let them down as Loughborough Lightning sauntered to a nine-wicket thrashing with 40 balls to spare.
You look at the supremely talented Yorkshire Diamonds squad and you wonder how on earth they aren't faring better. It's a conundrum that has plagued them since the first year of this tournament.
Perhaps it's a blessing that the fixture list leaves little room for mournful contemplation. They are at Aigburth for the Roses clash on Tuesday then travel to York Cricket Club on Thursday to welcome Western Storm.
Yorkshire Diamonds find themselves bottom and yet to register a point but it is still early days.
Two wins on the bounce will resign this heavy loss to a hazy memory but with Yorkshire Vikings losing by 55 runs later on, it wasn't just the Bovril leaving a bad taste in the mouth.
It's too easy to be hyper-critical. Sack him. She's not performing. Both the men's and women's Yorkshire T20 sides are under the pump at present and bottom of their respective groups.
Judge them when the season's done and dusted but for now, they need your support.
Latest posts by John Fuller
(see all)