Yorkshire club cricket is officially back. As of Saturday, there have been friendlies played across the region as clubs, officials and cricketers all get back into the swing of things.

I asked on Cricket Yorkshire's Twitter feed for photos and feedback on what it was like to play under the ECB guidelines?
? Enjoy your cricket this weekend. Tweet any photos to @cricketyorks and I'll include a selection on the website. ? pic.twitter.com/ddTvN9OkzC

— Cricket Yorkshire (@cricketyorks) July 11, 2020

Heslington Cricket Club had an inter-club game with plenty of junior involvement. @justdessy tweeted: 'Superb day. Two innings of 20 each team to make sure everyone got a go. Second team wins with 3 balls to spare. Top day and feels superb to be out there again. Everyone kept safe too.'

For the eagle-eyed amongst you, yes, that is a toilet seat being triumphantly held aloft. Apparently, it's the Tate (President of the club) Powell (long time member) Trophy.
The village on the outskirts of York holds a traditional pre-season inter-club friendly. This year's captain was Richard Wells.

Hygiene breaks to clean the ball every 6 overs

I imagine this will take a bit of getting used to. Clubs found it obviously slowed down the pace of the game with frequent interruptions but it's a small price to pay.
As a bowler myself, I wondered what all those sanitising wipes will do to the ball. A lack of sweat and saliva, allied with antibacterial wipes (with alcohol in) means it deteriorates quicker.
With sanitise breaks etc, we were achieving 13-14 overs per hr which is down from the usual 16. Sanitise breaks lasted 4 mins but then improved to 2 mins. Time is gained from the ball going straight back to the bowler. All bowlers said ball lost condition with no sweat/saliva

— Ian Robertshaw (@ianrobo265) July 12, 2020
The hand sanitising breaks will be different club-to-club but if players have something portable on them or a hand pump is rushed on, it needn't be too long.

Spectators and batting side: leave the ball!

Thanks to Delph & Dobcross CC who tweeted that their inter-club friendly was a rush to get signage and logistics in place in time but went very well:
'The hygiene breaks were OK and the only thing to nag about was telling spectators off for retrieving the ball!'
Sure that'll catch a few people out. It's engrained habit over generations to lob the ball back.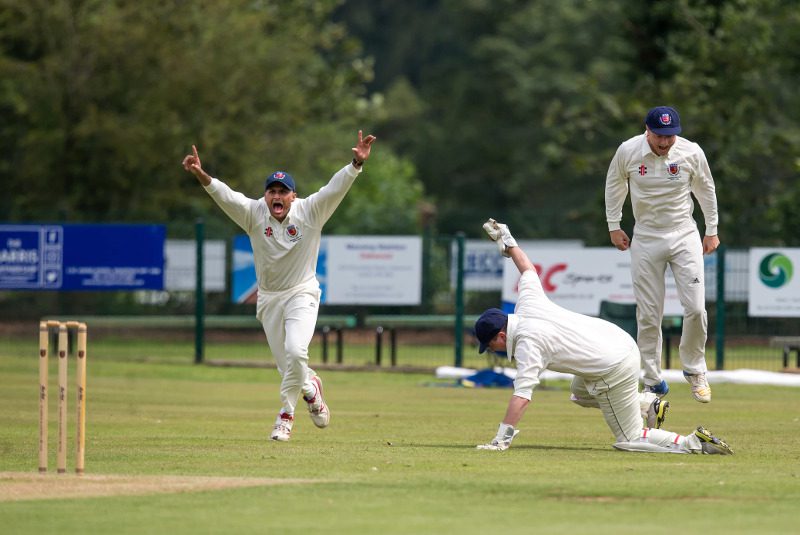 Socially distanced celebrations
This is one of the ECB guidelines I hadn't really considered until I saw Zak Crawley's low-key celebration for his fifty in the Southampton Test.
You bag that fifth wicket or send a towering six into the bushes for your hundred and all that's allowed is a socially-distanced air fist bump.
Last but not least to mention is a match at Ossett where the visitors Townville claimed victory by 75 runs. The Bradford Premier League's new 40-over competitions begin on Saturday 25 July (I will preview it and all other Premier Leagues).

Thanks to Ray Spencer for his photo below of Townville's captain Jack Hughes launching the ball away.
Cheers too for everyone who tweets @cricketyorks and shares articles. It's invaluable insight from all angles of the grassroots game. Keep it coming!
If you liked this article as something you haven't read elsewhere, share it on Twitter and Facebook to encourage new Cricket Yorkshire readers.
If you've played, officiated or watched already with the new guidelines and want to give your thoughts, leave a comment below.
Latest posts by John Fuller
(see all)