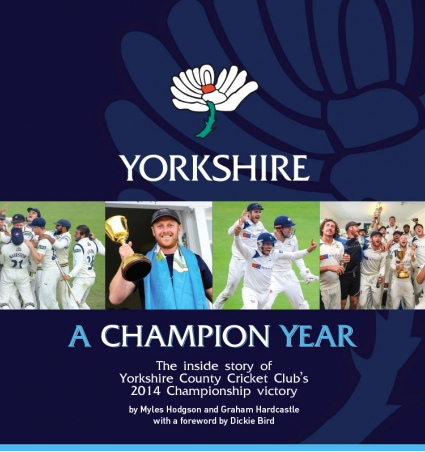 Here's something of an odd admission to kick off a cricket book review.
I don't tend to read cricket books; at least not for a bit of light entertainment away from work.
The Cricket Yorkshire office has had its January de-clutter so is looking even more Spartan than normal. Even so, the absence of books is a little incongruous for a freelance journalist.
I blame the turgid autobiographies churned out over several decades which put me off; most of which should never have been published, unless meant as sleep aids.
To go to the other extreme, I deliberately haven't read KP's book; not that you actually needed to given its relentless dissection in the media.
The machinations and fallouts at the top of English cricket don't interest me half as much as a local cricket match in Yorkshire, perched on a dale hilltop with a mug of tea.
In a rare show of enthusiasm, I was keen to skim a copy of (Sir?) Geoffrey Boycott's Corridor of Certainty but the publicity team at Simon and Schuster were properly rubbish.
So, you'd think reviewing Yorkshire: A Champion Year might bring out my innermost grump but nothing could be further from the truth.
For a start, it's a cricket book written by people I actually know a little.
Myles Hodgson and Graham Hardcastle are both accomplished cricket journalists who know their stuff, having shared press boxes with them over the past five county seasons.
As Cricket Yorkshire, obviously the re-telling from the historic year that Yorkshire County Cricket Club had in 2014 was always going to pique the interest.
FIRST IMPRESSIONS?
This 144-page 'coffee table' book is a handsome addition to any bookshelf. And I don't even have a coffee table.
The front cover shouts quality from its design and choice of materials to the photos of Andrew Gale with the trophy and the Yorkshire CCC team wildly celebrating.
This is a book to treasure; your own slice of history and from the moment you open it, there's that sense of anticipation.
Coffee table books are top-quality showcase pieces. The kind of book you deliberately have out on show when prospective in-laws come round to cast an eye round your home.
At a £30, Yorkshire: A Champion Year needs to be stunning to justify the price.
Not because it's particularly expensive in the realm of hard cover books of this type but a purchase like this is likely to be a rarity and you want to feel spoiled.
FIRST-CLASS PHOTOGRAPHY
Books like these can live and die by their photography and on that metric, you're in for a treat.
The photo of the squad throwing their caps in the air was my favourite of any image in 2014 and as it happens, has centre stage in the inside front across both pages.
The book's photography by Alex Whitehead of Yorkshire's official photographers, SWpix, is outstanding.
As you might have gathered, I'm immensely fussy when it comes to books.
If they don't grab me then they don't hang around long. This review copy will be given away as a prize (because I'm nice like that) but we will certainly part on good terms.
The foreword by Dickie Bird was a timely reminder of how the President of a County Cricket Club should be: out front, proud as punch and working tirelessly.
The introduction by Colin Graves struck me for two things. Amidst all the worthy celebration, it's easy to forget that whopping £20 million debt.
Plans to re-structure this financial millstone over the next five years will be key to long-term planning but Graves' commitment not to cut the cricket budget is equally astute.
That Graves has also tasked the Yorkshire squad with dominating county cricket over the next decade shows there's no sign of resting on laurels.
DRESSING ROOM INSIGHT
Yorkshire: A Champion Year has been marketed as getting a deeper understanding from the players and coaches about thought processes, tactics and what was going on behind the scenes.
Fans want to feel that deeper connection with their county. Many will have loyally bought this official publication purely because it recounts history in the making.
But does it dig deeper? What do we learn that adds to our understanding of the characters at the Club and what they went through to win the LV=County Championship?
In a nutshell, the insight is all there of the key issues and moments that defined Yorkshire's year.
Split into a match by match rundown, you easily could forget all the action that was crammed into six months.
GALE DROPS HIMSELF
Take captain Andrew Gale's momentous decision to drop himself for the away fixture at Lord's.
We learn he felt it was the right thing to do based on form – but just as crucially was the selection precedent it set:
The lads respected that decision and going forward, no-one questioned throughout the season when they were left out. I thought leaving myself out sent out a really strong message to the lads.
There were signs along the way that Yorkshire had the makings of a sustainable Championship run when fellow contenders Warwickshire came up to Headingley and were duly walloped by an innings and 155 runs.
Again, from the periphery you imagine that couldn't fail to be a confidence booster but nuggets like this observation from Liam Plunkett give you what the squad were thinking:
It felt like we embarrassed them. We demolished them. That was a massive high because if you're beating a team like that, it just shows what a good team we are.
Along the way, there are anecdotes and gems well worth digging out from the book like Aaron Finch being locked out of his room; Gary Ballance's shirtless media storm and a host of others.
IN THE FACE OF CONTROVERSY
Nor does Yorkshire: A Champion Year shirk the controversy. The view of Gale on the ECB match ban, not collecting the trophy and subsequent racism charge is full and frank:
At a time when it should have been one of the happiest times of my career, it's turned out to be one of the toughest. I am not a racist and that tag was what hurt me most.

(Andrew Gale, captain, Yorkshire County Cricket Club)
There is one critical note to deploy in my unofficial role as roving editor and champion of readability.
This weighty tome would benefit from better editing; the text flows on and on and on like the proverbial Duracell bunny.
Towering giant skyscrapers of it.
Almost as if a fear of white space, headings or missing anything out has led to a fear of breaking up paragraphs.
It's a relatively minor stylistic point – and one some may not feel strongly on – but it unquestionably makes reading at length much harder.
That gripe aside, the book ends on a pleasing note (from publisher, Simon Wilkinson, in the acknowledgements) with a tale of David Bairstow being plucked from A-Levels to play for Yorkshire at Park Avenue.
Book worms, cricket fans and proud Yorkshire folk can all rest assured.
This is a worthwhile addition to your bookshelf to sustain you through the winter as the weeks tick by (always too slowly) before the 2015 county season.
Now for the really good news – GET YOUR OWN COPY!!

COMPETITION: WIN OUR COPY….
Our immaculate review copy is up for grabs. To enter and have a chance to win it, just EMAIL CRICKET YORKSHIRE HERE with your full name and we'll pick a winner at random and notify them.
*Competition entry deadline: Friday 30 January 2014 at 6pm*
*As a condition of entering, your details will be added to the Cricket Yorkshire mailing list for our email newsletter (see sample).
TO BUY A COPY:
If you want a guaranteed copy, you can buy yours here via the Yorkshire CCC Shop, priced £30.
Latest posts by John Fuller
(see all)