Wrenthorpe Women's 1st XI capped a memorable year by defeating title challengers Sessay in the last match of the 2023 season to be crowned Premier League Champions.

Having led from the start, it still required a final push against the reigning Champions Sessay who set out their stall with 169 for 9 off their 40 overs in the September showpiece.
Martha Bown's 3-16 was the pick in a disciplined display for the home side before Imogen Cooper (85) led the successful run chase and picked up player of the match.
The seven-wicket win saw Wrenthorpe (captained by Millie Gray, above) lift the Premier League in the Yorkshire Women & Girls Cricket League; breaking Sessay's winning streak that dates back years.

In addition, their U19 team also reached the last 16 of the National Lady Taverners competition.

To get a feel for how that evolution and progression has happened, I caught up with Wrenthorpe's Andrew Hodkinson.

I start off by asking about the challenges, albeit in an ultimately successful year, and how the need for player rotation was more than ever before:

"Using 26 players suggests a depth to our squad but highlights availability issues due to clashes with Diamonds/EPP/County and obviously exams. This has been the worst year yet for clashes and it is hoped that all the relevant bodies can come together to resolve the situation for 2024."
Andrew pointed out that the Wrenthorpe momentum has been years in the making with their senior team having run for 11 seasons now.

Indeed, though players will evolve, the foundations have been built on a strong girls' pathway over 18 years ago.
---

"Wrenthorpe Ladies was created to enable players to have a performance club to play at when they finished playing CAG/Academy or University cricket.
We saw the benefits of this year when Emma-lou Proctor and Imogen Cooper played for us again, carrying on a long association with the club."

---


I'm curious to know Andrew's take on the relative strength of the Premier League in a season that saw three new teams out of the total of six sides in the top flight?

He told me: "This season was enjoyable, and the new teams were a welcome addition into the Premier League. The standard was variable and a number of games were conceded which is not good for the competition."
He reckoned: "In my opinion, Yorkshire needs two strong county leagues and the four district leagues, creating a pyramid structure for the county so we retain our club quality as teams like Sessay, Saxton and Wrenthorpe compete successfully every season at national club level."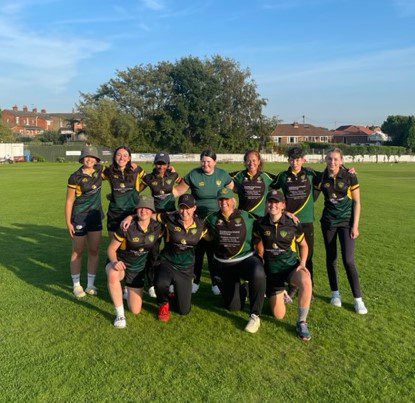 Andrew did say that the Club is also proud of the achievements of Northern Diamonds Academy players Bethany Slater, Ellie Nightingale and Lucy Lindley and our Yorkshire age group players Emma Wrightson, Beatrice Tootill, and Navya Gutta.
Of course, the ebb and flow of any season is packed with those little moments that collectively define how you do.

For Wrenthorpe, getting a team out, come rain or shine, was instrumental: "I credit the win to our whole squad, whether the 12-year-old on debut or the mum playing to ensure we played with 11 players."

What we're seeing now across Yorkshire with the increase in women's teams and more leagues presents a welcome sea change that clubs are adapting to.
I notice different approaches to where women and girls' cricket sits in the structure of a club, either as a separate section, its own club within a club or the one-club ethos I also see championed.

At Wrenthorpe, there's long-standing recognition of what women and girls cricket brings:

"The Wrenthorpe family is a real strength and the Wrenthorpe club has always integrated us into the club, prioritising girls and ladies' cricket, preparing quality wickets, promoting and supporting what we do."
As for the future? It's looking promising and that Premier League title could be just the beginning:
"The momentum has been building over a ten-year period for us and as our 14-year-olds who are now 24 still play at the club, you naturally become stronger and more sustainable as a club. We can also be more competitive whilst still enjoying our cricket. Enjoyment in what we do is really important to us."

***
Thanks to Andrew for the interview and the squad pictured above against Sessay in the decider were:
Photo Left to right back.
Emma Wrightson, Millie Gray (Captain), Navya Gutta, Emily Shuttleworth, Marisol Carrera, Martha Bown, Charlotte Hargrave.
Left to right front.
Izzy Tolley, Jaimie-Lea Barradell, Holly Youdan, Imogen Cooper.
Latest posts by John Fuller
(see all)