Wicket Cricket Manager is a free cricket app, available on the App Store and Google Play, that bills itself as 'most realistic cricket management game on mobile.'

A bold claim and when Manny, its creator, got in touch to ask if I'd review it, I was curious.

I have played cricket games forever, on desktop and apps, since Brian Lara Cricket through the International Cricket Captain series to more recent variations like Cricket 22 and Ashes Cricket.

Broadly speaking, you have your cricket playing (where you bat and bowl) and cricket management (where you oversee a club or team).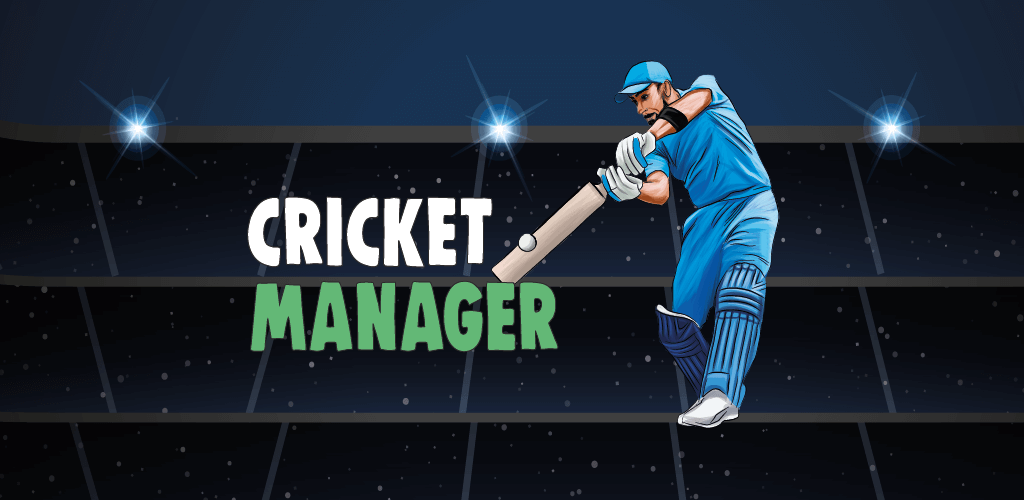 Wicket Cricket Manager sees you choose a country and then in the case of England, a city (Leeds is the Yorkshire option) to oversee.

You create a fictional team and can select a name from a range of options – Yorkshire ….Tigers, Eagles, Jokers, Foxes or various others.

If you like realism in the sense of leading Yorkshire to the 2023 County Championship Division 2 Title then this maybe isn't for you.

But, it's got loads of features as we'll get to.

In many ways, it's actually about money management. Spend on better players, training and your stadium, sign sponsors but don't run out of cash.

Spoiler alert. I ran out of cash.

You have currency and you have gold coins – (which enable you to buy more cash or up-level players).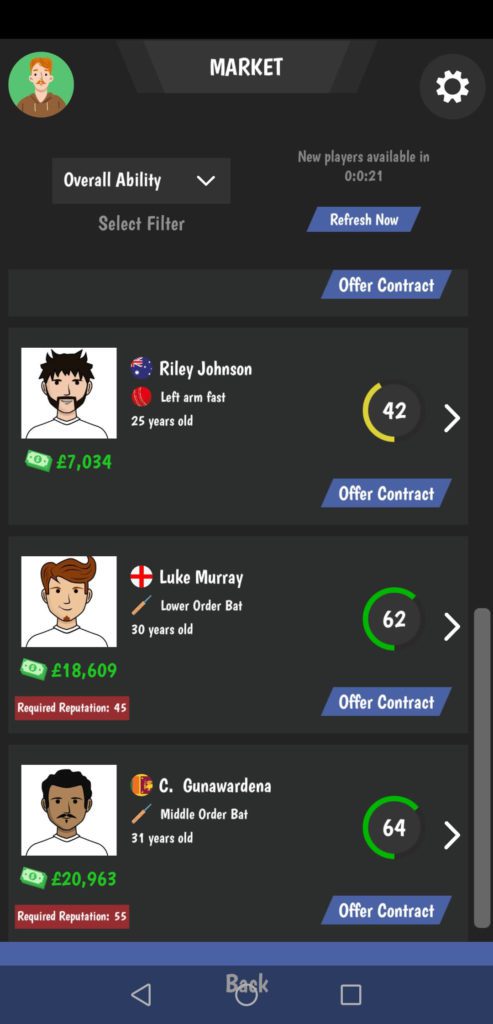 SQUAD

Here's where you review your players, each of whom has their own profile and strengths and weaknesses. Whether it's a Top Order batter, A Middle Order Bat, All Rounder or A Slow Left Armer, the player has a number to show their overall ability.

You can select a captain, change the batting order and swap out players from your starting XI.

MARKET

Probably one of the best aspects to playing this kind of cricket management game is signing superstars and Wicket Cricket makes it quick and fun.

There aren't loads of transfers available to snap up but it refreshes every hour and I liked that there are always players available across a season. Some games have a transfer deadline but the reality is a little more fluid.
---

You have the chance to offer 1-3 year contracts at various price points with a percentage chance of bagging your player displayed. Sometimes, they hold out for more cash, sometimes you get a deal.

---

Your club has a reputation ranking based on its wins and if it's not at a certain level, even if you can afford the best players, they won't want to come to your club.

You can use gold coins, if you've banked enough, to offer a bribe (would have preferred the word 'bonus') to get the deal over the line.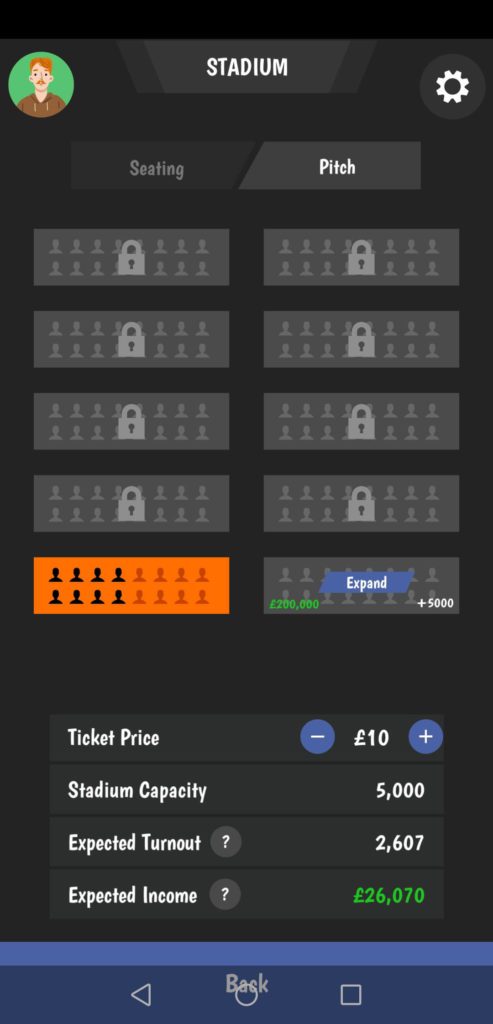 STADIUM

You can upgrade your stadium (boost its capacity by increasing the number of seats by forking out some cash). You can set the ticket price and see the expected turnout and expected income which is neat.

At higher levels of the game, you get the option to pay to adapt your pitch to make it a batting paradise, green top or one that spins sideways.

ACADEMY

Here, you can invest in better facilities and scout players. If you don't invest over time, it will come back to bite you. I think I had a leak or a plague of mice at some point with a costly outlay to fix.

Putting money to your Academy allows you to train and sign better players.

TRAINING

Like your Academy, this is where spending on your Training Facilities will bear fruit. You can train players in your squad to increase their personal attributes like Consistency, Aggression, Economy or Incisiveness.

GAME EXPERIENCE

It's a very comprehensive snapshot of games where you can select bowlers, edit field settings from a range of templates and check the scorecard.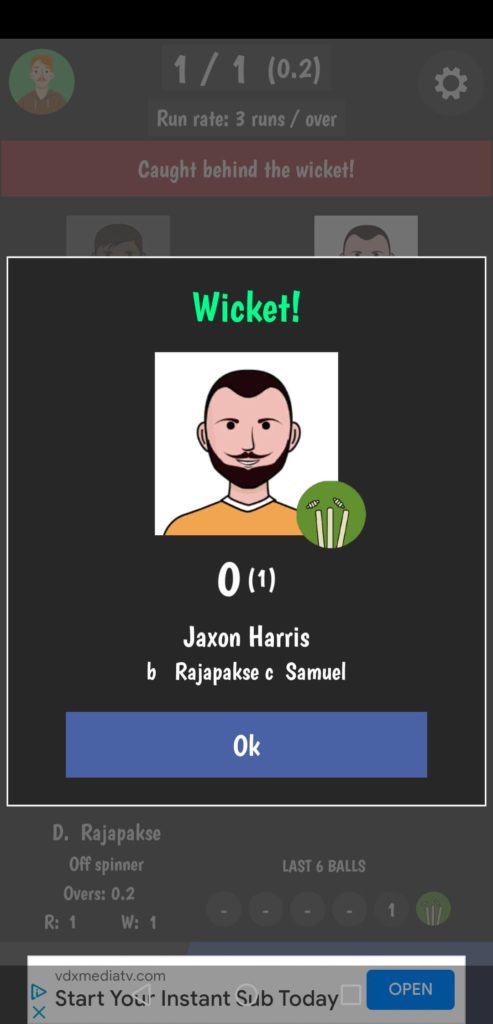 MANAGING PLAYERS

Art imitates life here. Sometimes, players expect a bonus and if that's not forthcoming, they get grumpy. Sometimes, players retire at a certain age (my best bowler in the squad) when you're not expecting it.

There are also human elements introduced to this cricket strategy simulation such as a player catching Covid-19 or approaching you, as coach, asking for time off for mental health reasons.

This level of detail is clever and immersive.
It keeps you on your toes. I personally prefer the running-the-club bit rather than agonising over every ball so another thumbs-up is the setting where you can set the speed of games.
Equally, the functionality that allows you to pause the game at any moment (the doorbell's gone as your JustEat curry has arrived) is genius.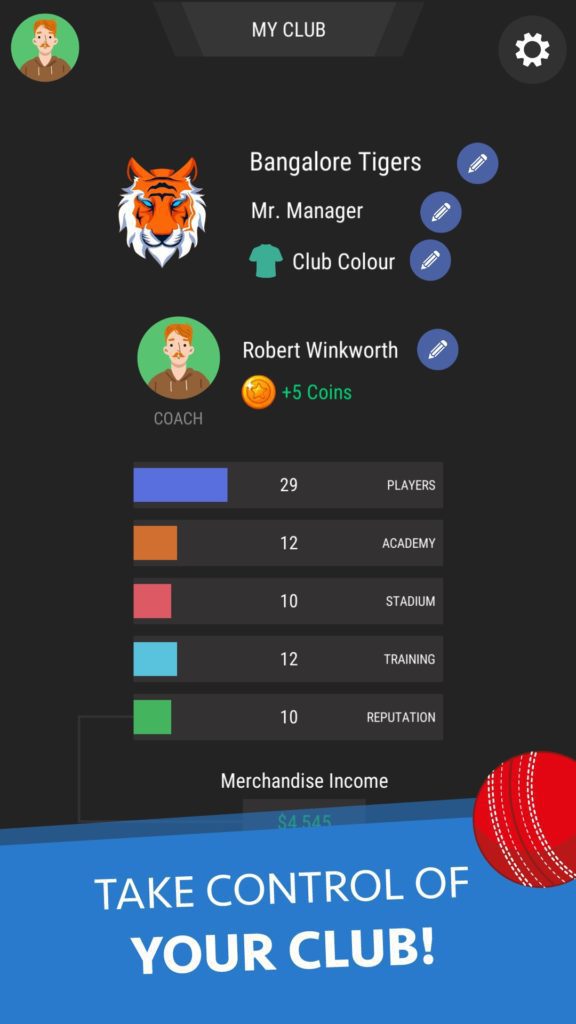 TO PAY OR NOT?

Manny took seven years to create this cricket game and I can only begin to imagine how many hours that entailed.

He monetises this in a number of ways which is where we get into really interesting territory. Not least for me, as a fellow cricket content creator who is aiming to offer a free product (as the app is, to an extent) – but also pay my mortgage.

So, Wicket Cricket Manager is free to download and it is perfectly possible to use it, play for years and never pay anything. I'd argue that is no good for anyone.

It drives the expectation of free content forever on tap that the internet is built off. It also means the app won't be as good as it could be without investment. Manny will probably also be eating beans on toast for the rest of his life.

So, he serves regular Google ads which are discreet enough that they don't stop you using the game every minute – but you need to sit through a lot of ads (5-30 seconds each) if you play for any length of time.
I'm not a big fan of Google Ads – I choose not to deploy them on Cricket Yorkshire – but I can see their income potential with a cricket game where you could spend hours at once online.

If you run out of money in the game (I did that after a few seasons by over-extending myself and buying players on too-expensive contracts while upgrading the stadium), you need to top up – or start over.

These are in-app purchases by paying for more gold coins that can be used to boost your cricket club's coffers in the app
My first reaction when I couldn't go further without paying with real money was: 'Whaaaaatt?! Well, I'm not doing that…'

But, on reflection, I'd already hours of enjoyment and escapism from Manny's creativity and technical expertise. I just wasn't used to paying for an app.

Funny what we'll spend without blinking on and baulk at something else of the same approximate value.

So, I caved and bought some gold coins to allow me to continue in the game. A donation of sorts or maybe more like crowdfunding after the fact as I had the reward of extra game-time.

Ads / VIP Experience – £4.79 per month

You have the option to start a subscription for an ad-free gaming experience and a load of other benefits that will help you do better for your team.

🏏 Uninterrupted ad-free experience
🏏 +25 coins to spend each week
🏏 Free Wheel of Fortune spin every day
🏏 Ability to edit player names
🏏 £200,000 (Bonus cash when signing up for the first time)
🏏 Exclusive games for VIP gamers

As an alternative to endless adverts for Mafia City, it's a savvy model to use and the benefits are significant, if you play it enough.

Added extras

Under Finances, there is an 'Investments' tab where you can buy more money (with actual money, i.e) an in-store purchase and do other cool things like Claim a Daily Bonus of cash in the game), like them on Facebook and get £25,000 (in the game, sorry!) and use a promo code.

I follow Manny on Twitter as @cricketyorks so happened to see a promo code for February that gave the first 100 users some cash – I plugged it into the game and it worked immediately.

Little bonuses dropped in like this are like honey traps and keep you in the game.

What I like

It just works. Sure, it crashed from time to time but the world didn't end and I was back up and running in seconds – without having lost my progress.
It reels you in. I spent hours and hours on this. It has everything you'd expect from an eco-system where you manage a cricket club in a game.

I've eventually bought the VIP Experience to play ad-free and edit players' names which is a bit of customisation that elevates it.

There are loads of ways you can earn cash, it's easy to play and find you've happily lost an hour trying to out-score Devon Tentacles or Cambridgeshire Reapers. I think the ads could be scaled back but I get that the aim is to gently push you to a subscription.

VERDICT

A very good cricket game management app, Wicket Cricket Manager has 100k+ downloads on Android alone and is well-reviewed.

You can see why. It's simple, immersive and very satisfying cricket gaming that's worth a download, if this is your kind of thing.
FREE £100,000 BONUS!
Download the game and use the promo code CRICKETYORKSHIRE to get 100k of in-game currency that will rocket your team's early progress.
https://www.playwicketcricket.com

Latest posts by John Fuller
(see all)