There is a magic to the multitude of roving cricket sides who bag informal games across the region where they can find opposition. I particularly savoured social cricket at Bolton Abbey with Hawks and Druids.
Here, Bill Marshall explores a match to celebrate West Riding Cricket Club reaching a notable landmark. There are fathers and sons, players coming all the way from Reading and Newcastle and pork pies and port…
Will social cricket (my loose definition is those sides who don't play in leagues) survive in the coming years or does it struggle for numbers as much as everyone else?
A nomadic cricket club have reached the venerable age of 70 but admit that their future is uncertain.
West Riding Cricket Club, formed in 1949 by eight players based in Bradford and Huddersfield, with some help from Hull's Peter Hick, celebrated their anniversary with an internal match at Ben Rhydding, one of the club's most traditional opponents.
"Cricket used to be played over both days of the weekend, with families coming along, but now the seasons of other sports, such as football and rugby league, have started to intrude, there is more league cricket played on Sundays and times have definitely changed," admitted West Riding CC chairman Robin Snook.
"It was just a pure love of cricket that got the club started, and in our heyday we would play 16 matches a season but now we only arrange about ten and probably only play about six so the future is uncertain.
"However, there are still clubs that want to play friendly Sunday cricket with a competitive edge."
Regular fixtures over the years have been against Ben Rhydding, Yorkshire Gents, Bingley Congs, Penguins and Alwoodley, while one that has been consigned to the dustbin of history was against Little Aston Stragglers from Staffordshire at the Oriel Ground in Scarborough, which was played from 1953-2000.
"The ground was beneath Oliver's Mount and was always played on the first Sunday in September (hence the date for the 70th anniversary match) to coincide with the Scarborough Cricket Festival," said Snook, whose dad Brian played an integral part in forming the club.
Two of the most famous players to have represented West Riding were current New Zealand all-rounder Colin de Grandhomme, who was a 19-year-old Zimbabwean when he played for West Riding in 2006, and former Kent and England bowler Alan Igglesden (above), whose last club was Bingley Congs.
However, West Riding has also welcomed the other end of the strata into their fold, with Snook junior saying: "Paul Smith and John Watson, who were both very average cricketers, each played over 200 games for the club and were welcomed alongside hardened Bradford League cricketers such as Ian Hewitt and Stuart Verity.
Rain had the last word in the internal West Riding match, which featured 22 past and present players chosen by the club chairman, but not before James McIntosh's XI had made 109-9 off their 25 overs.
Darren Wilson top-scored with 32 and he was backed up by Ben Hemsley (21 before being caught by his dad Chris), Charles McIntosh (19) and Guy Collins (11no).
The successful bowlers were Al Wightman (3-14), Richard Ashworth (2-18), skipper James Snook (2-18) and Howard Pickard) (1-10), who bagged the prize wicket of club social secretary Alex McIntosh.
Also worthy of note was septuagenarian Iain Copping's typically miserly spell of 0-16 off five overs.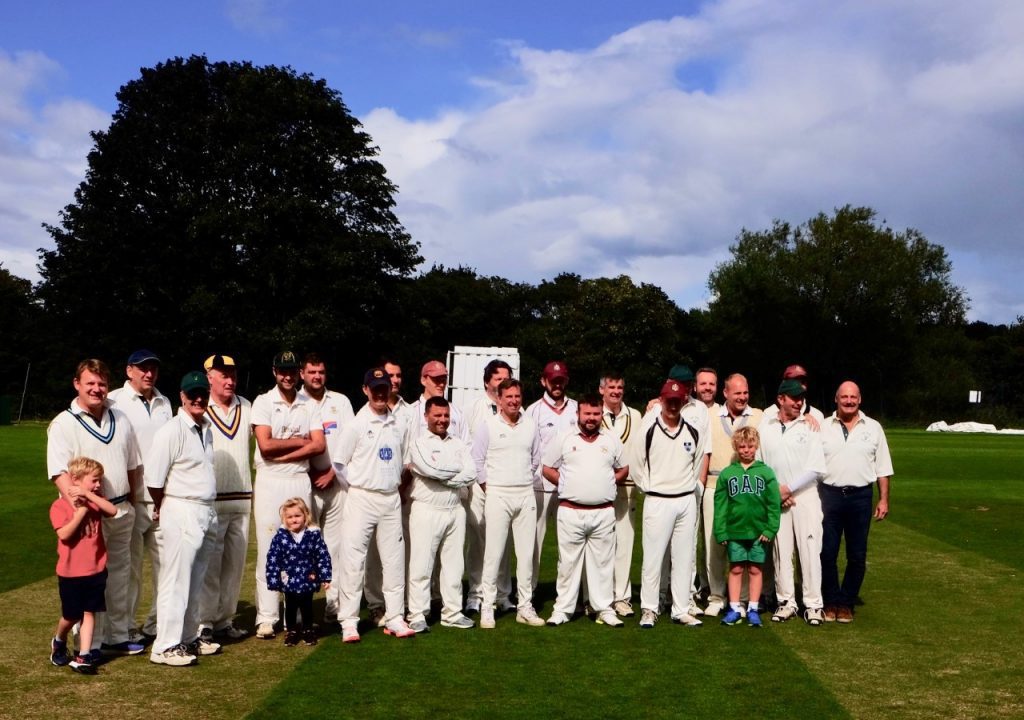 Just to emphasise that the social side of things is still important, a sumptuous home-made tea, including sandwiches, pork pies, cakes, tea and port(!), was then consumed by the 100 or so assembled players, past players, families and friends, including some who had travelled from as far afield as London, Northampton, Reading, Nottingham, Barrow-in-Furness, Newcastle and Whaley Bridge.
A toast was made to absent friends, to great memories, to cricket and to the future of the West Riding Cricket Club, and a collection raised £100 towards the rebuilding of the pavilion at Olicanians Cricket Club, another club with whom West Riding have enjoyed many fixture with over the years.
There was time for just one over after the tea interval, with James Snook's XI getting off to a fine start via brothers Henry and Charlie Swallow, taking the score to 8-0 before heavy rain called play to a halt.
LEAVE A COMMENT BELOW & SHARE THE ARTICLE ON TWITTER OR FACEBOOK!
Have you ever played for a nomadic side like West Riding Cricket Club? Maybe you've played for West Riding CC or against them over the years?
Latest posts by Cricket Yorkshire
(see all)