Walking cricket. Not two words you'd necessarily put together. Yet, here I am at Bradford's Karmand Community Centre to see why this new form of the game is proving so popular.
Aimed at older adults, who are semi-retired or retired, but want to use cricket to stay active and enjoy the social side, walking cricket welcomes those with less mobility and all abilities.
It only started in Yorkshire in 2019 when, in partnership with University of the Third Age (U3A) and Yorkshire Cricket Foundation, Mac McKechnie trialled a session in Barnsley and rapidly the attendance rose. You can see the appeal…
A friendly, contact-free game where the chief rule to remember is: there is no running allowed. With the opportunity for everyone to bat and bowl, it's a perfect way to offer a workout for mind and body.
To return you to that Bradford sports hall, I am asked to take part, presumably, to both pull a hamstring and remind the world why my batting average never climbed higher than single digits.
It is loads of fun. I drill a series of on drives at the same fielder who smiles and returns the orange wind ball to the bowler.
Each batting pair got four overs. Indoors with fielders lurking everywhere, it is a tough ask to find the gaps, if we safely assume I lack the skills to pump a straight six at will. 
My batting partner has the right idea. He confidently strides forward with an immaculate forward defence and pats the ball away. No run. 
It is all played in the right spirit. A little competitive but emphasis on everyone having a laugh and a go.
If there's a wicket, the batters swap ends and after each over, you rotate a position so everyone has a crack at bowling, batting and wicketkeeping. Not that you need any other kit except bats, ball and stumps to get started.
I come on to bowl and drop one short that gets smashed into the side wall. You can take catches off the wall, it turns out, so I may end up with hundreds of wickets in walking cricket.
Over the next hour, it's a flurry of dismissals (hitting the ball in the air proves tempting for just about everyone), some stonking catches and we're all involved.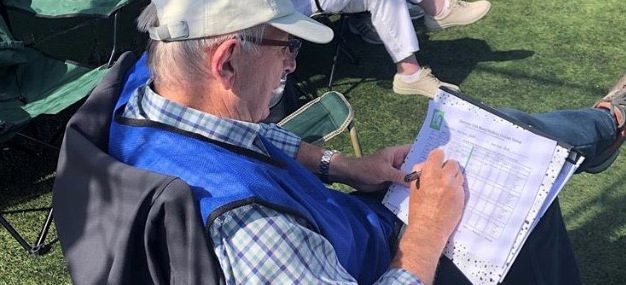 The hope is that Bradford takes off as Barnsley did with lots of other walking cricket hubs springing up all over Yorkshire.
Doncaster, Kirklees, Leeds, Scarborough & Rydedale, Sheffield and Wakefield are up and running with Rotherham coming soon.
The demand is there, the format clearly meets a need and if this session at Karmand Community Centre is anything to go by, enormous credit goes to all those making it such a success.
Hearing from Rhiannon on joining Barnsley U3A Walking Cricket as Treasurer and Scorer brought it to life as to how the game can be a vehicle for change in a person's life.
She knew nothing about scoring or cricket but jumped in with both feet and has not looked back since:
"For me, I feel accepted into this mixed group. I love being outside and feel really part of the whole game. It's okay that I am shy and a little socially awkward. Scoring at cricket makes me feel useful to the team. It's all about having fun and being able to contribute at my level and feel worthwhile."
Meanwhile, Lynn's story is another reminder that walking cricket, the fitness it encourages and chance to socialise has already helped.
After recovering from cancer, she joined Barnsley U3A Mixed Walking Cricket and found it a safe space to be herself:
"It is helping me to continue with my recovery after a harsh treatment regimen, not just physically but mentally too."
For Lynn, this version of cricket has been a bridge to getting out of the house and making new friends: "Depression is a real danger after the shock of cancer but being with other people and joining in with the game has helped to keep that at bay."
After my own brief, thoroughly entertaining flailings with a plastic cricket bat in Bradford, it was obvious that walking cricket is here to stay.
If you've never played cricket before but are tempted to give it a go, this is the game for you. Total beginners welcomed as well those who want to pick up a bat again.
Having retired from the game myself a few years back, it made me want to play cricket again – and I can pay walking cricket no finer compliment.
For all the details, visit the Yorkshire Cricket Foundation's page with all the walking cricket groups across Yorkshire, when and where they meet plus contact details, if you have any questions.
Latest posts by John Fuller
(see all)