Liz Billings celebrates the popularity of walking cricket in Yorkshire and explains how it has taken off in Leeds.
I finally got to scratch that itch when I found 'walking cricket'.
I've always loved both playing and watching sport. My love of cricket was born playing in the ginnels – alleyways, to some – with older brothers and friends, but there was never an option for us girls to play seriously when I was growing up.
I was fifty-something when I first heard about walking cricket and it took another two years before a team was suggested nearby to me.
Photo: Nigel Stuttard
Walking cricket in Leeds
I joined the Leeds U3A group at its inception, firstly playing outdoors at Goals Kirkstall and now indoors at Headingley Cricket Centre until the season rolls around again.
Our group is a little different to most other groups, with a large proportion of female players, a fact that we are making use of in the first-ever all-female walking cricket match on 8 March – in celebration of International Women's Day.
But this illustrates one of the great attributes of walking cricket, and one uppermost in the mind of Mac McKechnie while he was inventing it, it is suitable for all ability levels.
Those that have played before can coach those that haven't and all our players are improving over time.
The heart of walking cricket is definitely in Yorkshire, with the game first played in Barnsley in 2019. There are now nine fully established groups in the county and more in the pipeline, with a league in the planning. The sport is also growing quickly in other parts of the country.
Photo: Nigel Stuttard
A Game For All
Another great aspect of the game is that everyone bats, bowls and fields.
There are also opportunities to score and umpire, either by the batters sitting it out or less physically able lovers of cricket.
I've tried walking football and walking netball – with a broken finger to prove it – and have enjoyed them both but I love walking cricket.
It has been a tremendous mental release for me and many others during the pandemic as we've been able to carry on in circumstances where many other groups have had to stop, initially because we were outside but even inside, we are usually well spaced.
Our group also has a social aspect, in the true tradition of cricket, meeting for a brew after the game.
Chat is about all kinds of things and people have made some life-long friends.
---
So, I can honestly say I've played cricket at Headingley and the dream is still alive to play cricket for Yorkshire, even though I wasn't born here!
---
It is a great sport, allowing players of all ages, abilities and fitness levels, including complete novices, to get involved right from the start. We have both male and female players over the age of eighty, everyone can be accommodated.
One of our women, an absolute beginner, says of the sport: "It is exhilarating. I like the sense of achievement when I make even tiny improvements."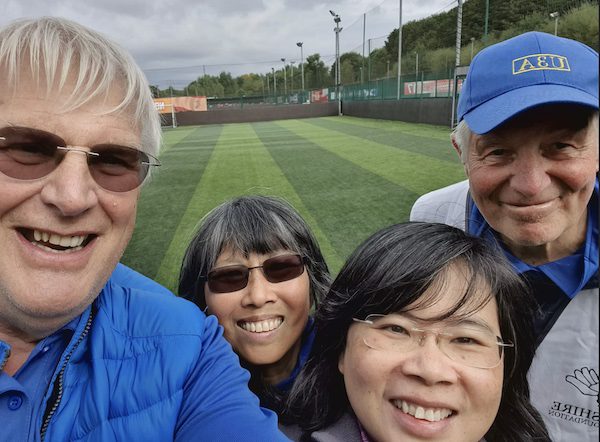 The Benefits
The Leeds group have found it invaluable, both from a mental and physical perspective, during the pandemic, as it's a brilliant opportunity to play sport and socialise in the winter months.
Those that have nobody at home find it particularly life-enhancing, especially the brew and biscuit – or three – together after a session.
We are hoping to continue developing the team by getting involved in the league as it becomes established and putting on exhibition matches. This should hopefully help to get the message out about this great sport for all which offers a platform to stay active.
Want to find walking cricket local to you?

The Yorkshire Cricket Foundation have all the details including the ever-increasing groups that are across Yorkshire. Find out more, have any questions answered about getting involved and give it a try!
Thanks to Carl Parkin from White Rose Education & Coaching Solutions and Carl Stuttard for the use of their photos. The social enterprise won funding to start up the Leeds walking group and also sponsors them too.
Latest posts by Cricket Yorkshire
(see all)