Visually impaired cricketer Andy Fisher remembers the moment his eyesight changed.

'I woke up with my eyesight all massively blurry. I went for tests and they thought it could be a brain tumour or a stroke.'

Andy was 35 at the time he was diagnosed with the extremely rare genetic condition called Leber Hereditary Optic Neuropathy (LHON).

In his case, it manifests as being able to see in both eyes still but he has no central vision. That means he can't drive, read or recognise faces.

For the Thorpe Hesley & High Green wicketkeeper and top-order batter, this sudden loss of vision was devastating.

Andy admits: 'At first, I was in complete denial. I attended nets at my club but I just couldn't see the ball coming towards me. I kidded myself but realised it was impossible.'

---

Adjusting to a whole new way of life could have meant an end to playing cricket after more than 25 years but a new chapter was about to start for Andy.

---
After speaking to the Sheffield Royal Society for the Blind, he was put in touch with John Garbett of Yorkshire Vikings Visually Impaired Cricket Club.

Andy told me: 'I went along to training at Old Sharlston Cricket Club. It was great to meet so many like-minded people with their own eye problems who know what it's like. Some of our cricketers who play for Yorkshire are completely blind.'

With Yorkshire VICC, it's not just those from within the White Rose boundaries. Visually impaired cricketers travel from across the Pennines and up from Southern England to turn out, alongside those from Leeds, Wakefield and Sheffield (to name a few).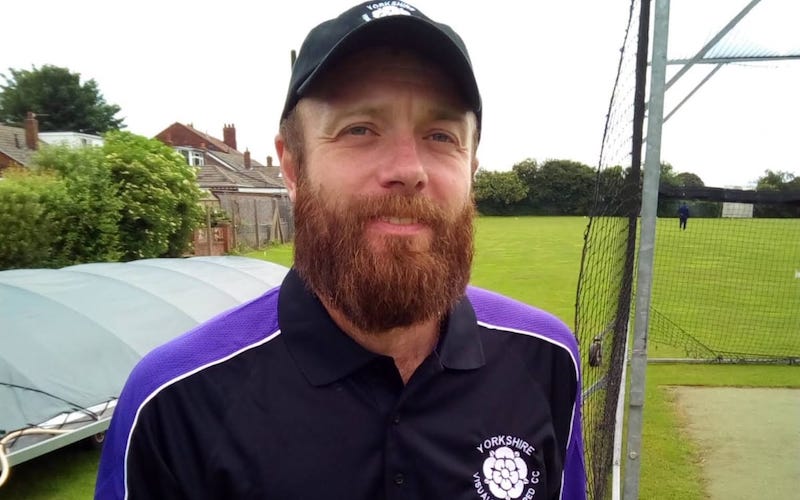 First experience of visually impaired cricket

Naturally, it took some adjusting to new rules and equipment. For a start, there's the size three football with ball bearings inside to make a noise for players and umpires.

Andy (above) noticed: 'I found it extremely difficult at first when batting. Your instinct is to look for the ball and you have to learn to listen instead.'

There were all kinds of hurdles to overcome in time such as travel to games. Andy said 'it was pretty daunting to use a train' to get to a county game in Surrey.
Some years back, I accompanied Yorkshire VICC players from Bradford to a match and took the train with them. It was such an inspiring day, a great bunch of lads and I had a small window into what it's like to travel on packed public transport if you're visually impaired.
Yorkshire VICC this year

The 2022 cricket season has been a mixed bag in terms of results for Yorkshire VICC but efforts on the pitch have not gone unnoticed, as their captain John Garbett (image above) told me.

As he put it, on the face of it, the Yorkshire Vikings VICC have had a disappointing season, drawing 5, losing 7 and tieing 1 of their 13 competitive matches.
As ever, there is often context to results and in VI cricket, there are different sight categories and Yorkshire were without four mobile, better-sighted players due to work commitments.
Of course, the plus side is that more development players were given opportunities to show what they could do.
John's assessment was: 'Despite having most of our players in the lower sight categories and with other mobility challenges, the team spirit was exceptional throughout and everyone had a great time.'

---

That would seem to chime with the fact that Yorkshire VICC won the national 'BCEW Spirit of Cricket' Award for 2022; a win that went down well with the squad who were presented with a wonderfully carved owl trophy.

---

It's true that wanting to win matches and stay competitive is important to players in VI cricket as much as it is for any team or club.

Yet, John Garbett reckons there is a real community side to playing and supporting that shines through:

'The general ethos of visually impaired cricket is that we are much more than just the game on the field and there is a big emphasis on good general well-being & mental health, as well as being able to help each other with the everyday challenges that all visually impaired people come across, by way of discussions & practical help where possible.'
As for Yorkshire's stand-out performers, Ricky Coleman has again been voted the Player of the Year, with Bob Baines taking the accolade of Most Improved Player.
Reanne Ractoo won the Best New Player and Michael Parsons took the Champagne Moment Award for his first-ever wicket.
There is much to look forward to here in Yorkshire with regards to visually impaired cricket.
John said: 'We aim to push on with our development work around the county and in schools, as we look to build up both the development & national level squads for 2023 and this will be helped by Lois Turner, the England Women's captain, who is also a Level 2 Coach, joining our ranks for next season.'
He added: 'We played a couple of awareness games against sighted teams in August and plan to organise more of these type of events in 2023, both to promote better awareness amongst the general cricketing population and to look for new players for the YVICC at the same time.'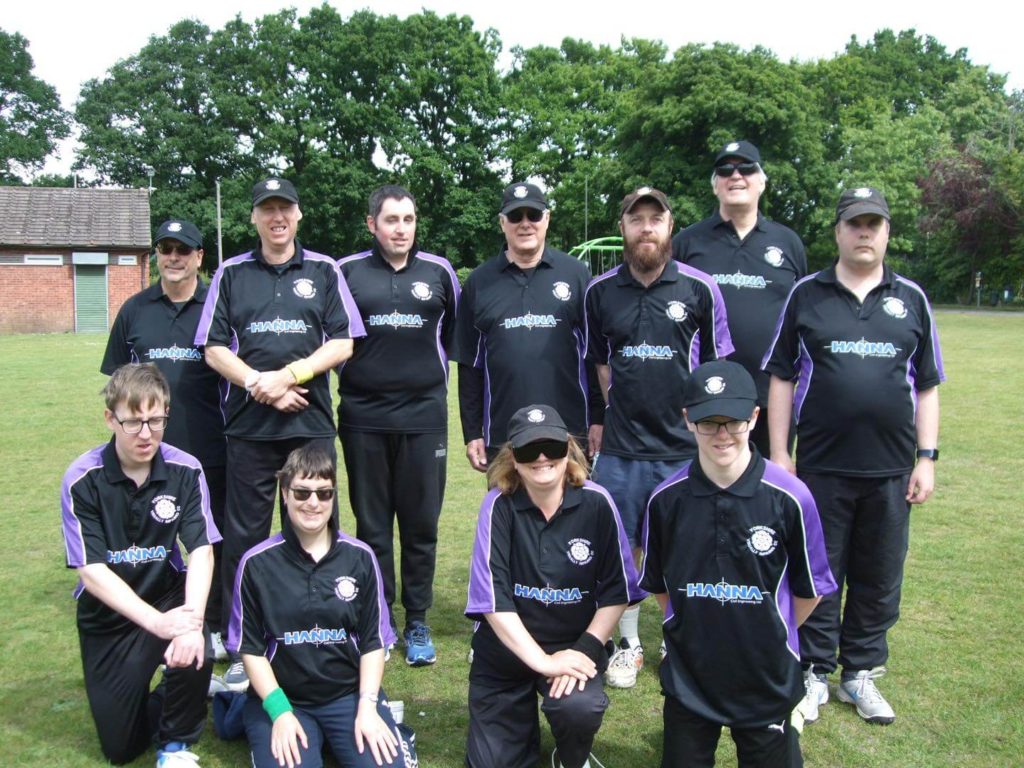 Archie Hare: Most promising player

Archie Hare joined Yorkshire VICC as a 12-year-old totally blind player in 2021.
Although playing only one game in that season due to his top-level junior swimming commitments, he became an established member of the team in 2022, for both the regional & national teams.
This improvement led to Archie winning the Blind Cricket England & Wales Regional Level Award for Most Promising Player in 2022.
It bodes well for the future and John believes the White Rose county has unearthed a real talent: 'We will continue to encourage & coach him at Yorkshire and are in no doubt that he will become one of the best totally blind players in the country in years to come and will also gain a place in the England team too.'
To bring it back to Andy Fisher and his own evolution as a club cricketer who became a visually impaired player, Andy references a hundred partnership with Archie as a seminal moment: 'I felt like I was back!'
It's not just moments of discovery where everything 'clicks' on the field though.
Cricket club administration is never far from Andy's thoughts as he retains the Club Secretary role at Thorpe Hesley & High Green.

If not playing, he's at his old club where his brother Chris is the second-team captain. 'We're a massive cricket family,' he says.

While I can only imagine what it must be like to lose your eyesight and the challenges that brings, Andy has found new team-mates through VI cricket, while also retaining links with club cricket.
Find out more about visually impaired cricket
An excellent resource for news and background to the game as well as regional and national leagues is Blind Cricket England & Wales.

To keep in touch with Yorkshire on social media, they are YorkshireVICC on Facebook or @YorkshireVICC on Twitter.

Thanks to Andy Fisher and John Garbett for their contributions. If you liked this article on visually impaired cricket, hit the Twitter or Facebook buttons below to share it!
Latest posts by John Fuller
(see all)