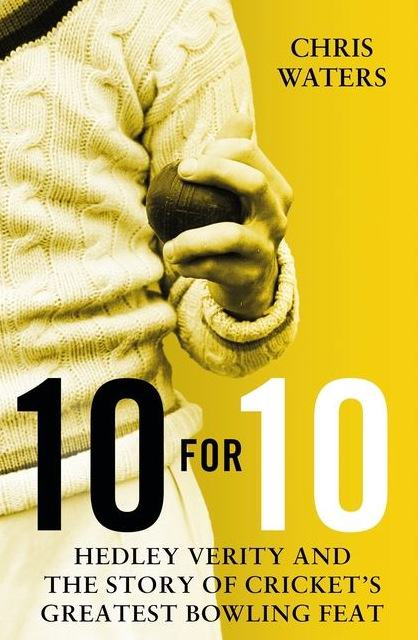 Yorkshire Post cricket correspondent Chris Waters has turned his meticulous research and love of the game towards a remarkable county bowling feat in his latest book.
On 12 July, 1932 at Headingley, Yorkshire slow left-armer Hedley Verity took 10 for 10 against Nottinghamshire as the visitors were rushed out for 67 in their second innings to lose by, appropriately enough, ten wickets.
It is a record that stands to this day in first-class cricket for the fewest runs conceded while taking all ten wickets. This would be outstanding in its own right except the astonishing feats Verity managed time after time, in county and international cricket, defy belief.
In each of his nine full English seasons, Verity claimed at least 150 wickets and he averaged 185 wickets a season; stats you might too easily dismiss from another era but are no less impressive. He'd even warmed up for his record bowling analysis the year before with 10 for 38 in an innings against Warwickshire at Headingley.
Waters, though he would shirk from flaunting it, is an award-winning author after his last book, 'Fred Trueman – the Authorised Biography' won about every literary prize going back in 2012.
The title of his 2014 book on Hedley Verity, the famous match and its wider context is called '10 for 10 – Hedley Verity and the Story of Cricket's Greatest Bowling Feat,' published by the Wisden imprint of Bloomsbury Books and the hardback edition is out on 5 June.
Our interview is conducted over Skype – which can give it that tinny, bottom-of-the-ocean quality – and we begin by discussing how the book came about.
Chris had it in mind to do his Verity book before the chance came along with his Fred Trueman biography. You just never know when a chance encounter might kickstart something and so it proved when Chris happened to meet the last surviving member from that famous 1932 match.
Frank Shipston opened the batting for Nottinghamshire on the day Verity wreaked havoc with the ball and he became the oldest surviving county cricketer in late 2000.
Working for the Nottinghamshire Evening Post at the time, Waters was sent round to interview Shipston who joint top-scored with 21 in the innings when all around him, wickets tumbled.

 For Chris, that particular match resonated from a young age as cricket took hold:
"It's a very famous record. I remember seeing it as a kid in Wisden…ten for ten, H Verity and it seemed very magical. I always regarded it as the most remarkable cricket record of all."
If that was the initial seed of an idea was put aside for a while, we must skip forward to 2005. Like dominos falling, cogs clunking into place or planets aligning, the Verity spark was reignited when Yorkshire held an exhibition to mark the 100th anniversary celebrations of Hedley Verity's birth.
It was there that Verity's son, Douglas, who had brought with him the actual match ball that his father had used, met Waters and showed Chris the prized piece of memorabilia in the Press box and they became friends.
 
Douglas Verity was very keen that the book came out and was a source of great help during the inevitable slog that is the researching phase.
An article about the Headingley exhibition prompted a reader from Earby to write to Chris to say he attended the match in question. Cue a drive out to the borough of Pendle in Lancashire for a chat to the ninety-year-old who had watched Hedley's heroics as a kid.
The match itself obviously forms the hub of the book and with the aid of the nineteenth century cricket writers of the time, Waters was able to piece together all the angles as only a dogged historian can.
According to Chris, there was plenty going on, away from the balls, wickets and runs. Headingley was undergoing a substantial reconstruction. The Rugby Stand that is still there today was actually being built as the 1932 game went on so one of the game's greatest achievements ever was played out with the backdrop of a building site.
Writing about one of England's and Yorkshire County Cricket Club's most famous sons in Fred Trueman and his life is one thing but is there a risk that this very niche moment from history with Verity's match might pique the interest of only a select few?
"It fascinates me personally. For me, it's far more an interesting project than it was to write about Trueman."
They're very different books with 10 for 10 a far less weighty tome and not a biography but the obvious question around Verity's record is whether in the modern era it can be beaten? Hopefully not before this book comes out is the cheerful reply from the author:
"You look at it and think no chance. Literally no one has come close to doing it. I think I worked out that no-one who has taken the first nine wickets in an innings has done it for less than ten runs. No-ones ever been in a position to beat it."
But having said that, one in the proverbial blue moon, someone comes close. 

In January 2005, Paul Wiseman, the New Zealand offbreak bowler who went on to have a stint with Durham, took 9-13 for Canterbury against Central Districts in Christchurch but such instances are as common as hen's gnashers.
Verity's achievement to bowl himself into the record books ought to be seen in the context of an uncovered Headingley pitch which was drying out after a deluge.

 But according to first-hand accounts from eyewitnesses off on and on the field, that would be to unduly criticise what was a world-class performance.
Besides, Yorkshire's openers Holmes and Sutcliffe then shattered any notion of a devilish pitch with a century partnership to ease Yorkshire home.
As someone who enjoys stumbling across pieces of cricketing history myself – which might explain the old bats littering the Cricket Yorkshire office – the physical scorecard from that game is a delight.

 Advertisers include Chapman's Lemonade, on Domestic Street in Leeds which apparently is 'guaranteed pure' and the 'standard of excellence' no less.
You are certainly in safe hands with Chris Waters if the opportunity to dip into this remarkable story presents itself. The characters, period and cricket drama will be brought to life with aplomb.
10 for 10 by Chris Waters is published by Wisden and is due to be released on 5 June.
To listen to the full audio interview with Chris Waters, click the orange 'Play' button below and away you go.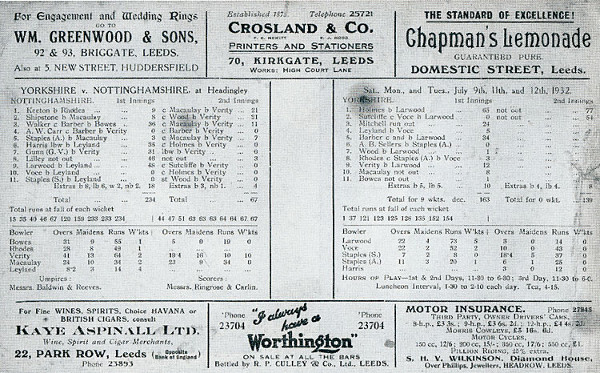 © Wisden
Latest posts by John Fuller
(see all)