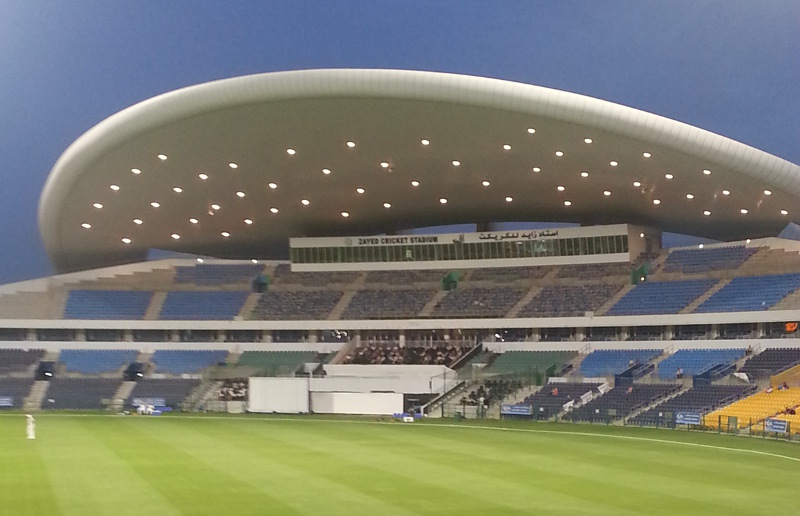 As Yorkshire wrapped up victory against the MCC in the final game of their UAE tour, Cricket Yorkshire had our very own tour correspondent and Yorkshire CCC fan, Phil Rose, report back on what it's like to visit the country as a cricket fan.
The brief was to give you all a flavour of the place and people; a perspective on what it's like to follow your team to a country few will know much about.
From far away back in Yorkshire, it looks like a curious contradiction of a place with monolithic concrete and immaculate lush green outfields that groundsmen back in England would be jealous of.
The Zayed Cricket Stadium looks an impressive sight and presumably the architects had the Starship Enterprise in mind.
Pictures sent from the Yorkshire squad on Twitter and Instagram show obvious signs of immense wealth with Andrew Gale's hotel room overlooking the F1 circuit with speedboats the size of a Yorkshire town in the background.
Not a place I'm minded to go but likely as not, a rich experience in every sense. Over to Phil for his thoughts which include commandeering taxis, the MCC pink ball experiment and as a beer blogger, finding a tipple.
—
Look, as a spectator, I'd heartily recommend an Abu Dhabi/Dubai cricket tour to anyone. It's getting better every time I come here. But, you have two enemies.
Firstly, getting back to your hotel after the game finishes. Secondly, the United Arab Emirates (UAE) hit or miss game of 'is there building work right outside my hotel bedroom window?'
On this year's mini Yorkshire tour of the UAE, games were played at The Sevens Stadium in Dubai and the Sheikh Zayed Cricket Stadium in Abu Dhabi.
Both grounds are very much out-of-town locations. For example, The Sevens is 30 miles (45 minutes) from the Jumeirah Beach area of Dubai. Even the bigger, Dubai Sports City Cricket Stadium (which hosts Pakistan Test matches) is 10 miles (25 minutes) out.
Likewise, the Sheikh Zayed Stadium is 20 miles (40 minutes) from the Corniche tourist area of Abu Dhabi. Or 15 miles (25 minutes) from the Yas Island tourist area where the Yorkshire team are staying. And, don't forget, it's day/night, 96 overs starting at half two. Late finish.
Getting to the cricket is fairly easy. In town, taxis are everywhere. They're licenced, clean and safe. Petrol, and hence fares, are cheap in this oil rich area.
In Abu Dhabi, it's basically a tenner from the Corniche to the ground. You might have to convince the cabbie that there is actually a cricket ground in Abu Dhabi. You might have to remind him it's out on the Airport Road. He might have to radio in to base for directions. But, he'll get you there.
Oh, but for a four day game, you'll not go the same route twice.
On a previous cricket trip to Dubai, I went along the rank of cabs asking for a driver who was from Pakistan. That way, there'd be a fighting chance he'd know what cricket was.
In Dubai, it's possible to get a City Bus from the Mall Of The Emirates tourist area to a far flung Dubai suburb. That bus (the F29) passes the Dubai Sports City Cricket Stadium.
But, that is getting there. Unfortunately there is little reason for taxis to be passing any of the Dubai/Abu Dhabi cricket venues later in the day when the match ends.
And when everyone is trying to get a taxi at the same time as the ground empties.
Of course, you've got options. Go with a cricket tour company group, who'll have ground transfers built in. Get your hotel to organise your cab there and back. Hire a car (we've done that this time out). Sometimes, on a hit-or-miss basis, there'll be free shuttle buses. There were from the T20 at The Sevens on Friday.
If there is a big, hopeful queue at an impromptu taxi rank. You could try my Brass Neck method. Your mission, should you choose to accept it is to just get back to 'civilisation'.
Stroll up to the front of the taxi queue. Offer to pay the fare to wherever the head of the queue is going if you can share. Jump in. Get to the 'wrong' hotel. Pay.
Then as you have taxi residency rights, get him to take you to yours. And, think about it, you've not actually snatched that cab off anyone else who was waiting at the ground.
Of course, much less of a transport problem for these Yorkshire games out here. Where the crowd is "in the tens". Many of whom are on the Club Tour. A bus with the engine revving outside.
As to your second enemy. Noisy building work outside your hotel. You're on your own there mate. Dubai (in particular) is work-in-progress. Pot luck.
I blog about football, cricket and craft beer. We need to face this beer thing head on. Nothing for me here.
It's easy to drink in Dubai & Abu Dhabi. Even budget range hotel chains (eg Ibis) will have a bar. Bell's whisky. Gordon's gin. Dry white. Heineken. That sort of thing.
Some hotels have high end restaurants and night clubs. I'm sure the Fizz and Cocktails flow.
There are faux Irish and British pubs. Yet more lager, and Guinness and keg John Smiths abound. Premiership football and Formula One all over the telly and a U2 covers band in the corner.
The only thing that has remote interest for me is Happy Hour in one of the Belgian beer cafe franchises which are springing up in the UAE. Bottle of Orval, maybe.
Don't have too many. Don't look at anyone funny. Don't fall over. You're going to be stuffed if the police ask for your Alcohol/Liquor Licence. As a tourist, you can't even apply for one. Do not pass Go.
As for drinking at the cricket. Dubai possible. Abu Dhabi impossible.
At the T20 at The Sevens, the real spectacle was the three-hour swill at the Premium Buffet With Alcohol. Some serious power drinking out there. Friday is the religious day off, weekend in these parts.
Expats tell me it is not what it was. But, Friday 'all you can eat & drink' buffets are a thing out here.
Lots of hotels & restaurants putting out ever more elaborate spreads to outdo each other.
At the T20, it being Friday, for around seventy quid, you could get into the ground and have a 12.30 until 15.30, three-hour run at a barbecue and the bar.
Read that again…and the bar.
Some troopers were even buying booze for cash money BEFORE open season. And then again, after the freebie shutters had gone down.
I've served my time on power drinking. And beer wise, there was only industrial international lager (Amstel, Budweiser & Heineken, as it turned out), and other standard food groups. So, I declined.
But, among the fellow travellers in my temporary stand, there were casualties and atrocities aplenty.
Well, the scenes when the shutters went down. I say….
Punters carrying armfuls I tell you, armfuls. Vodka by the half pint? Present on duty. Don't get me wrong, it wasn't the Headingley Western Terrace. But, valiant effort from some.
Despite the fact that the organisers have known about the T20 fixture for months and hosted the T20 fixture for a number of years, there were a few things that weren't quite ready.
Get this. A three hour open bar. Bottles of Bacardi Breezer a key offering. They didn't have a bottle opener. Amateurs doesn't cover it. They were opening the Breezers by banging them on the temporary bar top.
The manual, flip the numbers, club style scoreboard was delivered to the ground by four fellas AFTER Yorkshire had lost their first wicket of the day.
Moving on to the four-dayer in Abu Dhabi. Cricket bonanza.
At one point, simultaneously, Yorkshire were playing MCC in the main stadium, MCC Universities were playing MCC Young Cricketers outside on a grass oval and Durham were playing Lancashire on a third oval.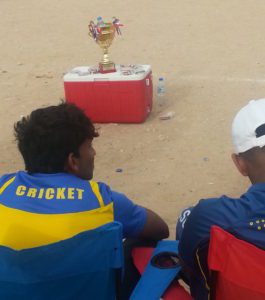 Finally, the staff from Al Raha Beach Hotel were up against Shangri-La Hotels & Resorts on a tarmac track & dirt oval in a crucial 10/10.
Dear reader, you already know which was the most competitive and innovative. 106 off 10 overs was going to be a big ask for the Al Raha Beachers.
Interest in the main stadium game included the pink ball and floodlights.
As a spectator, I found viewing no better nor worse than red or white in daylight.
The Pink 'Un didn't seem to be coming onto the bat much. But, that could have been the wicket as much as the ball.
It is a very big Oval. My seat was some way from the rope and the middle. But, my impression was the pink ball was difficult to see under lights (as a spectator).
And, that Sheikh Zayed stadium could do with a lick of paint and a good maintenance man/woman. (In these parts it's inevitably going to be a man).
It is so grotty & crumbling that it does detract a little from the enjoyment.
Look, I've been too negative. Taxis, beer, scoreboard teething trouble but there are many, many positives.
You could get in the T20 for six quid on the grass bank.
It was FREE to get in the First Class four dayer against MCC. The previous time I was in Abu Dhabi for the Pakistan v England series in 2012, it was FREE to get in to the Test Match.
The Tests up the road in Dubai that year were two quid per day.
There are myriad hotels. Top end, luxury resorts on the beach. Tried and trusted budget hotel chains you'll recognise from home and my current favourite, aparthotels.
Lots of space, washing machine, kettle for your coffee, fridge to chill your soft drinks. Many choices.
Great food. I concentrate on grilled meats, salads and flatbreads in local Arabic style restaurants. And Indian vegetarian food, which you'll find all over the place.
Safe, friendly, efficient, unbelievable melting pot of ethnicities and cultures. English as the Lingua Franca. What's not to like? It's still played with a bat & ball you know.
I heartily recommend the UAE as a tourist spectator and there's a very good chance England will be out here to play Pakistan at the end of 2015.
BY PHIL ROSE
Twittering: @ball_sup
Blogging about cricket and beer (and football)
www.ball-sup.blogspot.co.uk
Latest posts by John Fuller
(see all)