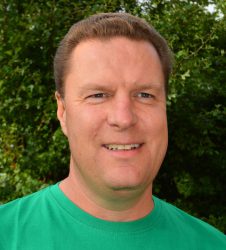 Latest posts by Andrew Gallon
(see all)
This article on Thornton Watlass Cricket Club was originally published in 2021 and is well worth a read, whenever you find it.
***
As Andrew Gallon reports, Staithes set up a Voneus National Village Cup second round home tie, on May 9, against Scarborough Beckett League rivals Heslerton by winning at Thornton Watlass with 17 balls to spare.
It's one of Yorkshire smallest cricket grounds, packed with unique features.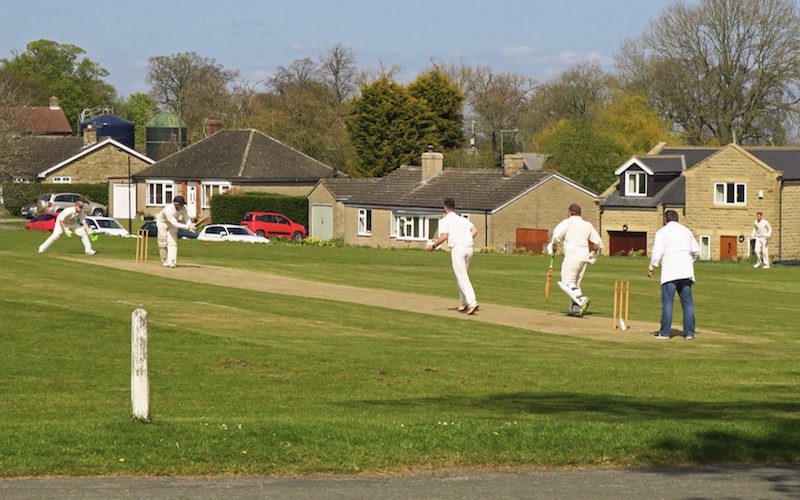 Cricket is played at the south – broad – end of the triangular green, which is enclosed within narrow roads. From the south end of the side-to-side sloping pitch, a pub, the Buck Inn, overlooks the action. Bizarrely, one of the roads cuts through the pitch at this end.
The arrangement obliges boundary fielders to stand in the pub car park. They have to cope with the ball ricocheting off the road, a shallow bank and/or a line of mature trees. A couple of down-the-ground sixes from Staithes players managed to clear the pub roof.
Play has to pause when a vehicle, motorbike, cyclist or walker passes behind the bowler's arm. There is a fine display of cricket memorabilia in the pub and Thornton Watlass have played on the green since 1848.
The village hall, also at the ground's south end, doubles as the cricket pavilion. A small digital scoreboard (so troublesome to operate it was abandoned for the second innings and a manual board dragged from a dusty corner) is attached to the east end of this low structure.
Sweeping clockwise from the steps of the village hall, the eye takes in the tower of the village church, a mid-Victorian former school (now a dwelling), an ancient water pump, a row of one-up, one-down stone cottages (presumably, originally occupied by agricultural workers), a dairy farm (cows' lowing is the village's muzak) and a 60ft lime inside the northwest boundary rope (several shots and throws struck the tree's impressive girth).
Next, a view up the tapering green towards the gates of Thornton Watlass Hall (the village is part of the popular screen location hall's rambling estate) then, along the east side, a mismatched collection of modern detached homes.
Beyond their chimney pots, the Cleveland and Hambleton Hills fill the horizon. For those who know the area, Whitestonecliffe, a prominent feature on Sutton Bank, is directly opposite. Daffodils (past their best now, unfortunately) and daisies add a vivid splash of colour to the green and its margins.
Staithes edge this National Village Cup tie
An enjoyable Group Three (North Yorkshire, North) contest on Nidderdale & District Amateur League Thornton Watlass's quirky village green ground featured ebbs and flows in each innings.
The hosts were to rue dropping catches – an increasingly chilly afternoon must have numbed fingers – just as Staithes began to indicate their run chase would be fruitful.
Having elected to bat, Thornton Watlass made a promising start. Captain Guy Smith (70) and Miles Johnson (52) added 106 for the first wicket.
From 124-1 at halfway, however, they didn't push on as much as they probably should have, despite Andrew Cooper (48) adding beef to the middle order.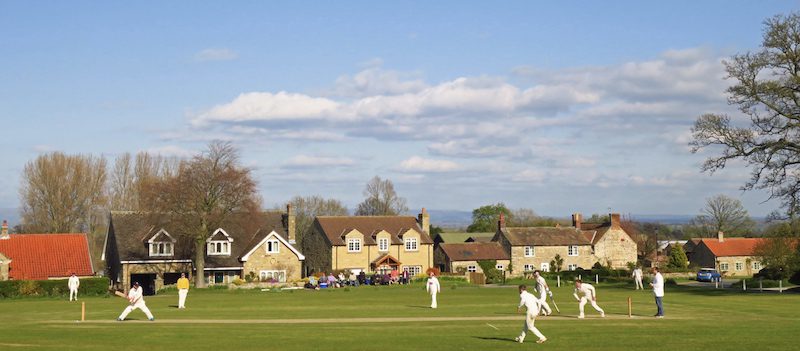 They reached 237-7 off their 40 overs. Brad Lewis took 2-41 and Dan Belsham 2-53 as Staithes relied on an all-seam attack.
Replying, the visitors lost Luke Spencely (0) in the first over, with a solitary run on the board, to a caught and bowled by athletic young pacer Matthew Tew. Staithes then stumbled to 73-4 by the 16th. But the cunning coast club were saving their best batters for the middle order.
Lewis (83) and skipper Simon Bowes (76 not out) turned the game on its head. Rich Ward (35) came up with vital runs when the victory charge showed signs of flagging. Staithes finished on 239-6 off 37.1 overs. No Thornton Watlass bowler took more than a single wicket. Nick Hodges (1-18) and Ross McDonald (1-23) returned the best figures.
Thanks to Andrew for taking us all to Thornton Watlass and his photos, here's a snapshot of Yorkshire's presence in the National Village Cup.
Do you / your cricket club want to find sponsors, fundraise successfully and grow your membership?
Learn simple, step-by-step methods to create incredible value for members, sponsors and funders.
Our Make Money For Your Cricket Club e-course is an enjoyable way to learn at your own pace.
It covers 4 modules with short video lessons:
Membership
Events & Fundraising
Sponsorship
Grants & Funding