It's rare to head out to watch a cricket tournament at 6pm and this evening was particularly special; a chance to watch the only day/night tape ball competition in Yorkshire for the first time.

Tape ball cricket is something I've wanted to watch for years and for one reason or another, it hasn't quite happened. It's as far removed from a Saturday afternoon league cricket match in whites as you can get.
Organised annually by the Quaid-e-Azam Cricket League, I spoke to Naheem Malik (the League Secretary) who has been central to running this particular tournament for years.
---
Teams from all over Yorkshire and other counties have been coming to Marley Activities & Coaching Centre, outside Keighley, for a long time to either try tape ball for the first time or savour this fast and frenetic format.
---
This year's edition was four five-ball overs per match with 13 teams in the end taking part and a number held in reserve. A round-robin phase to ensure teams travelling from Burnley or Manchester didn't get just the single game, led to semi-finals and final.

Arriving by train to Keighley and dipping down Dalton Lane is to be reminded of the contradictions that this market town throws up.
It was voted twelfth worst place to live in 2021 (by I Live Here website) yet is surrounded by gorgeous countryside, has a vintage steam train line, National Trust property and a number of impressive cricket clubs.
As for the tape ball, the Yorkshire Cricket Foundation got involved this year to help promote it as part of their community work and Zain Ul Abdin, Community Development Officer (Bradford), met me at Marley.

First impressions were overwhelming – in a good way. Not least the number of people there, over a hundred, which I'm not used to because of Covid and needed a moment to take in.
---
It was also loud and had an energy to it that probably sums up tape ball perfectly. Two games were happening at the same time; on each half of a 3G artificial football pitch.
---
Sixes were belted out of the ground every few minutes. I was walking round to get a better camera angle and a sizzling yorker was deposited with ridiculous power and grace onto the Airevalley Road, buzzing with evening traffic.

There was some serious talent on show but it had an informal feel to it as everyone wore their own clothes so everything from Pakistan ODI shirts to Barcelona FC tops or custom teamwear.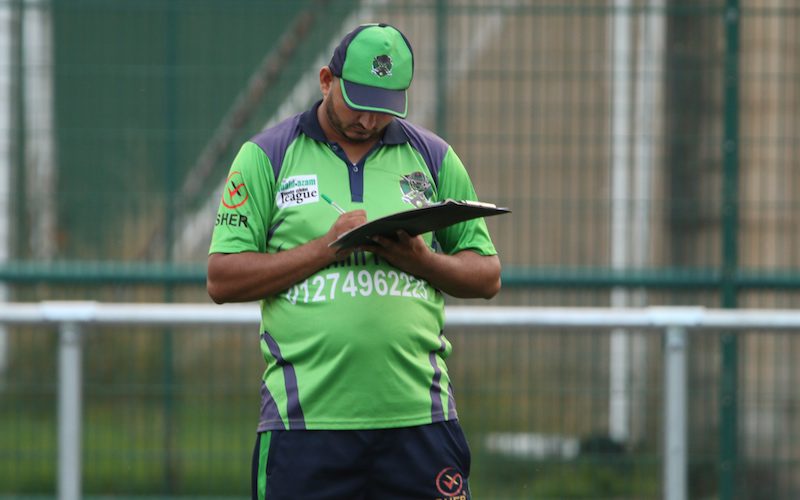 Officials kept the scores which must have been difficult as controversy and counterclaim erupted constantly. It was all good-natured though the umpires did an incredible job keeping the peace as competitive juices flowed.

With a barrage of short matches, players were constantly swapping, coming onto the field or leaving. It was cricket but like I've never seen it before. I was transfixed.
The bowling from teams like Pendle, Keighley Pindi Boys, Blackburn Knight Riders and Azad Bradford exemplified the diversity of talent. Enthusiastic amateurs and Bradford League speedsters faced each other or were on the same side.
If you know nothing about the actual tape ball, it's a tennis ball wrapped in electrical tape to give it weight, more speed and also the ability to swing or spin round corners.
Facing it must require hand-eye coordination my genes might have missed out on. The general tactic required early backlift and trying to hit the ball into outer space.
There were a few tape ball bats on show, lighter, plastic and wrapped in tape that made a 'tok' sound, while deliveries frequently disturbed the surface with a puff of dirt exploding from underground.
Around 8pm, the sun dipped under the horizon and the floodlights made it easier to see.
There was always someone on hand to do running repairs to a ball or tape up a fresh ball for a match. With my commercial head on, there's surely a chance to get whoever sells electrical tape to sponsor the event for 2022.
Meanwhile, tape balls were being swatted all over the place. They must have had a ready supply as they kept coming and kept being wellied in every direction. It was not unusual for two balls to merge in a single game, especially with two live matches.
Naheem was keen to stress that for some, tape ball can either be a pathway to hard ball cricket or a regular alternative:

'Players who aren't available due to social & economic challenges as well as work-related commitments for hard ball cricket, tend to participate in one-day tournaments regularly, due to having a passion for the game.'
---
It's not difficult to see the appeal; you just need a bat and ball so it can happen anywhere and everyone is involved all of the time. I wish I'd asked to have a go.
---
This event was held in memory of two men with local connections to tape ball and league cricket.
Councilor Abid Hussain (former Lord Mayor of Bradford) played and supported local cricket. He passed away on Christmas Eve from Covid-19 and his family and son (now Councilor Mohsin Hussain) have also supported this event.
Meanwhile, Mohammed Zahid Iqbal was also remembered; a lad in his early thirties, who died a few years ago and used to play in the Quaid e Azam Cricket League on Sundays.
Culturally, tape ball cricket was like being transported to South Asia with a hum of languages, colour and vibrancy.
I contentedly stood photographing the action next to the staff from the Yorkshire Cricket Foundation.

Zain Ul Abdin, the Foundation's Community Development Officer (Bradford) had given an interview (see podcast episode below) and was now bowling a few himself.
I left before the complementary food provided by Aagrah, which is a shame as they do a mean chicken karahi. But, while the cricket went on until midnight, I headed home; marvelling at the diversity of the game in Yorkshire.

Tape ball tournaments are a big deal if you know where to look. Marley is clearly over-subscribed and if there were four football pitches, I have no doubt they'd be filled too.
Perhaps there can be scope for more than one event a year or others across Yorkshire? Nasa, groundsman at Bradford Park Avenue, told me one was planned for September; no doubt encouraged by feedback from Marley.
Naheem put it best. Tape ball cricket is here to stay.
Enjoyed this read? Join thousands of cricket fans who get the Cricket Yorkshire Newsletter – exclusives, competitions, partner offers and much more straight to your inbox!
Latest posts by John Fuller
(see all)