The extraordinary story of Sue Mulholland blends the human spirit with the therapeutic power of baking and cricket teas.
I met Sue, who has been making the cricket teas at Darlington Cricket Club for years, back in 2016 at Headingley.

She had prepared a lavish spread for the Premier League Championship Semi-Final and it was staggeringly impressive.

Tables laden with freshly baked cakes, sandwiches zinging with fillings and sausage rolls that I still dream about. People were literally stuffing food into pockets with goofy smiles on their faces.
Congratulations to Sue Mulholland of @DCC_Feethams who wins 2018 #CY50 before I've researched it. No-one will rival her epic cricket teas. pic.twitter.com/mu7AwmU9Gj

— Cricket Yorkshire (@cricketyorks) September 24, 2017
Cricket Yorkshire readers will know that I need little excuse to wax lyrical about cricket teas but the latest podcast episode with Sue is more than mere eye-rolling at sweet treats.

To understand Sue's relationship with baking, we have to go back to an incredibly difficult time.
In her fifties, Sue suffered a brain haemorrhage, nearly died and was left unable to speak or walk.
The NHS and her family painstakingly helped her to gradually regain all the skills we take for granted: to walk, talk, read and write.

Baking and following recipes became a therapy as she was forced to give up work as a teacher and retire.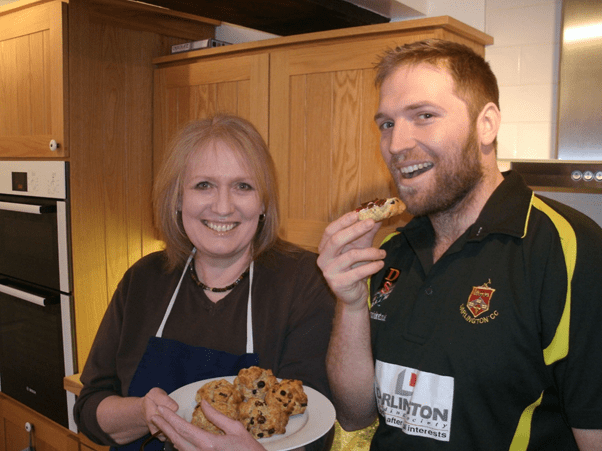 As you'll learn if you can listen to the podcast interview on cricket teas, it has since snowballed with clubs and the North Yorkshire & South Durham League using the services of the 'Darlington Delia' (copyright Cricket Yorkshire 😀).
It would be fair to say she has forged quite a reputation and it doesn't hurt that she's the loveliest woman you could ever meet. Mrs Cricket Yorkshire notwithstanding, obviously.

We discuss how cricket teas have helped Sue's recovery and why she hopes they'll be embraced by cricket clubs once again in 2022.
Enjoyed this read? Join thousands of cricket fans who get the Cricket Yorkshire Newsletter – exclusives, competitions, partner offers and much more straight to your inbox!
Latest posts by John Fuller
(see all)