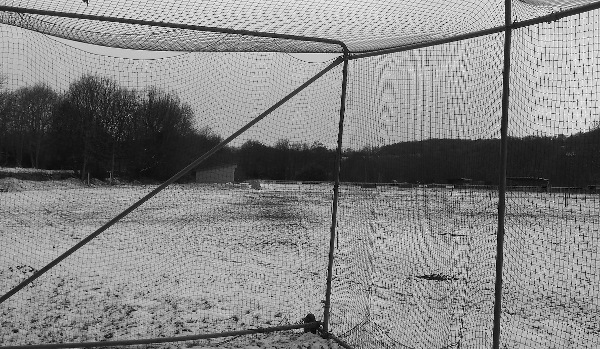 We do like to revel in our weather here in the UK, don't we? Snowmageddon has come to Yorkshire cricket.
News of the 'Beast from the East' weather front sweeping in, as it had been cheerily coined, made it sound like an ominous character from Game of Thrones.
When Monday came, snowflakes fluttered to their destinations here in our corner of West Yorkshire and there was what might be termed as a moderate dusting, akin to a baker going all out with the icing sugar.
As Nick Davis, Leeds Bradford MCCU Manager, noted on Twitter: "More like a Damp Slurry From Surrey here in Leeds."
After final fitness tests, the MCCU lads are off to South Africa on pre-season in the next week or so and conditions will not be more contrasting for their 50-over match against Yorkshire CCC on 15 March.
So, definitely a healthy snowfall but measured in centimetres not feet or days without replenishing the biscuit tin.
Nonetheless, opportunity beckoned to load up the camera, hop on a train and go and find a Yorkshire cricket ground or two.
Saltaire Cricket Club was striking against the outfield with its white blanket.
It has got significantly worse across the UK today but at the time, not all of the ground had been coated as I circumnavigated the Canada geese in Roberts Park to fire off a few frames with the DSLR.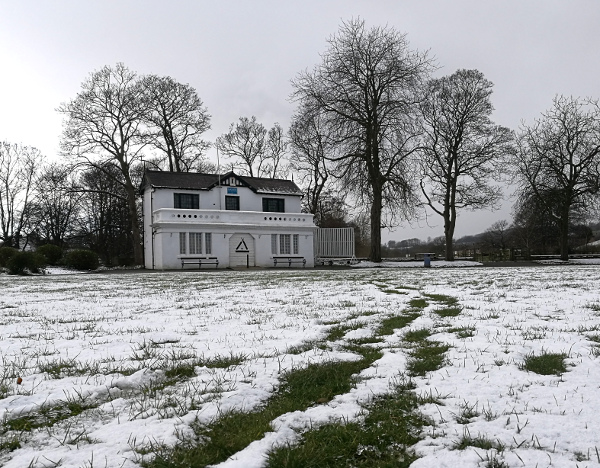 A short walk away is the Dales Cricket League ground of Salts where Shipley Providence Cricket Club are based.
There were no signs yet of hardy souls having a bowl in the nets (see top of the article).
This is where Brian Close is said to have scored his first hundred whilst playing for Yeadon against Salts in the Bradford League before his 18th birthday.
The benches hugging the canal end took on a charm of their own and walkers above threw curious glances my way as I took close-ups of seating as the mercury nosedived.
Well, each to their own, eh?!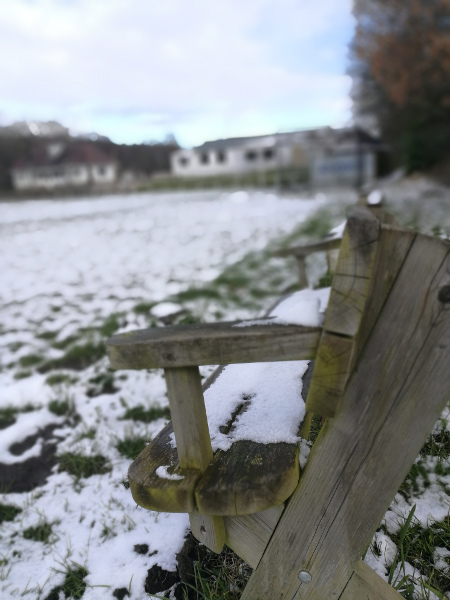 Cricket Yorkshire's followers on Twitter (follow @cricketyorks) were sparking into life at the request for photos.
Ten miles or so due East of Shipley Providence CC is Kirkstall Educational Cricket Club who ply their trade in the Aire Wharfe Cricket League.
Groundsman David Hodgson who was interviewed on here if you want a fun read, shared the state of play at their ground, the Field of Dreams:
@cricketyorks The Field of Dreams under its Winter Blanket kindly donated by The Beast from the East pic.twitter.com/UC4X1SM4Jv

— David Hodgson (@Hodgyleeds) February 27, 2018
Fred Boycott, a Twitter celebrity whose hashtag of #digin normally relates to a defence-first batting approach rather than its literal, meteorological sense, offered up snow-crusted nets with the whites of sheets somewhere between sails or someone putting their washing out to dry/freeze.
Net session delayed by 10 minutes this morning..
I told them to take the top nets down. They never learn. pic.twitter.com/qBDuXagsyq

— Fred Boycott (@FredBoycott) February 27, 2018
Today at Cricket Yorkshire HQ, the heater is on 'to infinity and beyond' setting and I am embracing the philosophy that if you drink enough tea, the brain will reluctantly keep working like a sleepy computer that has just gratefully had a turbo charge.
Elsewhere in Yorkshire, more photos emerged of cricket grounds including this stunning effort from Matt Coad of Studley Royal CC, West of Ripon:
@studleyroyalcc central under snow… be playing on here in 53 days #beastfromtheast #batfirst #preseason pic.twitter.com/ft0966uuAq

— Matt Coad (@Coady_lad) February 27, 2018
Not to be deterred, pitch inspectors were out in force to ensure Yorkshire cricket squares weren't in too bad a shape….
Early pitch inspection. #getthegameon pic.twitter.com/MdFmLzjSRr

— Mark Jobling (@MarkJoblingYCB) February 28, 2018
Enjoy the snow, take care and I hope this was a brief but welcome distraction if you're at work, stuck on public transport or in your car, taking a break from a snowball fight or at home and scanning the cricket websites of your choice.
As always, if you can take a moment to share this with the Twitter/Facebook buttons below, it can help the article hit warp speed. Right…I'm off for another brew…
Latest posts by John Fuller
(see all)