Author David Mitchell conjures up an adapted chapter from his new cricket book, From Snicket to Wicket. Here, David reminisces of his childhood at Settle Cricket Club and the spectacle of the annual match against Yorkshire County Cricket Club.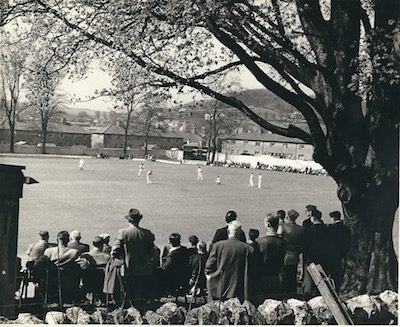 Cricket has been in my blood since Grandad took me to watch Yorkshire play Australia at Bradford in 1961. A significant part of my childhood was spent at Settle Cricket Club. The Marshfield ground was overlooked by the limestone crags above the town and, unusually, had two levels, separated by a steep slope.
My mates and I used to roll down it during the tea interval when we weren't knocking back bottles of Vimto or Dandelion and Burdock from the refreshment room on the top level, in the shadow of a giant sycamore tree. There were also packets of crisps with those blue bags of salt in them.
Marshfield became a second home in the summer months. I would take in the match day atmosphere at weekends and play on the outfield during the week with my mates. Settle ran teams in the Ribblesdale League. There were twelve teams and matches against the likes of Clitheroe, Earby and Barnoldswick, part of a fixture list that had a familiar look season on season.
There was also a reassuring familiarity about the Settle team sheet. I can still recite it now. These guys had ordinary lives and ordinary jobs but on Saturdays, they became gods to me.
Eric Mitchell, no relation, lived down my street and I was friends with his children. Eric batted number three, a left-hander who accumulated thousands of runs using a pair of ageing gloves that had a thumb protection on the end of a strip of elastic.
He had to wind it round his wrist several times before sliding it into place. Eric carved many a big innings alongside Brian Horn and the dashing 'Chippy' Andrews. Colin Smith was a PE teacher and stylish number four.
In later years, Mum and Dad moved on to the same avenue as Colin and I was still in awe of him, trying to catch a chance glimpse as I went past. I stood near all-rounder Ken Foster at the 'Tour de Yorkshire' cycle race in Settle a couple of years back.
As I cast brief glances towards him, my mind raced back to Marshfield, recalling vital innings scored at a good rate and medium-paced bowling with a lovely action. Mac Davidson, alias 'Rockbox,' was a canny bowler and competitor. Our wicketkeeper was Brian Hemingway, not built for pace but mighty effective all the same.
I watched countless games as a child, often from inside the score box which backed on to Marshfield Road. Later, it was moved next to the pavilion which stood in the shadow of a railway viaduct. The bridge carried trains up and down the iconic Settle-Carlisle railway.
The line ran alongside the ground so I could get some train numbers at the same time. The tale goes that a well-struck ball once landed in a carriage and travelled seventy-two miles north to Carlisle, making it the longest hit in history. That was a favourite story of Dad's.
There was no more exciting day at Settle Cricket Club than when the county came to town. From 1946 until well into the 1960s there was a pre-season match against Yorkshire, the dominant team in the country.
One of their heroes was local lad, Don Wilson. Wilson's dad was an ambulance superintendent who lived near the railway on the south side of town. It was the Settle v Yorkshire game of 1953 that set the ball rolling for his son.
Like me some years later, Don eagerly scanned the team list on the noticeboard outside Lamberts and discovered that he had been selected to play against Yorkshire. As usual, Yorkshire batted first and the time came for the nervous fifteen year-old to bowl. The batsman was none other than the legendary Len Hutton.
Hutton pushed the first two deliveries away before being bowled by the third. The ball went straight on and the great man missed it. It might not have been popular with the spectators but it was enough to gain Wilson an invitation to the Yorkshire nets the following spring. Yorkshire and England honours followed.
Wilson was to play his part in our annual fixture over the following years, both on and off the pitch. Along with Phil Sharpe and others, he was keen on light opera and took centre stage in many a post-match sing-song.
Yorkshire treated the Settle game as part of serious preparation for their county season and, as such, brought a strong team. I will never forget Yorkshire's John Hampshire striking a ball majestically over mid-off through the bedroom window of one of the houses that overlooked the ground on Marshfield Road.
The occupant was clearly not a cricket fan and came out creating blue murder. Autographs were happily dispensed by our heroes. I ticked them off one by one. Ray Illingworth, Brian Close, Doug Padgett, Phil Sharpe…
There was one that eluded me, a notable exception. Fred Trueman did not give his easily. I eventually got it by handing my autograph book to Eric Mitchell and he asked for me at the post-match evening do.
Yorkshire cricketers were part of folklore in the Broad Acres. As with the Settle team, their team list is forever imprinted on my brain.
Boycott, Taylor, Padgett, Sharpe, Hampshire, Close, Illingworth, Hutton, Binks, Trueman, Wilson, Nicholson. Pick eleven from that twelve and they would give England a run for their money. In the days when winning the County Championship meant something it was as talented a county side as there has ever been.
Thanks to David for harking back to a time before county pre-seasons took squads overseas and best wishes with his new book, a perfect winter read. Photo credits too for Eric Mitchell for providing the black and white photos.
You can either buy David Mitchell's book From Snicket to Wicket via Amazon or alternatively, contact the author directly and he'll post out a copy for £6.99 that saves you on postage.
Latest posts by John Fuller
(see all)