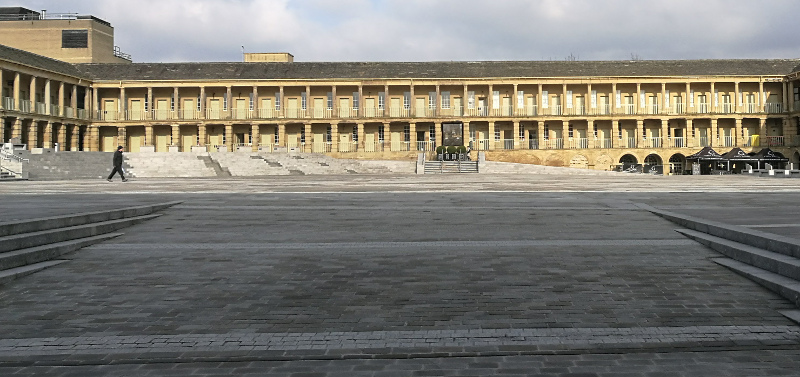 Wednesday 8 April
I had a Google Calendar reminder today that the Halifax Cricket League was due to be hosting a cricket event at Piece Hall over the Easter weekend.
It was to be a chance to bring the game beyond its usual surroundings to the good people of Calderdale in the stunning surroundings of the 18th-century cloth hall.
Games, coaching and taster sessions with Sky Sports and Look North (and Cricket Yorkshire) on hand for good measure for media coverage.
Note the change to past tense. Just one cricket casualty of many that coronavirus has claimed as we all re-configure our lives.
The professional and recreational game is still very much on pause so not much to report on that front.
Guess the cricketer? #creativecricketers #BrooksBusters pic.twitter.com/7wSdvvd9fJ

— Jack Brooks (@BrooksyFerret) March 23, 2020
There have been various efforts on social media to pass the time and give us all a taste of cricket. I caught up on Jack Brooks' #BrooksBusters Guess the Cricketer series on Twitter from March which stretched the mental muscles.
There's also been a Twitter Vote-Off between cricket clubs, organised by Sixes & Wickets that has caught the attention and got lots of interaction going.
Essentially an FA Cup-style Knockout by garnering more votes in the poll than your opposition. 
Simple idea, executed well and with a generous top prize for the overall winner from Icon Sports who are donating 11 x T20 shirts.
The competition is ongoing and I'm sure clubs would appreciate your votes as its gets to the business end.
Club Knockout 2020 – Twitter Poll Edition

Vote for your favourite team and help them get through to the next round

Match 16: @IvanhoeCC vs @PSLCChttps://t.co/tu9FBeBP5r#SixesandWicketsKO

— Sixes and Wickets ? (@SixesANDwickets) April 12, 2020

Saturday 11 April
After about three weeks of being poleaxed with coronavirus, I have more energy and can be reasonably confident I've all but recovered.
I can now walk across a room without needing to clutch the edge of a table and no longer emit a guttural, painful cough that could be heard in another postcode.
To test that progress, I decide to bake a loaf for the first time in decades. We have a silicone bread mould where you can mix the ingredients, bang it in the oven and theoretically get a loaf Paul Hollywood would applaud.
The malthouse loaf might have been denser than a 3lb cricket bat but it had a satisfying crunch and filled the kitchen with the warm scent of baking.
To celebrate this over-exertion, I decided to wrap up the last of the Netflix series, Tiger King, a documentary on tiger breeding that shoehorned in a murder plot and all manner of twists for good measure.
I couldn't say I actually enjoyed it. It provoked outrage, disgust, disbelief and a strong desire that all the caged animals escaped, turned on their captors and chewed their faces off.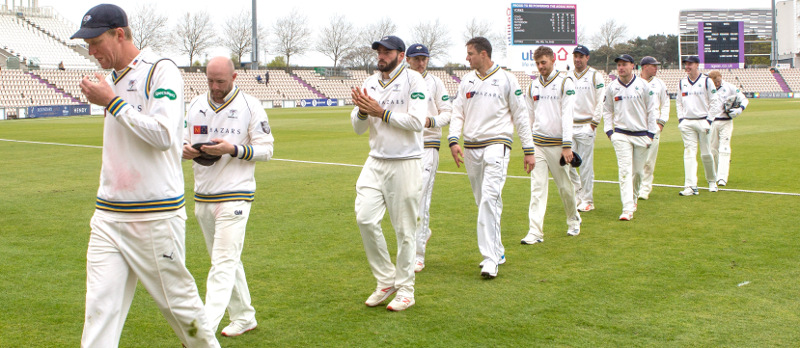 Sunday 12 April
This would have been the start of the County Championship season today. I suspect not the last of my soulful pining for cricket this summer.
Newly-promoted Gloucestershire were set to appear at Headingley. Joe Root and the rest of the England players would have been available. To play for their county. I know!
Ok, I'll stop it…torturing ourselves won't make the prospect of watching Steve Patterson deliver six metronomic conkers on a string magically re-appear any sooner.
The picture is from John Heald who is re-sharing his 2019 archives on Twitter.
To switch subjects, I am now feeling very unfit but soon able to contemplate actually doing something about it so I make one final allowance to slobbing out.
The consequence of watching two series of Netflix' Formula 1: Drive to Survive documentary (excellent, by the way) has persuaded me to learn how to drive like Lewis Hamilton.
So, I work out how to cast my mobile phone to my 4k TV (via Google Chromecast) to play driving games (specifically Real Racing 3).
After some mild swearing and reconfiguring wifi codes, I am transported to Melbourne for some Formula E.
I don't have a driver's licence but can tear around this Australian city in ultra-high-def while the soundbar reconfigures the neighbour's teeth with the high-pitched electric whine of a Gen2 engine.
For a few laps, I forget the delicious joy of watching Gary Ballance nurdle it down to fine leg for a single or listening to the hum of conversation in the Long Room.
Did you like this column?
**You can read any of the other articles here**
Plus, sign up for the Cricket Yorkshire Newsletter and get the free download: '6 Ways to Get Your Cricket While The Season's On Pause'.
Latest posts by John Fuller
(see all)