On a roasting August afternoon in the centre of Bradford, I discovered what community means at a cricket club.

Mrs Cricket Yorkshire and I had been invited to Interlink Cricket Club who play at Bradford Park Avenue. They had a home game against Cookridge in the Dales Council Cricket League.

I first visited Interlink on a pre-season game in 2015 where they welcomed this skinny guy in glasses who for some reason was photographing their match. Puzzled, perhaps bemused, they shared their spicy pizza and we had a laugh about cricket and life.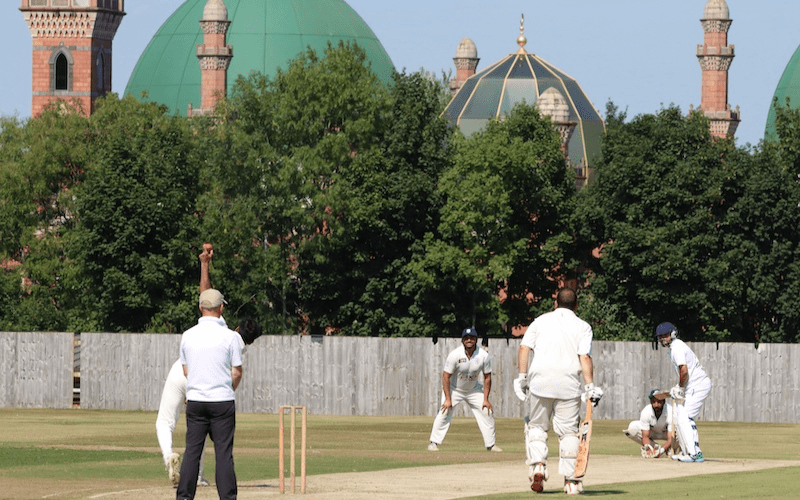 Until now, I hadn't returned though I've featured Interlink's exploits in various articles on the website since. Their rise up the Dales Council League after switching from the Bradford Mutual Sunday School League has been nothing short of meteoric.
After starting in the bottom division a few seasons back, Interlink have caught the eye; not least when Mohammed Memi hit 310 in one league game. I also interviewed Mo Pandor about fasting during Ramadan and playing cricket.

But, let's return to the present. We had prepared by having a late-night search on Amazon for something, anything frankly, that would provide shade. Cue a hasty purchase of an umbrella with a high sun protection factor rating.

It was due to hit 30°C which is too hot for me. I visibly wilt, go absurdly red and become even more incoherent than usual. By and large, cricket grounds have little opportunity to sit outside in shade.

---

From the moment we arrived and gratefully sat under a gazebo (perhaps in my honour), Interlink could not have been more welcoming.

---

There were ice buckets with water bottles, cooler bags packed with drinks, smiles and introductions. It was lovely to meet Sara again, she is scorer, Secretary and I hope she doesn't mind this description, but something of a mother hen figure.

Everyone knows her and as we got chatting over the day, you could clearly see that she's found her home.

A bouncy castle appeared from nowhere and kids quickly clambered on and shrieked happily away. Impromptu cricket games also periodically came to life.
Plastic stumps, bats and balls were left and the children were soon bowling and chasing the ball across the outfield. The playing area here is so big that there's plenty of room for both adults and juniors.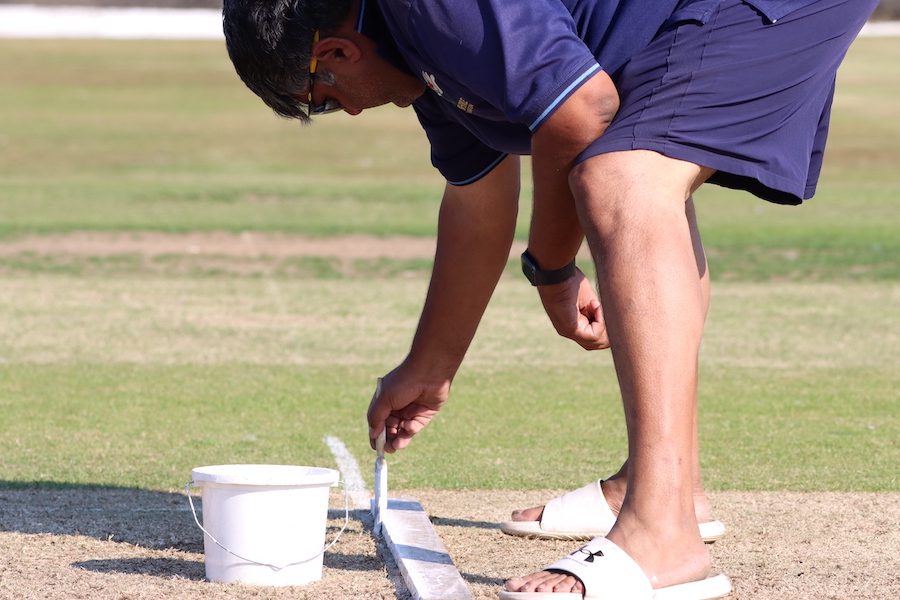 I took a walk out to the middle; in part to examine the square. Cricket Yorkshire has partnered with SIS Pitches, who do hybrid cricket pitches for county grounds and they are starting to appear in recreational cricket.
Like many across Yorkshire, the Bradford Park Avenue square looked parched after weeks without rain and a prolonged spell of high temperatures. I'd chat to Nasa, the groundsman, later for a future article but the hybrid strips (not used for today's game) were in good nick still.
Park Avenue hosts a huge amount of cricket – perhaps more than any other recreational ground in Yorkshire – but the wear and tear was minimal.

I am in my mid-forties with various cricket injuries from knackered ribs to dodgy elbow from thousands of overs down the years. I took one look at the wicket Nasa had prepared and had the sudden urge to bowl.
I reckon I'd get some decent lift just short of a length. I might even have instinctively turned my arm over while pondering this fanciful comeback.
---
Park Avenue is an impressive stadium. The Adil Rashid murial, in the purple of Northern Superchargers, is a splash of colour as the eye traces around the circumference.
---
It's still quite a stark cauldron with the contrast of white walls and dark grey concrete steps where once Bradman and Trueman walked.
Perhaps some trees would soften the edges but Bradford Park Avenue has got an energy to it when you're out in the middle. All that history, the scale of the site and that inner-city buzz.

The Al-Jamia Suffa-Tul-Islam mosque makes for a stunning backdrop on Horton Park Avenue. In between are those impressive outdoor nets that all ages across the city get to use across the year.

Back at the gazebo, players are rummaging through kit bags, there's excited chatter at the prospect of cricket and an Interlink cricketer gets gently ribbed at his ritual of taping up a finger with surgical tape. He comes prepared with a little kit to protect his wonky digit.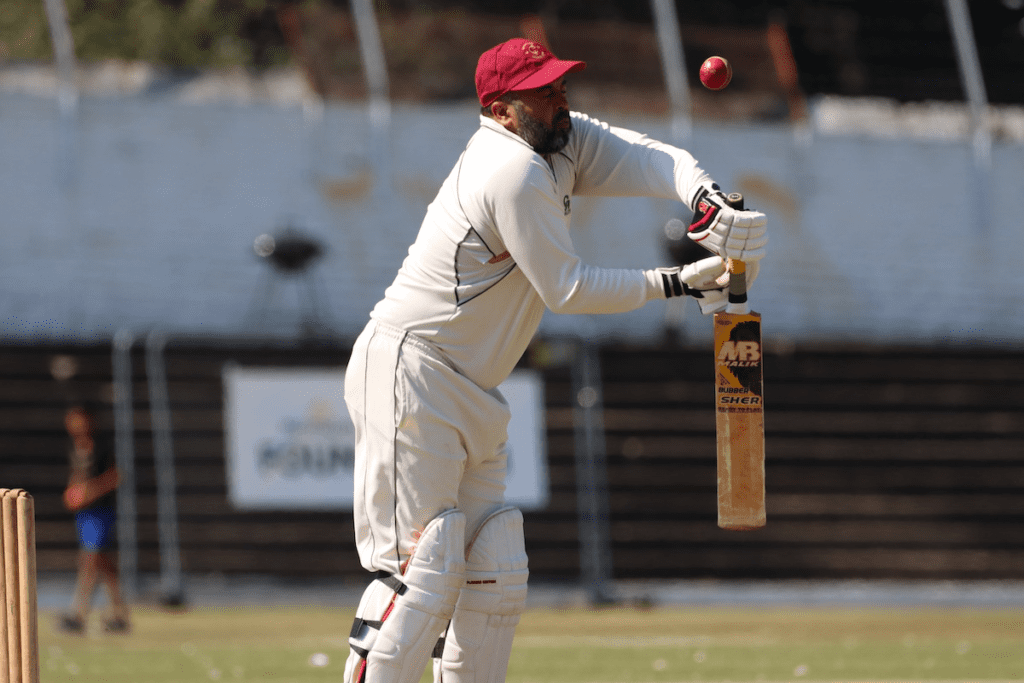 When play got underway, Cookridge recovered from the loss of an early wicket to build a total through opener Ahtsham Ellahi (52).

It was a fast and bouncy track. Anything that flashed off the bat and didn't go directly to a fielder was four.

Mohammad Pandor (1-17) was an early threat with the ball and as the mercury soared, Interlink captain Ebrahim Bismilla rotated his bowlers.

Cookridge lost wickets in clumps and were thankful to their captain Waqas Ali (above) for his 95. Had he not been bowled, the visitors might have kicked on.
---

229-9 off 45 overs was a defendable score but according to Sara, 275 was closer to par with Interlink's batting strength. To be honest, both sides deserve huge credit just for playing in that heat.

---

Umpires Stephen Wilkes and John Farr brought the players off for regular drinks breaks every 6 overs or so and some looked in need of a long lie down.

The wickets were shared round by Interlink with Jay Rajpurohit's spin combining accuracy with potency, en route to 2-30.

The mid-innings break was something I'd been looking forward to. Cricket Yorkshire has been running a cricket tea competition, sponsored by Yorkshire Tea, to find the best teas in Yorkshire.

I'd been told Interlink hold an annual celebration where the traditional Gujarati cricket tea is well worth attending.

Interlink's history reveals they were formed in Bradford in the Seventies as a predominantly Indian cricket team.

The Indian food on offer today was sizzling away on a row of barbeques with chicken fillets covered in spices, burgers and homemade salsa.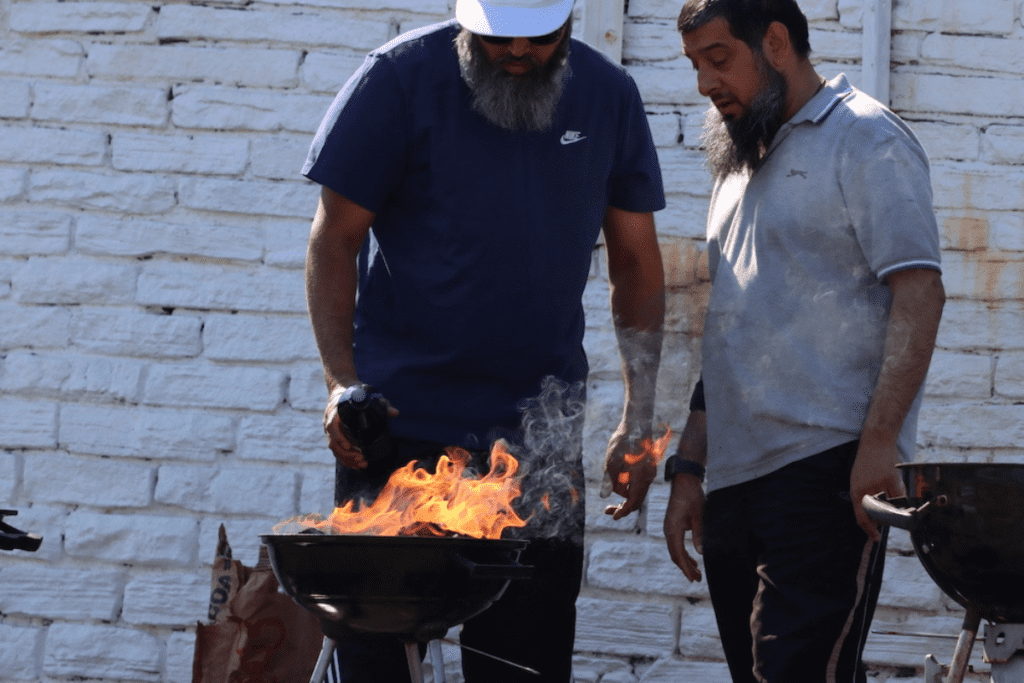 I chatted with Moosa Bismillah (Interlink's Chairman), Abdullah Dabhelia, Idris Bismillah and Mohammed Seedat who were an efficient team.

The way it works here is that players and their families bring dishes made at home so the variety (not to mention the volume) is never-ending. Especially when Interlink are batting second!

Sara had tipped us that the samosa chaat was incredible and so it proved. Spinner Jay Rajpurohit's mother had made them. Crunchy, sweet with spicy chickpeas. Yum.
We stayed until 6pm with Interlink looking comfortable as they reached 75-0. They would go on to claim a confident six-wicket win. Irfan Jamadar (68 off 44 balls) gave them a muscular flier. He doesn't hang around.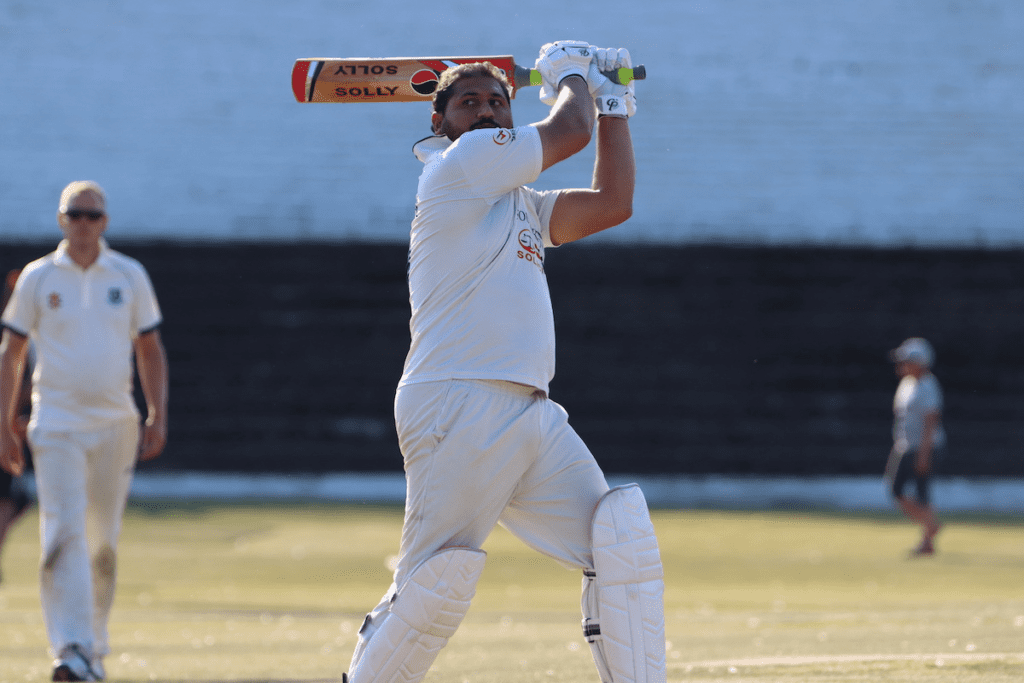 Apparently, Irfan (above) had only played tapeball cricket back in India before he came to the UK and started turning out for interlink in 2014.

After a season acclimatising to hard ball cricket, he has averaged 50+ pretty much every year since.

There are lots of stories like this. Interlink seem able to tap into an Indian talent pool which means they always have players and rotate the squad regularly.

There was a wedding on the same day as the Cookridge game which meant some couldn't play – including Mo Memi, he of the triple hundred.
Memi is having a lean year by his standards but still managed a reminder against Drighlington in June with 103 not out off 50 balls.

Interlink (287) lie second in Division A of the Dales Council Cricket League, with Thornbury (319) enjoying a comfortable lead. With five games left, their home game against the leaders on Saturday 10 September looks key.

Cookridge (211) occupy mid-table and that seems to be where their first eleven tend to find themselves; as their batters told me on one of my laps of the boundary rope.

Waqas Ali (31 wickets and 493 runs so far) is having a solid season for them.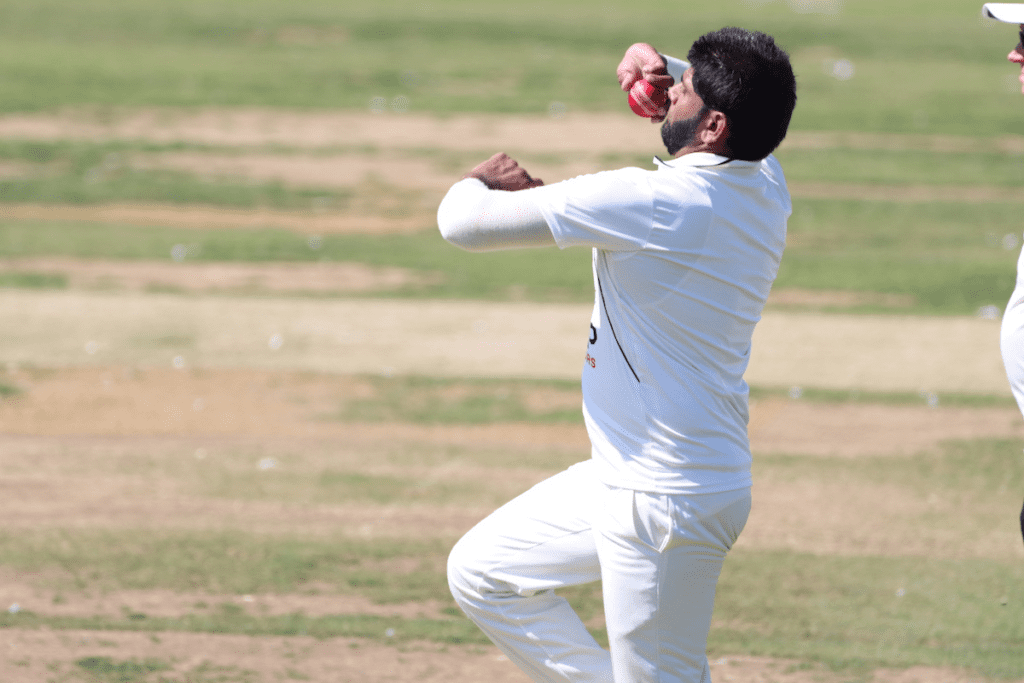 As for us, we departed stuffed to the eyeballs with samosa chaat and pleased to have got back to Park Avenue. Groundsman Nasa Hussain was his usual self, I could happily talk cricket with Nas for hours – look out for a future article on hybrid cricket pitches.

We honestly could not have been made more welcome. As I photographed the game, Mrs Cricket Yorkshire was made to feel part of the day by everyone.
I'll post some match photos on Cricket Yorkshire's Twitter & Facebook channels and all the best to both teams for the rest of their Dales Council season.
Latest posts by John Fuller
(see all)