Thomas Blow, who writes for The Cricketer magazine, speaks to Cricket Yorkshire about his new book: The Honorary Tyke.
***
I am delighted to announce my debut book, The Honorary Tyke, is now available to purchase. The book is an exhaustive account of Sachin Tendulkar's summer at Yorkshire CCC, remembering a defining moment in the club's long and proud history.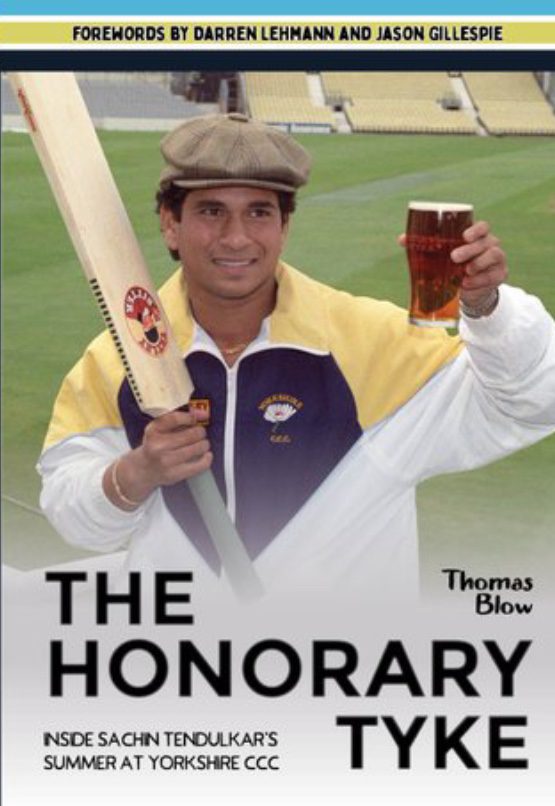 As well as recalling his performances in the 1992 campaign, the book reveals why Yorkshire needed to sign an overseas player, how 19-year-old Sachin became the man to break tradition instead of the initially selected Craig McDermott, and the legacy he left at Headingley.
Although there have been numerous articles published on Sachin's time at Yorkshire in recent years, this is the first book on the topic.
I was able to complete it by analysing old scorecards through CricketArchive and collating a significant amount of research, including dozens of newspaper articles and quotes from the time.
I have interviewed six members of Yorkshire's 1992 squad, with Paul Jarvis, Ashley Metcalfe, Mark Robinson, Simon Kellett, Paul Grayson and David Byas all remembering how Sachin used to get them free curries wherever they went on the county circuit! Among lots of other things.
I've also spoken to those who played against him in 1992, with Simon Hughes, Kevan James, Mark Frost, Dean Hodgson and Martyn Ball all recalling what it was like to face the talented, young batsman.
There's an interview with Dickie Bird, who umpired Sachin that summer.
I also sat down with Solly Adam, the man who played a crucial role in persuading him to come to Yorkshire. Solly recalled many fond memories, including when Sachin covered his house in foam after trying to use a washing machine for the first time!
Unfortunately, I wasn't able to track down Sachin, one of the most famous men on the planet. Thankfully, he has already discussed his time at the club in length in his 2014 autobiography.
I was privileged to have Darren Lehmann and Jason Gillespie write excellent forewords, however.
Researching, writing and editing The Honorary Tyke has taken nearly two years, but the final book is a cracking read for all Yorkshire enthusiasts and county cricket fans – fondly remembering the domestic game in the early 1990s.
The Honorary Tyke: Inside Sachin Tendulkar's summer at Yorkshire CCC is available to purchase at www.verticaleditions.com.
Latest posts by Cricket Yorkshire
(see all)